Rank 'Em: 25 Greatest Red Sox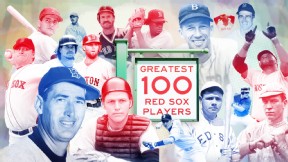 ESPNBoston.com Illustration
Building our list of the 100 greatest Red Sox players was no simple task. We commissioned a group of nine experts and came to a consensus after a comprehensive ranking process.
We picked 100 -- now we're asking you to create your own ranking from our top 25.
Did we get it right -- or would you scramble it up? Set your ranking below
Our Top 100: Top 50

| Nos. 51-100


25 Greatest Red Sox

Ted Williams, LF
"The Greatest Hitter Who Ever Lived"
---

Carl Yastrzemski, LF
Yaz was an All-Star 18 times in his illustrious 23-year career with Boston.
---

Tris Speaker, CF
Speaker ranks fifth all-time in baseball with a lifetime .345 batting average.
---

Pedro Martinez, RHP
Ranks first in Sox history with a .760 winning percentage and third in strikeouts with 1,683 in only seven years at Fenway.
---

Cy Young, RHP
Pitched for the Sox from 1901-1908 with a combined 2.00 ERA.
---

Roger Clemens, RHP
Clemens had his heyday in Boston during the late 1980s and in 1986 became just the second pitcher to win the AL MVP Award.
---

Jimmie Foxx, 1B
Foxx was an All-Star in all six of his full seasons with the Sox from 1936 to 1941.
---

Babe Ruth, LHP/OF
Before emerging as one of the greatest power hitters of all time, Ruth dominated on the mound in his first six years in Boston.
---

Lefty Grove, LHP
One of the greatest southpaw pitchers in Sox history, Grove was a five-time All-Star in eight years with Boston from 1934 to 1941.
---

Bobby Doerr, 2B
The Hall of Fame second baseman played all of his 14 seasons with Boston from 1937 to 1951.
---

Jim Rice LF/DH
Rice ranks third on Boston's all-time list in homers (382), RBIs (1,451) and hits (2,452).
---

Manny Ramirez, LF
A 12-time All-Star and nine-time Silver Slugger Award winner.
---

Wade Boggs, 3B
The Hall of Famer was named to 12 straight All-Star Games beginning in 1985, eight of them coming with the Sox.
---

Carlton Fisk, C
Fisk etched his name in Sox history on October 21, 1975 with his dramatic walk-off homer in Game 6 of the World Series.
---

Smoky Joe Wood, RHP
Smoky Joe pitched eight years in Boston from 1908 to 1915 and compiled a 1.99 ERA during that span.
---

David Ortiz, 1B/DH
One of the most clutch hitters in Red Sox history.
---

Dwight Evans, RF
A three-time All-Star and eight-time Gold Glove Award winner, Evans played in 2,505 games in 19 years for the Sox, second-most in team history.
---

Joe Cronin, SS
A seven-time All-Star and Hall of Famer, Cronin finished with a .300 career average in 11 seasons with Boston.
---

Luis Tiant, RHP
The Cuban-born Tiant pitched eight seasons in Boston, compiling a 122-81 record with a 3.36 ERA.
---

Harry Hooper, RF
Hooper won four championships in 12 seasons as a leadoff man for the Sox.
---

Mel Parnell, LHP
In his 10-year career with the Sox from 1947 to 1956, Parnell put together a 123-75 record with a 3.50 ERA and 732 strikeouts.
---

Jimmy Collins, 3B
Considered the best fielder of his era and revolutionized the 3B position, he played in Boston from 1895-1907 and was a player/manager for the Boston Americans.
---

Dom DiMaggio, CF
Often overshadowed by his older brother Joe, the "Little Professor" hit .298 in 11 seasons with Boston.
---

Nomar Garciaparra, SS
A five-time All-Star with Boston, Garciaparra batted .323 with 178 HR and 690 RBIs in nine years for the Sox.
---

Johnny Pesky, SS
A Red Sox legend and .313 hitter with Boston, Pesky recorded at least 200 hits in each of his first three seasons.
---
Your Rankings
1.

2.

3.

4.

5.

6.

7.

8.

9.

10.

11.

12.

13.

14.

15.

16.

17.

18.

19.

20.

21.

22.

23.

24.

25.