Rank 'Em: Giving Thanks
Created: November 18, 2010, 1:00 PM
There were no titles for the four pro teams in Boston this past season, but there is still plenty to be thankful fore.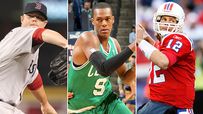 After a season of ups-and-downs, the Celtics made a great run to the NBA finals, coming up one game short. The bulk of the team is back for another run, with Shaquile O'Neal added to the mix. While the Red Sox failed to make the playoffs, Jon Lester had another standout season, finishing fourth in the Cy Young voting. With a solid offseason and better health, the Sox should be back in the playoff hunt in 2011. The Bruins, who dropped a heart-breaker to the Flyers in the playoffs last year, are off to a great start in 2010. Tim Thomas is back to his Vezina ways, and rookie Tyler Seguin has shown flashes of what made him the No. 2 overall pick in the draft. At 7-2, the Patriots are tied for the NFL's best record and appear poised to make a deep playoff run.
We want to know who you are most thankful for. We'll unveil the top 5 in a Thanksgiving weekend video.
Rank your favorites now!
YOUR RANKINGS

1.
2.
3.
4.
5.
6.
7.
8.
9.
10.
11.
12.
13.
14.
15.
16.
17.
18.



Total SportsNation Votes:

700
How are the points calculated?
On a poll with 10 options, a No.1 ranking equals 10 points, a No.2 ranking equals 9 points, etc. The item with the most points will be ranked first.