Chat during the NBA draft!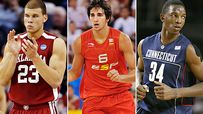 Your questions, their answers.
It was a busy night at Madision Square Garden as we were joined by over a dozen NBA draft picks shortly after they were selected!
Check out the chat transcript to see what Blake Griffin, Ricky Rubio, Hasheem Thabeet, Brandon Jennings and many more had to say in response to your questions!
More NBA: Draft index | SportsNation chats