Chat with Brandi Chastain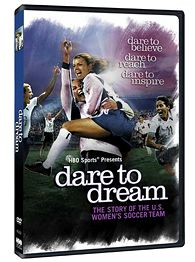 Dare to Dream chronicles the rise of the U.S. women's soccer team.
Welcome to The Show! On Wednesday, former U.S. women's soccer team player Brandi Chastain will stop by to chat about the women's World Cup as well as the documentary
Dare to Dream
.
Dare to Dream is the Sports Emmy nominated documentary that tells the story of the U.S. women's soccer team's rise to the top. The film shows the road traveled by the team, starting with its first World Championship appearance in 1991 and ending with its second Olympic gold medal in Athens in the summer of 2004.
Chastain was at the heart of the U.S. national team's more recent rise to prominence when she helped the team to the 1999 World Cup title that was hosted by the United States. The most famous moment in that tournament came when Chastain scored the final goal on a penalty kick shootout.
Chastain was on board with the team for every prominent U.S. women's victory since 1991, playing in 192 games for the national squad. She retired in 2004, shortly after the 2004 Summer Olympics.
To purchase a copy of Dare to Dream, click here. The DVD hits stores Tuesday, Sept. 18.
Send in your questions now and join Chastain in The Show on Wednesday at 4 p.m. ET!
MORE
Former U.S. women's national team player Julie Foudy will be chatting Tuesday, September 18 at 1 p.m. ET.
Previous chat guests | SportsNation index
This chat is exclusive to ESPN Insiders