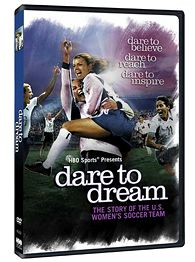 Dare to Dream chronicles the rise of the U.S. women's soccer team.
Welcome to The Show! On Tuesday, former U.S. women's soccer team player Julie foudy will stop by to chat about the women's World Cup as well as the documentary
Dare to Dream
.
Dare to Dream is the Sports Emmy nominated documentary that tells the story of the U.S. women's soccer team's rise to the top. The film shows the road traveled by the team, starting with its first World Championship appearance in 1991 and ending with its second Olympic gold medal in Athens in the summer of 2004.
Foudy was a midfielder on the U.S. national team from 1987-2004. She played in 271 international matches, serving as the co-captain from 1991-2000 and the captain from 2000 until her retirement in 2004.
Foudy won two golds (1996, 2004) and one silver (2000) on the U.S. Olympic teams. She also won two World Cups (1991, 1999).
To purchase a copy of Dare to Dream, click here. The DVD hits stores Tuesday, Sept. 18.
Send in your questions now and join Foudy in The Show on Tuesday at 1 p.m. ET!
MORE
Former U.S. women's national team player Brandi Chastain will be chatting Wednesday, September 12 at 4 p.m. ET.
Previous chat guests | SportsNation index
This chat is exclusive to ESPN Insiders