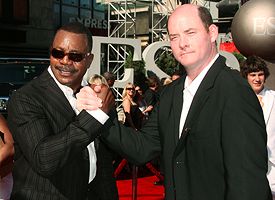 Koechner (right) poses with "The Comebacks" co-star Carl Weathers at The ESPY's.
Welcome to The Show! On Friday, actor David Koechner will stop by to talk about his new movie ''The Comebacks.''
Koechner is probably best known for playing the role of sports anchor Champ Kind, in the movie ''Anchorman: The Legend of Ron Burgandy.'' Koechner has also appeared in ''The Dukes of Hazzard,'' ''Talladega Nights: The Ballad of Ricky Bobby,'' and various episodes of ''The Office.''
In Koechner's latest film, ''The Comebacks,'' he plays the role of Lambeau Fields, a coach with a dreadful record who moves to Texas to take over an abysmal college football program.
Send your questions now and join Koechner in The Show at 11:45 a.m. ET on Friday.
This chat is exclusive to ESPN Insiders