Chat with Ricardas Berankis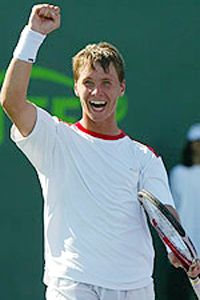 Ricardas Berankis finished the 2007 season as the No. 1 junior in the world.
Welcome to The Show! On Wednesday, we'll have the No. 1 junior tennis player in the world Ricardas Berankis stopping by to chat.
Berankis made Lithuanian tennis history in 2007 when he became the first player from his country to win the junior world championship. The 17-year-old was born in Vilnius, Lithuania and currently resides in Bradenton, Fla.
He won the 2007 Junior U.S. Open and needed to win his final two tournaments of the year to finish the season on top. Berankis did just that - winning the Orange Bowl and the Yucatan Cup in Mexico - to capture the season's junior world title.
Berankis speaks three languages - English, Russian and Lithuanian - and is working on adding a fourth, Spanish. He says his best court surfaces are grass and hard.
Send in your questions now and then join Ricardas at 12:30 p.m. ET on Wednesday!
MORE
Previous chat guests | SportsNation index
This chat is exclusive to ESPN Insiders