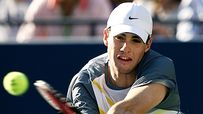 John Isner chats with SportsNation.
Welcome to The Show! On Thursday, the ATP's John Isner will stop by to chat some tennis.
Isner is the sixth highest ranked American on the ATP Tour, checking in this week at No. 81 in the World. A former standout at the University of Georgia, Isner raced onto the tennis scene last summer by reaching the finals in Washington D.C. with a record five-straight wins in third set tie-breaks before falling to Andy Roddick in the title match.
At 6-foot-9, Isner uses his height to his advantage with one of the biggest serves on tour, averaging 14.9 aces per match this year and ranking in the Top 15 on the Tour for aces. He registered many more aces against Page 2's Patrick Hruby in Miami last month.
Submit your questions now and join Isner in The Show on Thursday at Noon ET.
This chat is exclusive to ESPN Insiders