Chat with Ashton Kutcher, Cameron Diaz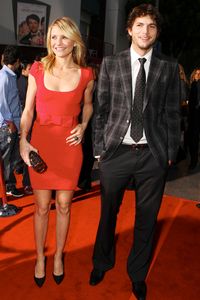 Ashton Kutcher and Cameron Diaz walk the red carpet for the premiere of their new movie.
Welcome to The Show! On Monday, we'll have actors Asthon Kutcher and Cameron Diaz on to talk about their new movie "
What Happens in Vegas
."
Kutcher and Diaz play two strangers who awaken together to discover they've gotten married following a night of debauchery in Sin City. One of them has won a huge jackpot after playing the other's quarter. The newlyweds devise ever-escalating schemes to undermine each other and get their hands on the money -- only to find themselves falling in love amid the mutual backstabbing.
"What Happens in Vegas" is Kutcher's 15th movie. He is probably most well known for his work as the producer of the TV show "Punk'd."
The movie is Diaz's 32nd movie. She got her break in the film industry with "The Mask," starring opposite Jim Carrey. She became more well known in the 1998 movie "There's Something About Mary."
The 20th Century Fox film "Whatever Happens in Vegas" hits theaters May 9.
Send your questions now and join Kutcher and Diaz in The Show Monday at 12:20 p.m. ET.