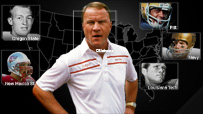 Tim Griffin examines the face of each Division I program.
Welcome to The Show! On Wednesday, ESPN.com's college football reporter Tim Griffin will stop by to talk some football.
Griffin helped choose ESPN.com choose who or what represents each Division I program in the "Face of the Program" feature, which debuted this week.
Send your questions now and join Griffin in The Show at 4 p.m. ET on Wednesday.
MORE
Griffin archive | College football index
Tim Griffin
(4:02 PM)
Good afternoon everybody. Just got into Bristol and I'm doing this from the ESPN offices in Bristol. A big step up from my office back in hot, hot San Antonio. The difference in temperature is only about 30 degrees! I'm ready so fire away.
steve b. (DC)
Im assuming you've been to many different places to watch games, where your fav place to go?
Tim Griffin
(4:04 PM)
I've been to a lot of great places over the years. There's something to be said about watching a game from Tiger Stadium on a Saturday night. I also love to watch a game from Knoxville. And in the Big 12, a game at Texas and Texas A&M just have a big game feel to it.
trace(ohio)
$10 this guys a no show
Tim Griffin
(4:04 PM)
Trace, sorry hope you didn't get the bet down. Because you'd lose.
henry
who has this years hardest schedule/easiest schedule?
Tim Griffin
(4:09 PM)
Henry: This is just off the top of my head, but I'm thinking it would be hard to top the gauntlet that Ty Willingham and the Huskies have to navigate. The Pac-10 might be down, but the Huskies have non-conference games against BYU, Oklahoma and Notre Dame. On top of that, they have four Pac-10 home games compared to five home games. And it's coming at a bad time for Ty's long-term job prospects. For easy, I'll nominate Tulsa. First, they back out of a game against Texas Tech that would be their most difficult game. CUSA doesn't look very daunting. They will visit Arkansas and North Texas, but with all of the firepower the Hurricane has coming back, I'm betting David Johnson will be good enough to get them back to a bowl game.
Mike(GA)
If Texas Tech wins 10 games this year will we see Crabtree in New York?
Tim Griffin
(4:10 PM)
Mike: We should. Arguably, he should have been there last year after what was the best season by a freshman season in history. He'll probably need to better those numbers and I think Heisman voters might be more apt to send Graham Harrell than him. But if he has 140-150 catches, 2,000 receiving yards and 25 TD grabs, it would be hard to argue with him.
Paul (Indianapolis, IN)
Is Kansas State poised for comeback or is Ron Prince presumably ready for the axe?
Tim Griffin
(4:14 PM)
Paul: I was thinking about what KSU needs coming up to Bristol today. Everybody forgets how highly regarded Josh Freeman was coming into college. If he ever gets to that form that was predicted, they might be good enough to keep the wolves away from Prince's door. But I am worried about finding a replacement for Jordy Nelson, who was kind of overshadowed by Crabtree in the Big 12. And they don't get many breaks in the Big 12 cross-division schedule, pulling Oklahoma, Texas Tech and Texas A&M. Still, I'm thinking the North will be very balanced. And I think they should be good enough for a bowl trip.
Bob (Memphis, TN)
Who will be the Hawaii? (non-BCS team to make it to a BCS bowl)
Tim Griffin
(4:14 PM)
How about Utah? Everybody is back on offense and they have a chance to shock Michigan on opening day to grab the attention of a nation. Might not be as far-fetched as you might think.
CC (Atlanta)
Toughest schedule belongs to UGA. Bama, @ SC, Florida, @ Auburn, @ LSU, @ Arizona St., Tennessee, @ GT.
Tim Griffin
(4:16 PM)
CC: I agree to a point, but Richt isn't battling to keep his job. And even with all of the hype about the Arizona State trip, it doesn't match what the Huskies will be mushing through.
Chad (Savannah, GA)
With the Pac-10 commissioner retiring after next season is this a step in the playoff/plus 1 system?
Tim Griffin
(4:17 PM)
Chad: It can't hurt, although there are still a lot of moving parts that will remain clogging the way. I still expect a plus 1/playoff emerging, but not any time soon.
Tyler (Washington, DC)
Without landing Pryor and loosing a few guys to transfer, how strong will Michigan be this year?
Tim Griffin
(4:19 PM)
Tyler: Any time you are making as drastic a coaching/culture change as the Wolverines will be doing with Rich Rodriguez coming along, it's not easy. Add a hungry team like Utah in your opener, trips to Penn State and Ohio State and Notre Dame and it could be a longer-than-expected season. I'd be suprised if they will be good enough to play in a New Year's Day bowl. How about an Alamo Bowl game against maybe Nebraska? Probably not what you want to hear, is it Tyler?
houser (LA)
tougher road game for the tigers @ FLA or @ Auburn and WHY
Tim Griffin
(4:22 PM)
Houser: Both will be bears, but I'll say the Florida game. People forget that Florida has dominated this series, winning 15 of the last 20 games. Add Tebow and the speed of all the receivers and it will be a tough game for Les Miles and the boys ...
Kelso (Irvine, CA)
The 1st year coach with the best record will be:
Tim Griffin
(4:24 PM)
Kelso: I'll go with Kevin Sumlin at Houston, followed closely by Bo Pelini at Nebraska.
Chad (NY)
timmy, how ya been? Who do you like to win the BCS conferences this year?
Tim Griffin
(4:25 PM)
Chad: Thanks for the warm welcome. I'll put on my thinking cap and go with ... Big 12 - Missouri Big Ten - Ohio State SEC - Georgia Pac-10 - USC Big East - West Virginia ACC - Clemson
Ian (Phoenix)
Biggest opening week game? Tennessee at UCLA?
Tim Griffin
(4:26 PM)
Ian: Hate to sound provincial, but I'll go with Missouri-Illinois. Neutral-site matchup between a BCS team from last season and one that should have been. I'm also looking forward to Clemson-Alabama as well as Ricky's first game in Westwood.
Mo CLarrett (Prison)
Who wins 9-13-08 USC or OSU and why?
Tim Griffin
(4:28 PM)
Mo: Good to hear from you again. I've missed watching you play. I'll go with USC because they are so good at home, but it wouldn't surprise me if Ohio State pulls off what I would consider a moderate upset.
Aaron ( Florida)
its 1st and goal from the 10. You have the choice of Missouri's QB, West Virginia's QB, Georgia's QB, and then !~TEBOW~!. who do you choose?
Tim Griffin
(4:29 PM)
Aaron: I go with Tebow, although White would merit some consideration as well.
Ken (Tarzana, Ca)
I'm assuming you're a young guy, but THE FACE of Sun Devil Football is Frank Kush. Not even close.
Tim Griffin
(4:31 PM)
Ken: I'm older than you might think, but it's interesting what most of the voters are saying. They are voting for Tillman, but I agree that Kush helped build the program to where it is today. Also, I'm old enough to remember that he didn't handle special teams gaffes very well, did he?
Chris (AZ)
How do you see Oklahoma doing this year? It seems as if they have all of the pieces to make a run. They have more athleticism at the LB position and in the defensive backfield. They also have a qb that will have more experience under his belt with an incedible O-Line.
Tim Griffin
(4:34 PM)
Chris: OU has great talent at almost every position. They really need Ryan Reynolds to come through at MLB and some help in the secondary.
Steph(anie)(Cincy)
Tim, are you another ESPN SEC homer? I don't think I can take another chat where the host worships at that altar
Tim Griffin
(4:35 PM)
Steph: Sorry, I live in Texas and still can appreciate SEC football. It's pretty good.
Richard (Atlanta)
1st and 10 from your own 20...Still choose Tebow?
Tim Griffin
(4:35 PM)
Richard: Probably not. Then I might go with Harrell or Daniel.
Mark [ Somerset,Ky
Is the big ten looking into a conference championship game or is that a dead issue?
Tim Griffin
(4:36 PM)
Don't think the Big Ten has a real way to have a conference championship game. That would kill the mystique of the Ohio State-Michigan game, and I think the Big Ten realizes that.
Steph(anie)(Cincy)
A moderate upset? You guys are too much! If Ohio State loses, they are terrible, but if they win it will only be a "moderate upset"
Tim Griffin
(4:38 PM)
Steph: Most people have Ohio State as a potential national championship team. So that kind of keeps me from thinking about that in terms of biblical proportions.
Scott (St Louis)
Tim, how many years do you think it will be until Bo Pelini has Nebraska contending for a BCS berth again? Can he bring an immediate swagger back to the D?
Tim Griffin
(4:39 PM)
Scott: I think it will be a couple of years. He's got his work cut out with that defense.
Blake Fite (Jenks, OK)
Tim, I know you are picking Missouri to win the Big 12 but how can bet against O.U. since they have won the Big 12 what the past 5 out of six years. With each year having a different QB.
Tim Griffin
(4:40 PM)
Blake: I can't discount that job that Bob Stoops has done. But the main reason I'm picking Mizzou this year is they don't have to play Oklahoma during the regular season and when/if they do - the game will be in Kansas City.
Eric ( Fort Lauderdale, FL )
Tim, SEC West Question: I notice alot of pundits picking Auburn over LSU. Is that because they play in Auburn this year? When I look at the returning personnel I just don't see Auburn being better.
Tim Griffin
(4:42 PM)
Eric: Main reasons I think are because Auburn's inexperienced quarterback is a little more experienced than LSU's inexperienced quarterback. And because the game will be at Jordan-Hare.
Donny (south bend)
PLEASE....PLEASE tell me ND bounces back this year.
Tim Griffin
(4:43 PM)
Donny: Back to a bowl game this year, maybe even on Jan. 1 this year.
James (new jersey)
Who will be the best qb and the best rb in the big east? Last year, i think ray rice was the best rb, but this year, i dont know.
Tim Griffin
(4:44 PM)
James: I'll go with Pat White and LeSean McCoy at tailback.
chalres (cali)
Got any predictions on who takes home the pac 10 title?
Tim Griffin
(4:44 PM)
Charles: Is there any question? USC and Pete Carroll will win again.
Steph(anie)(Cincy)
Tim, the reason the big ten does not have a conference championship game is for the same reason the Pac-10 and Big East don't: The NCAA does not allow conferences with less than 12 teams to have one. Nothing to do with "mystique"
Tim Griffin
(4:46 PM)
Steph: Don't you think that if Jim Delaney really wanted a championship game, he could get one? I think that would be a little easier than getting a television network off the ground, wouldn't it?
Cameron (East Lansing, MI)
How good do you think Michigan State can be this year? And what do you think of the direction of the program under Coach D?
Clay (Birmingham, AL)
Alabama vs. Auburn, who wins this year?
Tim Griffin
(4:48 PM)
Clay: How about a change this year? I think Nick Saban is due and the winning streak can't reach seven, can it?
Steph(anie)(Cincy)
Jim Delaney would have to find a 12th team. That is just a tad more difficult than getting a TV network.
Tim Griffin
(4:48 PM)
Steph: Something tells me he could get one if he wanted one ... I bet he's even talked about it once or twice to his school presidents.
Terry, Dallas
Missouri Illinois is the best game opening weekend and not Tennessee UCLA? Give me a break.
Tim Griffin
(4:49 PM)
Terry: Did you watch the Mizzou-Illinois game last season. 40-34 and settled in the last minute. Played at a true neutral site. Should be good, but UT-UCLA will be, too.
Chad (Savannah, GA)
How is it fair that like last year Kansas had to play OU twice and get shut out of a BCS bowl while teams in the Big 10 don't even have to play everybody in their conference once?
Tim Griffin
(4:50 PM)
Chad: I think you meant Mizzou rather than Kansas. The Jayhawks' cross-dvision schedule was their major reason they ended up playing on New Year's Day last season.
Tim Griffin
(4:51 PM)
Guys, sorry I've got to cut this short. Got to run somewhere on the campus. I'll make it up to you next time around. Thanks for all of the good questions.