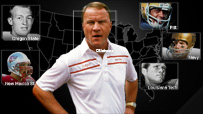 Ted Miller examines the face of each Division I program.
Welcome to The Show! On Friday, ESPN.com's college football reporter Ted Miller will stop by to talk some football.
Miller helped choose ESPN.com choose who or what represents each Division I program in the "Face of the Program" feature, which debuted this week.
Send your questions now and join Miller in The Show at 2 p.m. ET on Friday.
MORE
Friday's other Face of the Program chats:
1:30pm- Chris Low | 3pm- Heather Dinich | 4pm- Adam Rittenberg
Miller archive | College football index
Ted Miller
(2:01 PM)
Howdy gang... Hope you've enjoyed checking out "Faces" as much as we enjoyed debating in-house... Fire away...
Jon (Anderson, SC)
Would you agree that Clemson's tradition of touching Howard's Rock and running down the hill, as one of the most recognized traditions in college football?
Ted Miller
(2:02 PM)
Yes... I grew up in Atlanta and always enjoyed that rivalry with the Bulldogs... That image of the Tigers running down the hill always struck me as pretty darn intimidating. And my high school football team used the same Paw print helmet as Clemson, so I had that going for me...
Ralph (New Jersey)
Ted, your colleague Chris Low just named Broyle ahead of Schembechler. What say you to that?
Ted Miller
(2:05 PM)
Are you asking me to controvert the One Called Chris! For Shame! You have a right to harrumph... but Broyles does have the National Title to his credit...Last I check, that's big. On the other hand, Bo sure looked good stomping the sidelines.
Marc (IN)
Ted, Low was talking about faces most closely associated with a program and made the point that Schembechler and Carr would split votes making Broyle a better pick.
Ted Miller
(2:06 PM)
That's why Low is so money. A good point, too.
John (D.C.)
Not only ahead of Schembechler, but ahead of Woody Hayes, too. What say you to that?!?!
Ted Miller
(2:08 PM)
Ohhh.... Ahead of Woody? Er, gosh, I don't want to get a whole Mich-OSU thing going here... but ahead of Woody... I don't know if I'd say that. Of course, you might have guessed such passionate debate is why we are so thrilled with this series... You should have heard Ivan and a couple of us discussing Northwestern....
Mark (Bham, AL)
If Bear Bryant is the face of Bama football, what body part would Dennis Franchione be? Or the Mikes? (Dubose, Price) Thanks!
Ted Miller
(2:09 PM)
Funny. Funny. Guessing you have your own ideas.
Matt (Washington, DC)
Ted, I don't think most Michigan State voters remember how tough a guy like Bubba Smith was or how tough the program used to be. Is that why the Sparty mascot is getting a ton of votes or what?
Ted Miller
(2:12 PM)
Yes... You see that across the board with modern beating out college football's black-and-white past. Remember: This is an Internet poll, meaning many of the voters don't remember Bubba Smith and the days when Michigan State was a national contender... Ivan and I were even joking yesterday about some of the younger ESPN employees not remembering Smith's famous commercial presence with "easy opening cans."
Shelley (Bham, AL)
Who / What did you guys decide on for Auburn football?
Ted Miller
(2:13 PM)
You may not know... But Bo Knows.
Frank (nj)
how can you not put ray rice for rutgers yeah it was the 1st place a college football game was played but still
Ted Miller
(2:15 PM)
Hmm... "Still" Let's just say I'd rate the FIRST FREAKING COLLEGE GAME as big. Just my humble opinion.
Joe, Dallas
What is your outlook on the Vols this season?
Ted Miller
(2:17 PM)
Third in the East. And, as the Pac-10 guy, I'm thinking they are going to whip UCLA and I'm going to be fielding more "SEC rules the Pac-10" email.
Harold (Los Angeles, Ca)
Is Tedford on the hot seat this year at Cal? His team is always chosen as the "one that can beat USC and win the Pac 10" but they have come short every year and in fact they lose 4-5 games a year.
Ted Miller
(2:18 PM)
Tedford on Hotseat. Golly. Amazing how quickly perceptions change. No, I don't think he's on the hot seat. He took over a 1-10 program and made the Bears a perennial bowl team.
Rick, Toledo
What about the Longhorns? My vote is Coach Royal but, many would say Vince Young. So, who ya got?
Ted Miller
(2:20 PM)
Went went with Royal... And I think that make sense. Sure, many fans like VY, and with justification. But Royal did win three national titles ...
Tom (Chicago)
What, no Charlie Weis for face of the program? Oh, you said face, not gut.
Ted Miller
(2:20 PM)
This isn't an answer... I'm just paying tribute to your post.
Bob (Chicago)
Ted, this may not be up your alley but have you seen some of the new uniforms that are coming out this year? Cal looks crazy and the Michigan road jersey just seems... like WVU West.
Ted Miller
(2:23 PM)
This is the wave of the future... All of us old timers made fun of Oregon, but Nike knows what young people want... they like the lurid, flashy stuff. The over-40 crowd my cherish teams like Bama and Penn State with their simple uniforms, but I'm guessing a lot of traditional styles will be changing over the next decade...Not saying it's good... Just saying it's going to happen.
Kramer (Anytown, USA)
Gotta love the college pigskin talk in June! Anyway, whose face is most associated with college football as a whole, in your opinion?
Ted Miller
(2:24 PM)
Bear. Period.
Nihat Hosgur, San Francisco
Is USC a contender for BCS title game? Looks like their offense is not and won't be in near future like on their glorious days. Will only defense can carry them? When do you think highly decorated UCLA will earn PAC 10 title?
Ted Miller
(2:26 PM)
Yes... I think the offense will be fine. But no date looms larger on the national schedule than Ohio State's visit on Sept. 13. That will be a huge test for said offense. As for UCLA, it's going to take some time. Neuheisel didn't inherit much talent...
Willie (Portland, OR)
Ted, I have never heard of Wazzu's Mel Hein? Why isn't Drew Bledsoe the "Face of the Program"?
Ted Miller
(2:29 PM)
Sure, Mel looks kind of silly to us today in his leather helmet with no face mask... But he's one of the all-time greats... a pro and college hall of famer. Bledsoe was a fine player, but his resume doesn't even compare.
George (Del Boco Vista)
You can rest assured that the Blue and White unis of PSU will not be changing anytime soon. Even after Joe goes, there are too many 'old-schoolers' associated with the program that will not allow it.
Ted Miller
(2:30 PM)
My response: I hope you're right.
Ed (Phoenix)
So if USC might not be amazing this season, does that open the gates for a different team, Arizona St. maybe, or Oregon, or a team not from CA?
Ted Miller
(2:32 PM)
Well, if USC falters... and I don't see that happening... then, of course, Oregon and ASU would be the top two contenders to slip in (though my man Phil Steele is loving Cal, and he's a smart dude)....My guess is Oregon's visit to ASU on Oct. 25 will be critical.
Norm Chow (Westwood, Ca)
How many wins do I need to get Slick Rick before I get a head coaching job offer?
Ted Miller
(2:34 PM)
Many have long wondered why Chow hasn't ever been given a chance (see Stanford a few years back). There are a wide range of theories -- many have said he doesn't interview well. If Chow truly wants to be a head coach, he might have to take a second-tier job to prove himself...and I'm not sure he wants that.
Chris (Indianapolis, IN)
Who can challenge OSU for the Big Ten title? Anybody?
Ted Miller
(2:35 PM)
Maybe the Badgers... but I wouldn't go to Vegas with that. Big Ten is Ohio State's to lose...
Rick, Toledo
What about Duke? Coach K?
Ted Miller
(2:37 PM)
Wallace Wade was our pick and the right one... But maybe, 50 years hence, it will be David Cutcliffe.
Bob Devaney (Lincoln, Nebraska)
Ted, I am wondering why more love for my friend Bo Schemblecher than my friend Tom Osborne? Tom won .836 of his games and 3 TITLES while Bo was .796 with NONE. Bo was 5-12 in BOWLS and Tom was 12-13. Big 10 Bias? What gives - I have time to wait for your response.
Ted Miller
(2:40 PM)
Er.. both were named Face of the Program. How about this: I am sending my love to Tom O right now... His expression didn't change a bit, though I suspect a mild blush.
Robert (Franklin, WI)
How about the Badgers? Is Ron Dayne the face of the franchise? Do they have a legit shot to knock of OSU this year?
Ted Miller
(2:42 PM)
Lots of talk on this Face... Pat Richter got the nod. And I'd rate Barry Alvarez ahead of Dayne. As for knocking off OSU... maybe, but, again, I'm not taking the bet.
Jack (Chicago)
The best move Duke football has made in the last 10 years (besides canning Franks) is to get rid of the cursive writing on their helmets. Just ask UCLA how cursive on your helmets makes you play. Poorly.
Ted Miller
(2:43 PM)
This amuses me. Quick gang: Best cursive teams?
Willie (Portland, OR)
I'm just curious as to how come so many offensive linemen were chosen for "Faces"?
Ted Miller
(2:44 PM)
Got to love the hogs... I didn't notice this. How many did you count? I did two with Hein (WSU) and Kramer (Idaho).
Mike (South Bend)
A discussion about coaches and no Knute Rockne? Have you lost your mind, Ted? Where do you think he ranks? Its gotta be ahead of Frank Broyles.
Ted Miller
(2:47 PM)
Knute was the Face for Notre Dame... that certainly counts for a lot ... And, yes, I will personally rank him ahead of Broyles and not fear too much argument.
Brad (Gadsden,Alabama)
Who do you think is the face of the nation?
Ted Miller
(2:48 PM)
You want me to say it again don't ya... Bear.
Bill (SF)
Best cursive team: Cal!
Ted Miller
(2:48 PM)
Perhaps... we've got Tulsa and Maryland so far... who else?
Justin (Tallahassee)
Im not a gator fan but Florida has cursive on their helmets and they are very good team? Its not the cursive, its the team.....
Ted Miller
(2:50 PM)
Guessing we have a winner here! Anyone? Best Cursive Team?
Harold (Los Angeles, Ca)
best cursive team..Notre Dame. Oh I'm sorry I thought you meant the best team to curse at.
Ted Miller
(2:50 PM)
OK Trojan... take it easy.
Craig (Montana)
Does success in the NFL have any impact on a college coach's ranking? That being said, where would you put Jimmy Johnson?
Ted Miller
(2:52 PM)
Maybe it shouldn't but it does... lots of these Faces are Faces because they went on to great things in the NFL... As for Johnson, his resume speaks for itself..,. National Championship... Super Bowls...
Karl (Houston)
Oregon's jerseys are killing me. Get rid of 'em!
Ted Miller
(2:52 PM)
Someone call 911...And Phil Knight.
Tom (Chicago)
Bo never had anyone like Lawrence Phillips on his teams, and there were any like him, they didn't play in the bowl games.
Ted Miller
(2:53 PM)
Tom... My guess is a few Ohio State fans might take issue with NEVER... sure there's somebody that Bo would like to disown.
Willie (Portland, OR)
How was Oregon the only team that had a booster as the "Face"? What about Dan Fouts, Bobby Moore, even Bellotti or Rich Brooks?
Ted Miller
(2:56 PM)
Almost happened with Oklahoma State and Boone Pickens... My feeling is just that Phil Knight is a booster whose fortune is directly tied to sports and he's a huge reason Oregon has become a sports power.
Josh (Reno, NV)
Ted, did you ever think of putting the Pistol Offense as Nevada's face over Chris Ault? The Pistol is spreading.
Ted Miller
(2:57 PM)
Which came first... the Pistol or the Ault?
John (OKC)
Show some love for the Big Red, Ted! Another Cowboy here, how about Barry Switzer?
Ted Miller
(2:59 PM)
OK... I love Barry...fun guy to talk to. hell of a coach. And he got the Face over Bud Wilkinson, which some old timers might not like.
Mike (Columbus, OH)
Best cursive team=Script Ohio Case closed.
Ted Miller
(3:00 PM)
Best pre-game cursive... but this was about helmets...
Ted Miller
(3:00 PM)
OK gang... I'm out of here... It's actually sunny today in Seattle... Enjoyed it! Heather's ahead.