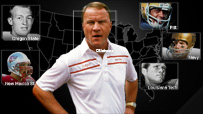 Chris Low examines the face of each Division I program.
Welcome to The Show! On Friday, ESPN.com's college football reporter Chris Low will stop by to talk some football.
Low helped choose ESPN.com choose who or what represents each Division I program in the "Face of the Program" feature, which debuted this week.
Send your questions now and join Low in The Show at 1:30 p.m. ET on Friday.
MORE
Friday's other Face of the Program chats:
2pm- Ted Miller | 3pm- Heather Dinich | 4pm- Adam Rittenberg
Low archive | College football index
Buzzmaster
(1:30 PM)
Chris will be here soon!
Chris Low
(1:35 PM)
I am here ready to take your questions. All you Georgia fans who voted for Uga, I still say it's Herschel!
Ken (Trenton, NJ)
Is there any school that you knew right away, no doubt, that you could pick its face in seconds?
Chris Low
(1:36 PM)
Bear Bryant and Alabama. Not only is he was the face of Alabama, but I think he is the face of modern college football.
Chris (MD)
Was there any school that you had trouble with picking its face?
Chris Low
(1:38 PM)
LSU and Georgia were the hardest because LSU has had so many great players, won national titles, and yet, we felt like the happening that it is, Saturday night at Tiger Stadium, is what people think about when they think LSU football. For Georgia, it was very hard to choose between Walker, Dooley, Uga, and Munson.
Lance (Philly)
Who would you say is the face of the U? Vinny?
Chris Low
(1:40 PM)
Some would say Schnellenenberger because he revived a program that was ready to be shutdown when he took over. He came in and won a national title and from that point on, Miami football just took off.
Dan (Jackson, MS)
Is the face of Ole Miss Eli? He never really got them over the hump, but he did win a Super Bowl!
Chris Low
(1:43 PM)
We picked the Manning clan as the face of Ole Miss and that includes Archie and Eli. Archie is certainly one of the most popular and legeandary SEC football players ever; and then his son comes along, 30 years later, and breaks many of his records and puts Ole Miss back on the national map. But you could make a case for John Vaught and Charlie Connerley. And if you want to go with traditions, there is no better pre-game or scenic atrmosphere in the country than The Grove.
Chet (LA )
The face of OLE MISS is Archie, not Eli.
Brad (Gadsden,Alabama)
Who is the face of the whole nation?
Chris Low
(1:45 PM)
Bear Bryant. And whether rival fans like it or not, he won every way you can win. He adapted. He won with white players and black players, and he won titles in the 60s and 70s. To this day, when you look around college football, you see his hand prints everywhere. He is iconic when it comes to college football.
Mike (Dallas, TX)
What's your favorite week 1 matchup? Gotta be Bama/Clemson, right?
Chris Low
(1:49 PM)
Yes. That is where we find out if Clemson can compete for a national title. We also find out if Alabama, in year two under Saban, is closer to being an SEC West contender. Honorable mention goes to UCLA-Tennessee. Can the Bruins get back to playing consistent football? And can Tennessee challenge Georgia and Florida is the East? We will see.
Ryan (Pittsburgh)
The face of Pitt has to be Dorsett right? Arguably the greatest running back in college history and the schools' on Heisman winner.
Chris Low
(1:51 PM)
That would be my pick, although Pitt is one of those schools that has a lot of choices. John Majors is a choice, but they also produced arguably the greatest QBs of the last quater century in Dan Marino; then they had a guy in Hugh Green who almost won the Heisman as a defensive player. It is a program with a lot of tradition and a lot of choices to choose from.
Mikey (Philly)
Paterno has to be a close second to Bryant as the most closely associated face to an institution, right?
Chris Low
(1:52 PM)
Yes, I would agree. Paterno 1A, Bowden 1B. As coaches go that is my list.
Chris Low
(1:53 PM)
And Frank Broyles at Arakansas would be 1C.
Mark (Florida)
Are the powerhouses in the ACC going to be back to being powerhouses? I'm sick of Wake Forest and Georgia Tech winning!
Chris Low
(1:55 PM)
Until the ACC makes some noise in a BCS game, they are going to continue to be the laughing stock of college football. The conference has won all of one game in a BCS games. So Florida State, Miami and Clemson and Va. Tech need to bring a level of respectability back to the conference.
Jake, Westwood
Chris, what chances do my Bruins have stopping the the Vols on Labor Day?
Chris Low
(1:58 PM)
Anytime a team has to travel that far to play a football game, to me, they are already at a pretty big disadvantage. Just look at Tennessee at home vs. west coast teams and then away on the west coast (see the Cal games). I think this a much tougher game for Tennessee though because there are so many unknowns as far as the UCLA offense and Tennessee did not exactly set the world on fire on defense last night. But we also do not know what to expect offensively on Tennesse's end with Clawson taking over.
Johnny (Ann Arbor)
You have Frank Broyles ahead of Bo Schembechler and Lloyd Carr? Quit hating on the Blue, Chris!
Chris Low
(1:59 PM)
You just made my point for me. You got two guys at Michigan who are going to draw votes. At Arkansas there is no one else but Broyles, at FSU no one else but Bowden and at Penn State no one else but Paterno. And sorry to break this to you, but 1D would be Woddy Hayes.
Willie (Portland, OR)
Chris, was there any one of the "Faces" that most surprised you?
Chris Low
(2:02 PM)
I was a little surprised with the "U" at Miami when you consider all the great coahces and players that have gone through there in the last 25 years. And I was torn between Dorsett and Marino in Pittsburgh, and can see how both of those players would draw votes.
Chris Low
(2:06 PM)
Thanks for the questions. And if you want a true slice of SEC football, treat yourself to a couple hours in the Grove at Ole Miss, catch a flight to Baton Rouge and do some tailgating outside of Tiger Stadium with LSU fans, and then hop on a boat on the banks of the Tennssee River with the Vol Navy and catch the Neyland experience for a nightcap.