Chat with actor John C. McGinley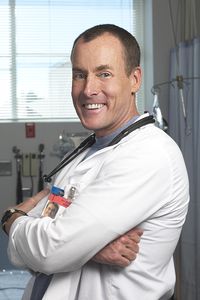 Scrubs' Dr. Cox will be the grand marshall for NASCAR's Allstate 400 at the Brickyard on Sunday.
Welcome to The Show! On Tuesday, we'll be joined by a special guest when actor John C. McGinley stops by.
McGinley plays the sarcastic Dr. Perry Cox in the comedy TV series "Scrubs." He will serve as the Grand Marshal of NASCAR's Allstate 400 at the Brickyard race (Sunday, 1 p.m. ET, ESPN). His duties as Grand Marshal include waving the green flag at the start of the race at Indianapolis Motor Speedway in front of more than 200,000 fans. The race will be the first attended by McGinley. The race celebrates its 15th year, with Allstate in its fourth year as the sponsor.
McGinley is best known for his work on Scrubs, which enters its eighth season this fall and makes a switch from NBC to ABC. He has also appeared in several movies, including "Platoon," "Wild Hogs," "The Rock," "Nothing to Lose," "Seven," "Office Space" and "Point Break."
He is also a big sports fan, with his favorite team being the Detroit Red Wings. He can often be seen wearing a Chris Chelios jersey on Scrubs. McGinley and Chelios are good friends and neighbors in Malibu, Calif. and are members of the "Malibu Mob" - a group of friends and neighbors that live in the area. The group includes surfer Laird Hamilton, ex-tennis star John McEnroe, Tony Danza and John Cusack, among others. The "Mob" makes its way to local arenas to see Chelios in action when the Red Wings are playing in California.
Send in your questions now and then join McGinley at 5 p.m. ET on Tuesday!