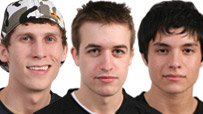 Walsh (left), Elam (middle) and Cobb chat with SportsNation!
Welcome to The Show! On Friday, some of
Major League Gaming
's biggest names will join us in what we are billing as a MLG Mini-Marathon chat. Walshy, Neighbor and ElamiteWarrior will each join SportsNation to discuss the recent MLG Roster Chaos that went down this past week.
Each gamer will chat with SportsNation for 20 minutes, before yielding the floor to the next gamer. Below we have listed the chatters and their recent moves, as well as the times they will be chatting in The Show!

Walshy- 3 p.m. ET
Neighbor- 3:20 p.m. ET
ElamiteWarrior- 3:40 p.m. ET


David Walsh/''Walshy''
Walshy is the newest member of the professional gaming team, Instinct. A Major League Gaming veteran, Walshy is the former captain of last season's National Champions, Final Boss, but was recently released from the team. Walshy's new team will look for look a strong finish at the next competition in Toronto and will perhaps create a new MLG rivalry with Final Boss. Walshy is currently sponsored by Red Bull.
Mason Cobb/''Neighbor''
Neighbor is the newest member of the professional gaming team, Final Boss. In the midst of all of the major MLG team changes, Neighbor's recent move from #1 ranked Str8 Rippin to Final Boss is one of the most high-profile changes in the history of professional gaming. Final Boss is the reigning National Champions from last season, and the addition of Neighbor brings yet another natural talent to the team.
Kyle Elam/''ElamiteWarrior''
ElamiteWarrior is a member of the #1 ranked professional gaming team, Str8 Rippin. Known as one of the best communicators and support slayers in the game, ElamiteWarrior displayed his leadership this season with recent 1st and 2nd place performances. ElamiteWarrior and Str8 Rippin recently added breakout star Snipedown to their roster and now look maintain their overall first place ranking for the remainder of the season. ElamiteWarrior is currently sponsored by Dr Pepper.
Send your questions now and then join the chat at 3 p.m. ET on Friday!

MORE
ESPNVideoGames.com | Major League Gaming | SportsNation index | MLG chat archive
Walshy
(3:01 PM)
Hey everyone, I'm ready to go!
Chad, Marion NC
Walshy, Why did you choose team instinct and how do you think your game matches up with theirs.
Walshy
(3:02 PM)
Right after getting kicked off, I asked Instinct at first, but their team was still together. But after the team broke up, myself and Soviet approached them. They're very aggressive, just like my style of play.
Clint Batten Dallas, Texas
Walshy,I have been following FB for 3 years now, i hate to see them release you. Ultimately whos decision was it for you to leave? Why? Do you feel comfortable with instinct? Im sure its kinda bittersweet for you. You left alot behind when you were released by FB but you are surrounded by tons of sick talent in roy, lunchbox and soviet. Good luck. I hope yall take some faces in Toronto.
Walshy
(3:03 PM)
I honestly didn't get the best explanation in the world. I heard it was personal problems. If I had to guess, I would say it was something between me and OGRE1's girlfriend, but I honestly don't know.
Darren Aka Dagus (Franklin, TN)
Are you angry at the ogres and Strongside for letting you go?
Walshy
(3:03 PM)
I still am on good terms with StrongSide.
Thomas (Houston TX)
Walshy, you chose Team Instinct but which other teams were you pulling to join if that wasn't possible and why?
Walshy
(3:04 PM)
I actually was talking to Str8 Rippin for a little bit, but right after the team change, I told Soviet that I was going to team with him for sure. I know he has the skill to be on a top team, he's just never gotten the opportunity.
Rese (Snyder TX)
Walshy, Do you think now that Instinct has a better shot at winning an Mlg title than Final Boss?
Walshy
(3:05 PM)
I definitely am going into this event very confident. I'm practicing more now than I ever have in the past few years. We are gelling very well as a team and seem to be all on the same page.
Parker Todd (Frisco TX)
Did it cross your mind that when the new instinct was formed, in a way you wer recreating the old final boss roster with the twins and a power slayer in soviet?
Walshy
(3:06 PM)
It definitely hit me right away--people were going to think I had some sort of twin fetish.
Dylan (Columbus OH)
Did you ever plan on starting a completely new team instead of joining another?
Walshy
(3:07 PM)
That was the plan when I first picked up Soviet. I treated it like when I teamed up with KillerN in Halo 1, trying to create new team to be at the top.
Bobby (Belgrade, MT)
Wasnt a big problem for Soviet his communication? Is he improving on that?
Walshy
(3:07 PM)
I don't know where people think he has bad communication. He talks as much if not more than me during our practices. He talks nonstop.
Troy White (Victoria, TX)
Which set of twins has more Halo 3 skills, the Ogres or Lunchbox and Roy?
Walshy
(3:09 PM)
It's hard to say, because the Ogres do have an unbelieveable amount of skill, and obviously I wouldn't be teaming with the guys right now if I didn't believe they were right up there. Snipewise, the Ogres have them beat, but BR-wise, I'll hand it to Lunchbox and Roy. Roy's BR is ridiculous.
Robert (KSI Secret) San Antonio, Texas
Question for Walshy: Do you think you can go into Toronto as prepared with Instinct as you could've with Final Boss?
Walshy
(3:10 PM)
It's hard to replace a team that you've been with for four years, so I don't think that's possible given the timeframe. I don't think a tournament victory is out of the question. We are practicing hard.
Ryan, Erie PA
Where you surprised when you were told you were being kicked off FB, or did you sense that it was coming?
Walshy
(3:11 PM)
I sensed that there were problems, but I figured we'd sit down and talk before there would be a team change. It went instantly from there being problems to me being kicked off.
Bryan (Chicago IL)
Ever since you were dropped from Final Boss there have been multiple teamchanges. Do you think it's because there's a sudden need for change in the MLG world? Because it seems that every "top pro" team has been switching it up!
Walshy
(3:12 PM)
No, I think people are still trying to find the right mix of players. Halo 3 is still brand new, and it's hard to say which players will be dominant in the end.
Zach, Ft.lauderdale FL
Walshy,Are you on good terms with neighbor?
Walshy
(3:13 PM)
Yes, I don't really any hard feelings against anyone who took my spot. It's not like he had any sort of influence in getting me off the team in the first place.
Ethan Rivera (Port Neches,TX)
Hey do you think going against FB will me be a big mental thing now will it affect your gameplay
Walshy
(3:14 PM)
If only for the better. I think I play very well under pressure, and I tend to play my best when I'm playing emotionally.
Walshy
(3:14 PM)
Thanks to all the fans out there, it's nice to know people out there still support me, and I'm looking forward to Toronto. Hope to see you all there!
Buzzmaster
(3:15 PM)
Neighbor is up next, everyone!
Neighbor
(3:19 PM)
Just like to say hi to all of the fans out there supporting our team!
Brad King, Innisfil Ontario (Canada)
Neighbor, do you think that your recent switch to FB from Str8 was for the better? Considering Str8 was placed first and FB fourth?
Neighbor
(3:20 PM)
I do think it will be for the better. FB has a drive and determination that I think Str8 lacked.
David Army ((Newark NJ))
Neighbor, it seems like now, since MLG has gotten so much more bigger, and so much more money is involved, Pro players have begun to value the thought of more money to play rather than friends, friendships, and teams. Do you agree even a little?
Neighbor
(3:21 PM)
I do agree with that. Halo for us is a business. We want to be able to make as much as possible while keeping the same friendships. We're travelling all year, spending our own money. There's definitely going to be more opportunities for sponsorships. The friends that we make--the close friends--will stay your friends no matter what happens.
Clay (Columbus OH)
Reading T2 blog on MLG Pro gave me the sense that you didn't know if you wanted to be on Str8 or FB what really influenced your decision on leaving Str8?
Neighbor
(3:22 PM)
There were a lot of reasons why I left Str8. Some were personal. The main reason why is because I really wanted to team with the Ogres and StrongSide. I'm really excited to go to tournaments with them and win.
Patrick, Worcester MA
Neighbor, after al the recent roster changes which other team out there do you think will be the touhest to beat?
Neighbor
(3:23 PM)
Right now, Triggers Down, Str8, and Instinct are all amazing teams and practicing pretty hard. They all have something to prove and will be our biggest competitions.
Loomis, California
What do you think about the most recent blog Tsquared released?
Neighbor
(3:24 PM)
I actually just read it yesterday. I wasn't going to read it, but it was good--it showed his emotions. It affected me because I've been good friends with him for the past two years. It was tough reading some of the things he said about me, but I just have to move on and focus on Toronto.
Michael Bluhm (Roswell,Georgia)
Say if you were to match up against Str8 rippin would it by any chance affect the way play or will you play like you normally do.
Neighbor
(3:25 PM)
I've never really played against them before, so that will be different, but I will think of it as another team. Obviously there will be more pressure, but I won't think about it at all.
Allen: (Charleston , WV)
Neighbor , after being so used to str8 rippin's style of play and then having a sudden team change with an entirely new style do you think you will be able to adapt well to it and be able to help final boss into getting them back to their place of being the number one team?
Neighbor
(3:26 PM)
Definitely. The first night I played with them, it felt like we were all on the same page. Everyone on FB knows what they're doing and what we did. It's real easy to adapt to play with them.
Scott Serfass (Gettysburg, PA)
Are you still on good terms with Str8 Rippin? It seemed like T2 didn't take too kindly to you joining Final Boss.
Neighbor
(3:27 PM)
I talked to ElamiteWarrior a few times on the phone. I haven't really talked to Brian, and I haven't talked to Tom since the split. I don't know that we'll be on good terms for a while, if ever.
Geoff (Albany, NY)
Neighbor, who would you consider the captain/leader of the NEW Final Boss, considering that the previous leader left.
Neighbor
(3:28 PM)
OGRE1 picked up the Captain role, and he's really good at it. He keeps us in line and makes sure we're all focusing in practice. It's good because he's one of the oldest on the team.
Alex Comeau (Mariyo) Canada, Ottawa
What does it feel like to become a part of the FB dynasty with a reputation for success and do you feel like you have some big shoes to fill in the place of david walsh?
Neighbor
(3:29 PM)
It's amazing. Joining FB has always been a dream of mine. I do feel that I have some big shoes to fill. Leaving Str8 was a risk, but I'll work really hard to be the best that I can. Hopefully we can be the top team.
Omar:New Orleans, Louisiana
Just wondering, Neighbor, in any, how much of an effect did Gilbert Arenas have o you joining Final Boss.
Neighbor
(3:30 PM)
He had an effect because he's one of my favorite players. When he makes big plays, he's calm and collected. It's great to be sponsored by them, and I'm looking forward to helping his team out.
Danny Rodgers (Silex, MO)
Neighbor, it seems like FB was the start of this chain reaction of team changes. Do you feel as though maybe you were the catalyst of all this?
Neighbor
(3:31 PM)
I think it started with Dave being released from Final Boss. I guess it started more team changes after I joined Final Boss. It helped other players out for the better. Mackeo has a really good opportunity now to win, and with Walshy on Instinct, they have a great opportunity as well. It's benefitted a good amount of players.
Mike (East Granby, CT)
Neighbor, are you still able to assume the same role on FB as you did on Str8? Playing the sneaky guy and being a one man wrecking crew?
Neighbor
(3:32 PM)
It's not really a role, it's just how I play. We don't really have roles on the team--we all try and do everything. I'm just going to play how I played on Str8. I'll still be the sneaky Neighbor that everyone knows.
Hansel (Versailles, KY)
Neighbor, if you do go against Str8, how do you think you be when facing Snipedown. Are you going to be more aggressive since you know the he replaced you?
Neighbor
(3:33 PM)
Not at all. I'm not focused on one player or another--we're going to do what we need to do to get the win. I'm not worried about him at all--he's just a player on the team.
Matt Austin (Great Falls, MT)
Neighbor, it seems to me that your playstyle is very similar to that of OGRE 2's. (Game-locking snipes) Do you two ever have a conflict over the sniper?
Neighbor
(3:34 PM)
We don't. It's whoever is closest to the sniper. We never fight over it--it's not that big of a deal.
Dan Orlando,Florida
Are you excited about how Toronto might turn out?
Neighbor
(3:35 PM)
Really excited. I'm going to practice harder than I ever had. Our team is going to practice extremely hard, and all the trash talk is firing me up. I don't let it really affect me. You'll see a totally different Neighbor at Toronto, a new FB, and it won't be good for the other teams.
Neighbor
(3:36 PM)
Just want to thank all the friends and family who have supported me and FB during this time.
Buzzmaster
(3:36 PM)
ElamiteWarrior is next!
Tyler Jocobson Atlanta, Georgia
Elamite Warrior, How is the team growing with SnipeDown? Was the team change for the good? How is the team chemistry?
ElamiteWarrior
(3:38 PM)
I think the change was for the best. We realized that SnipeDown was one of the most individually-skilled players on the circuit. The chemistry has been coming along very well so far.
Troy White (Victoria, TX)
Elamite: Were you surprised or angry at all when Neighbor left to FB after begging you to stay on Str8?
ElamiteWarrior
(3:39 PM)
I was pretty upset about it. I thought after I said no when he told me to stay, that our team was safe. After he left, I kinda felt betrayed, but after I talked to him, I wasn't upset. I'm happier now with our new pickup.
Justin(Baton Rouge, La)
Elamite, after playing with Neighbor for so long..one of the best snipers out there. And now playing with Snip3down, who do you feel is the better sniper? Neighbor or Snip3down?
ElamiteWarrior
(3:39 PM)
It's hard to tell right off the bat. But depending on which one is on fire, sniping their best, Snipedown is better, but at any time, either one could be better.
Tom (Buffalo, New York)
Elamite how tempted were you to joining Final Boss?
ElamiteWarrior
(3:40 PM)
I was extremely tempted because I'm such good friends with all of them. But we're the No. 1 team right now, and I'm such good friends with my team that didn't want to ruin any friendships. I'm happy with our team right now.
Stephen (Clifton Park NY)
ElamiteWarrior, do you think now that snipedown is on the team you can finally beat FB at championships like T2 wants to according to his blog? PS- i love the new guy video on MLGpro.com
ElamiteWarrior
(3:41 PM)
I think with SnipeDown on our team, we could win the next three tournaments.
Lance Barber (Nevada, IA)
who are you more concerned will be a challenge for your team? the new final boss or the new instinct? is str8 adapting in any ways?
ElamiteWarrior
(3:42 PM)
As of right now, we're more concerned with FB, but only because they're on our side of the bracket. We're looking to play our best, not to change our playstyle.
Jason K (Ontario, Canada)
We have heard alot about Gilbert Arenas offering some money to Neighbor, was an offer similar like that presented to you?
ElamiteWarrior
(3:43 PM)
We both were presented with a sponsorship from Gilbert, but after talking to Mason, I decided to decline it. Mason ended up joining FB after some other internal stuff happened.
Wes (Topeka, KS)
What's the main thing that SnipeDown brings that Neighbor didn't?
ElamiteWarrior
(3:43 PM)
SnipeDown is less of a sneaky player. He's a brute force player who can run through an entire team.
Doug White (Victoria, TX)
Elamite: How angry are Tom and Brian right now toward Neighbor? Do you think the team could fall apart now?
ElamiteWarrior
(3:44 PM)
After Mason left, it brough our team together even more, and bringing on SnipeDown meant we couldn't be happier. I'm sure there are still some bad feelings, but hopefully we'll get over it.
Adrian- Washington DC
Elamite, do you think knowing Neighbor?s skills and habits will put you at an advantage or disadvantage when playing FB?
ElamiteWarrior
(3:45 PM)
Definitely an advantage. We'll be watching for everything that he does. We'll be familiar with FB's game anyways, since we've been playing with them for two years.
Buck - Vacaville, California
Elamite, Knowing that Neighbor went to FB, if you could go back would you have went or no?
ElamiteWarrior
(3:46 PM)
With our pickup of SnipeDown, I'm happier now than I could have been in Final Boss, so no.
Julian L (East Hartford, CT)
Did you guys have to adjust your playing style when Neighbor left? WIth SnipeDown being such a tank clearing through teams and all.
ElamiteWarrior
(3:47 PM)
No, not really. We all just started playing together again with SnipeDown, and our playstyles adjust to fit the team and what needs to be done.
Jimmy (Rexford, NY)
Elamite, Is there any chance in the future, where we see Ace [your bother] added to the team? Don't you think this would be an advantage since you know him better?
ElamiteWarrior
(3:48 PM)
Anything is possible--he's getting better after each event. I could definitely see teaming with him in the future if Str8 doesn't work out.
Kelsey (Green Bay Wisconsin)
Are you going into Toronto with more motivation than previous events because you are looking to seek revenge?
ElamiteWarrior
(3:49 PM)
Definitely. After I got kicked off last season, I got the drive to play again, and now we're looking forward to playing against FB.
Scott - Hesston, Kansas
Elamite, what are your predictions for MLG Toronto? Str8 on top? Ill definetely be there rooting for you guys!
ElamiteWarrior
(3:49 PM)
My predictions are Str8 on top for the next three tournaments.
ElamiteWarrior
(3:50 PM)
Just want to let everyone know, I'm undefeated against Neighbor in tournament play, for the record. Thanks to our fans for the support!