Chat with musician Craig Finn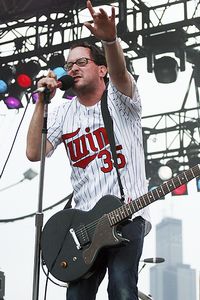 Finn credits Pavement with making
it OK for bands to be into sports.
Welcome to The Show! On Wednesday, Sept. 10, Craig Finn, baseball fan and lead singer of the band The Hold Steady, will stop by to take your questions on his beloved Minnesota Twins, his band's latest album "Stay Positive" and more!
Finn, born in Boston but raised in Edina, Minnesota and currently living in New York City, hit the scene in 2004 with the release of the debut album "Almost Killed Me" and followed that up with "Separation Sunday" in 2005 which included a lengthy tour schedule helping launch The Hold Steady into the limelight. In 2006, the band released "Boys And Girls In America" which was named Rolling Stone's No. 8 album of the year and led Blender magazine to name The Hold Steady as their band of the year. The new album, "Stay Positive", was one of the most highly anticipated releases of the year and has been warmly received by critics and fans alike.
While putting "Stay Positive" together in 2007, the band took time out to record a special version of "Take Me Out To The Ballgame" to be used during the seventh-inning stretch at Twins home games.
Send your questions now about baseball and music and join the live chat on Wednesday, Sept. 10 at 3 p.m. ET!
Catch The Hold Steady on tour!
MORE
Previous musicians | Previous chat guests | SportsNation index
Buzzmaster
(3:00 PM)
Craig is here!
Tony (Alexandria, VA)
Should the Twinkies make the playoffs, would you reather see them face the Sox, Rays or Angels in the first round?
Craig Finn
(3:01 PM)
I think I'd like to see them face the Rays. They are the least scary because I have seen them the least. Ignorance is bliss. I'm going back on tour Sept. 28 so I'm going to be on MLB.com a lot.
Owen (Seattle)
Any suggestions for a fan of a crappy team to 'stay positive'?
Craig Finn
(3:02 PM)
Well, you have to go in with the right expectations. If your crappy team is in your hometown, go to the games. I've spent a lot of time during the Twins bleak years in the third row and it really helped to enjoy the games more.
Sal Butera
Better Twins nickname: Juan "Senor Smoke" Berenguer or Frank "Sweet Music" Viola?
Craig Finn
(3:03 PM)
I like Sweet Music. I just got done reading Kent Hrbek's' bio and he talked a lot about how nervous Viola was before he pitched. That really endeared him to me even more.
Eric in Hartford, Conn.
As a long-time Braves fan, I demand to know when Craig is going to denounce Kent Hrbek's reprehensible conduct in the 1991 World Series. Ron Gant deserves justice!
Craig Finn
(3:04 PM)
Watch that play in slow motion! See if it looks like Kent pulled him off the bag. If you still think that, you are watching with Braves eyes. When are the Braves are going to apologize for Jane Fonda being in the dugout?
Stefan
Does anyone else in teh band like baseball or are you listening and watching games all by yourself?
Craig Finn
(3:05 PM)
Our base player is more encylopedic about baseball than anyone I know. I'm really more of a Twins fan than a baseball fan. But I do watch other games quite often. Our piano player is a huge Red Sox fan. I"m in third place actually out of five in overall baseball knowledge.
Allan B.
If you could have been a popular musician in any decade, which would it be?
Craig Finn
(3:06 PM)
Good question. I guess you have to go with the 70s because it was the most ridiculous. I just read Neil Young's bio. The things that went down in the 70s for sure don't go down in the 2000s. After the show we get on the bus and go away. I don't understand when all this stuff is supposed to happen.
Scott Hays
You guys have a show in Louisville on Oct. 30 which could be Game 7 of the World Series. What happens if the Twins are in that game?
Craig Finn
(3:07 PM)
TV's on stage!
Minneapolis
Will our unpredictable bullpen be problematic enough to prevent the Twins from making a post-season run?
Craig Finn
(3:08 PM)
Yes, it certainly could. We have a REAL problem there. The White Sox seem to be playing pretty poor baseball as well. Nobody is going to storm into the playoffs from the central that is for sure.
Steve, Los Angeles, CA
Craig, plenty of indie rockers admit to being huge baseball fans nowadays. But why do you think there's traditionally been such a separation - specifically in America - between sports fans and music geeks?
Craig Finn
(3:09 PM)
I'm not exactly sure. I think there is this thing about rock n roll that promotes rebellion. At least that is the image. I think sports is such a big part of American mainsteam culture, a lot of rock n rollers feel guilty about admitting to liking sports. I can admit liking to eat wings and watch baseball but a lot of rockers just have a hard time doing that.
Karen (NY)
I want to ask about the art of the encore? Do you do encores because you feel like you have to? Just to get a bathroom break? What? And how do you decide how long to make people wait?
Craig Finn
(3:10 PM)
It's usually something at this point that we are planning on doing. But it IS a bathroom break as well. It lets you feel out how the show is going and how you want to approach the encore. The show is scripted but the encore isn't. We actually do really talk about what we want to play in the encore.
Eric (Minneapolis, MN)
Speaking of Hrbek. Didn't you tape an episode on his outdoor show? Is that going to air?
Craig Finn
(3:12 PM)
It has aired. I have not seen it. I went fishing with Kent, may all-time favorite player. I caught 2 and he caught about 15. He was a great guy. Sometimes when you meet your favorite person it can be disappointing but it was a real pleasure to go fishing with him. It was my maiden voyage and he was very patient.
Steve (Havertown, PA)
Based on the final track of Stay Positive, do you think we could ever see a Hold Steady movie?
Craig Finn
(3:12 PM)
I don't know that it would be a Hold Steady movie but I would love to try and write a script. We might do a DVD though. I would love to write a script or a novel. It's hard to find the time for that.
big baby (nj)
I've heard that you rail against teams like the Red Sox and Yankees for "ruining" baseball with the way they spend copious amounts of money. What about teams like the Twins who have a billionaire owner who nickels and dimes his franchise? AKA get off your high horse and get a clue.
Craig Finn
(3:14 PM)
Well, that's an opinion I guess. Just because an owner has all that money doesn't mean they have to spend it. An owner can run his team the way he wants. If you keep spending and spending sometimes the profit just isn't there.
steve
Saw you on the stage listening to Fleet Foxes at Pitchfork...We're you as amazed at me how quiet and attentive the crowd was...and do you think they're the real deal?
Craig Finn
(3:15 PM)
Yes, they are the real deal. I was very impressed with their performance. They proved they are the real deal. They are the best singers I've seen maybe ever up close.
Kevin (NYC)
I know you are a big Twins fan, but living in brooklyn now, do you have a favorite new york team? (and I'd hope if you do, it's not the yankees)
Craig Finn
(3:16 PM)
New York Mets. I can see them most nights on TV. I was happy to see Santana land there instead of the Yankees or Red Sox. They are just a fun team to watch. A good friend of ours has season tickets so we go sometimes. The Rangers are a close second. I just recently got back into hockey. I never really took to the Wild. I've been to quite a few Rangers games with friends. And the Knicks just aren't very likable right now.
Kent Hrbek
About how many different batting stances did I use when I played? 100? 200?
Craig Finn
(3:17 PM)
I'd say 110. Depending on what advice your mother was giving you that week.
Amy Baxter
What is your songwriting process like? Can you write anywhere at anytime or do you have to be in a certain frame of mind? Do you ever suffer writers block?
Craig Finn
(3:18 PM)
I have suffered from that. Often times to overcome it I have had to mix it up. Maybe write on a laptop instead of a notebook. I write everyday in a notebook. When someone comes with a great riff, I'll go through the notebook to see what fits.
Scott (Boise, Idaho)
What is your favorite Minneapolis sports moment?
Craig Finn
(3:19 PM)
I think just winning the Series finally in 1987. That whole October was great. I got my first drivers licence, girlfriend and World Series! I got SI during that time and for three straight weeks we were on the cover. It felt like we were at the center of the universe.
Dustin (Minneapolis, MN)
What is your favorite baseball stadium to go watch a game? What kind of hopes or expectations do you have for the new Twins stadium?
Craig Finn
(3:20 PM)
My favorite park is Fenway. I went to a lot of games there when they were not very good. I did get to go to a lot of games for cheap and you can't do that anymore. For the Twins, taking the ceiling off is fulfilling a lot of my expectations. I think they are on the right track. Small witih lots of sightlines so you can see the game from all over.
Rick (Wichita, KS)
Of all the things you guys have accomplished as a band, what are you most proud of?
Craig Finn
(3:22 PM)
Good question. I'm most proud of looking back to the start of the band and what all we have done. How we've been able to do it. We walked it like we talked it. We've had 4 records in 5 years and toured constantly. The travel has been really fulfilling. This band has taken me around the world.
Troy (Syracuse, NY)
As a musician who spends so much time touring, how many chances do you get to see other bands perform? Who have you not seen live that you would really like to see?
Craig Finn
(3:23 PM)
The good news is in Europe there are so many festivals in the summer. So we do get to see quite a few folks. Not so much in the Fall and Winter. I would like to see Bon Iver. I have not seen him play.
Mike, NY
Has SNL called yet?
Craig Finn
(3:23 PM)
I'm not sure. They don't call me directly. Good question.
Rob (NJ)
Are fans at British festivals better then they are at U.S. Festivals? Just seems like the vibe is better at Glastonbury, V-Fest England, Leeds, etc then they are here
Craig Finn
(3:24 PM)
Some, yes. Absolutely. The best U.S. ones follow the U.K. model. The expectations are better in U.K. They get wet, muddy and cold but still manage to have a good time.
Tony (Alexandria, VA)
I know you guys get questions about the Replacements, Husker Du, and D4 all the time, but what I really want to know is, do you guys ever wish you could follow more in the footsteps of Prince, what with the glitter, the glam and the funky jams?
Craig Finn
(3:25 PM)
There are certain aspects of Prince's life I would love to follow, yes. Kidding aside, he is an incredible artist with an amazing career. For our dispositions, we are better off in the mold of the Replacements.
Patrick (Las Vegas)
Better manager: Gardy or TK? And why?
Craig Finn
(3:26 PM)
Kelly. Gardenhire is a hell of a manager though. He is making a great run. They got rid of an opening day starter and have changed the infield around so much. They are a game out on Sept. 10. That's pretty good.
Jack (Gainesville, Florida)
Are the Chicago Cubs kind of like The Replacements of baseball? Occasionally great but prone to random acts of self-sabotage?
Craig Finn
(3:27 PM)
You could make that argument. The Replacements are my all time favorite band and I know he is a Twins fan as well.
Ryan Dees
What's up with your boy Tad dissing Radiohead? Do you feel the same way?
Craig Finn
(3:27 PM)
I do not feel the same way.
Craig Finn
(3:28 PM)
But to each their own.
Tye, Carlisle, PA
I was listening to "Cripple Creek" by The Band the other day, and couldn't help thinking of "Chips Ahoy". Were you thinking of this song at all when you wrote "Chips Ahoy"? Also, I've seen you twice on tour this summer and you guys are awesome. Thanks.
Craig Finn
(3:29 PM)
No. But The Band is a huge influence on what we do. Not sure most people can hear it. The Last Waltz on the big screen wanted me to make music again. When the band is kicking around listening to music, The Band is on heavy rotation.
Julie Slater Los Angeles
So you have that song "Sequestered in Memphis"...um, we need the story there...who was sequestered and why!!???? :)
Craig Finn
(3:29 PM)
Well, it's just that. A story. I have been on tour enough to know that Memphis and Texas are two places you can get yourself into a whole lot of trouble if you don't watch out.
Mike G, NY
Are you and Koob more like Elton John and Bernie Taupin, writing your stuff in separate rooms, or is it a more collaborative process?
Craig Finn
(3:30 PM)
It's more collaborative. We'll mumble over the microphones to get the meter and our vocals in the right place. I might work on stuff aside from the band but all the creative stuff really comes from the collaboration.
Doc
Are you in any fantasy leagues with Stephen Malkmus? If not, are you in any fantasy leagues at all?
Craig Finn
(3:31 PM)
I am not in any fantasy leagues. I was in a fantasy football league but it got away from me. I missed some subs and I realized I just couldn't do that anymore. You lose track of what day it is on tour so Sunday creeps up on you pretty quickly.
Sam Elkind (Deerfield IL)
hey Craig, just wanted to thank you for the show at the pitchfork festival this year, it was unbelievable. my question is this : you seem to have merged your love of baseball and music together by recording take me out to the ball game. do you have any other interests or loves that you would like to merge together in some way? - Sam
Craig Finn
(3:33 PM)
Tennis one of my favorite sports. I would love to be able to play more. That is the big one. It's hard to play tennis in NY. Since I've moved here my game has gone out the window. I pride myself on being a good player but I'm not sure I am anymore.
Andy (Phila, PA)
CF, You always talk about the Twins and how we all can agree about hating the Yankees (which we can). What are your thoughts on the National League? Any favorites or hated teams?
Craig Finn
(3:33 PM)
I don't pay as much to the NL but I do have a soft spot for the Brewers. I'll be really impressed if they make the playoffs. I can like them more now that they aren't in the AL.
john, des moines, ia
If you could play any position, what would it be? would you prefer to be the leadoff or cleanup hitter?
Craig Finn
(3:34 PM)
I think 2B maybe. I would like to be in the middle of a double play. It's a very graceful position. Big wish for a very clumsy person.
Lou
Have you ever met Rod Stewart...And if so, does he have any thoughts on Stevie Nix? That rumor is well known, but I'm guessing that's the only time it's been referenced in a song (and a GREAT song at that).
Craig Finn
(3:35 PM)
I have never met Rod. I saw him in a restaurant about 10 years ago.
MG, NY
Ever consider doing covers during your shows (like you did Atlantic City for Springsteen)? If so, what might you perform?
Craig Finn
(3:36 PM)
We don't do it often. I don't think we have ever done a cover live. With 4 records and B sides now, we have about 60-70 songs to choose from. Covers are less interesting to us now. But that's not to say we won't do some in the future.
kevin (new york city)
Do you have a favorite song on Stay Positive...either one you are most personally attached too, or one you are most proud of?
Craig Finn
(3:36 PM)
I think Constructive Summer. I always like the first songs. I was very happy with that. It's a thesis statement for the whole album.
Ryan (Milwaukee, WI)
You got to sing a verse of Rosalita with The Boss. Why doesn't the Hold Steady cover the whole song? That would be amazing. Tell us about your first time seeing the Boss.
Craig Finn
(3:38 PM)
It was amazing to perform with him. He is a hero of mine. As I said with Hrbek, there is always the potential for your heroes to disappoint but he did not. He was great. Rosalita is a really hard song to make sound good. Only the E Street Band can play it with that magic.
Dave, LV
Paul Stanley always said that he always wanted to nail the first song he wrote for an album because it would set the tone for the entire project. Do you share a similar goal?
Craig Finn
(3:38 PM)
I feel the same way. We write in albums. When we go in, we are thinking of an album, not just a list of songs. Starting it on the right note is very important to the overall flow.
Cody, SD
Do you think Justin Morneau will the MVP this year?
Craig Finn
(3:39 PM)
I think he has a shot but I don't think he will get it. I think they have to look at his accomplishments and realize what that team would be without him. If you judge it that way, he has a shot. But I'd be surprised if he got it.
Mike, NY
What of your thoughts on the "Unified Scene"? You must be pretty proud of the loyal foloowing you have created.
Craig Finn
(3:40 PM)
Yes. I'm really proud of the following we have created, both the Unified Scene and all the other great fans that aren't part of the message board.
Nate P. (St. Paul MN)
If fate turned out differently and you were a baseball player instead of a musician, what would your batter-up music be?
Craig Finn
(3:42 PM)
I think Jailbreak by Thin Lizzy! It's a pretty good riff! It's not super powerful but it would be great for a singles hitter. Maybe Mauer should think about it! Thanks for the questions and go Twins!