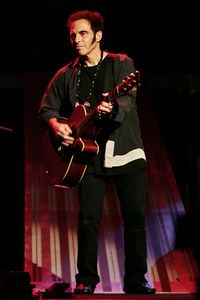 Nils Lofgren pays tribute to
one of baseball's cathedrals.
Welcome to The Show! On Sunday morning, we'll have a special chat when musician Nils Lofgren comes by to chat about his special tribute to Yankee Stadium.
Lofgren's song "Yankee Stadium" will be featured in ESPN's coverage of the final game played at the famed ballpark (Sunday, 8:05 p.m. ET, ESPN). Lofgren has made the song available on his website NilsLofgren.com.
Lofgren explains that his wife, Amy, gave him the inspiration for the song with her stories about Yankee Stadium from her youth.
While known as a solo artist, the Chicago native is also a long-time member of Bruce Springstein's E Street Band.
Send in your questions now and join Lofgren around 11 a.m. ET on Sunday!
MORE
Previous music chats | SportsNation
Buzzmaster
(1:26 PM)
Hey folks, join musician Nils Lofgren, Sunday at 10 a.m. ET, as he talks about his song "Yankee Stadium," which will be featured in ESPN's coverage of the final game played at the famed ballpark (Sunday, 8:05 p.m. ET, ESPN).
Amy Lofgren
(11:02 AM)
I'm sad it's the last day! It's a wonderful, beautiful place in New York.
Nils Lofgren
(11:03 AM)
I'm sad it's coming down as well. Obviously, as a ruthless musician, I'm happy that she convinced me to write this great song--I really got to appreciate the aura of the mythical place. So it is a sad day, but I'm happy that Amy kicked my butt to write this song.
Traci (Austin, TX)
This question is for Amy .. what is your favorite memory of Yankee Stadium?
Amy Lofgren
(11:04 AM)
I would have to say, going there with my mom and my three sisters on a city bus, on my first trip ever. We were little girls, and just walking in there, we were like "Oh my gosh, it was unbelievable." We were sitting there with a group of people from my hometown, and it was just one of my favorite times.
Del Jackson
What is your favorite sports-related song?
Amy Lofgren
(11:05 AM)
John Fogerty--"Centerfield"
Nils Lofgren
(11:06 AM)
The first selfish though I had as a professional musician was the National Anthem, which I've sung 11 times at pro sporting events--I havce a record of 10-1. I've developed a version that is a free download at my website (as well as "Yankee Stadium"). I finally came up with a version that's mine, that maintains the reference.
Amy Lofgren
(11:06 AM)
What's yours, Del?
Rich Lynch, Ringwood, NJ - Kweevak
Nils - what your most memorable baseball game you watched or attened (any team)
Nils Lofgren
(11:08 AM)
Growing up on the South Side of Chicago, my dad took me to a White Sox game when I was six. He had been teaching me how to play, and I had my glove in centerfield. I was a cocky six year-old, thinking how great it would be to catch a fly ball. One of the White Sox hit a home run to me, and it looked like the moon coming down! I got so scared, and I was praying it wouldn't come down on me! Fortunately a guy about ten feet away caught it, but when that baseball was coming down, I had never seen anything that big, fast, and scary in my life.
Jason (Orlando)
Do you ever have problems keeping up with Bruce and his marathon shows? Ever just wanna say "Dude, enough! Let's get outta here!"
Nils Lofgren
(11:10 AM)
Honestly, no! Most of the last 40 years on the road, my own bands do about 2.5 to 3 hours. It's like building a city, playing live--it's kind of medicinal and healing. You may be exhausted or beat up, but you never feel like stopping. You go as long as the singer will take you.
Zach (Olney, MD)
When are you coming back to the birchmere?
Nils Lofgren
(11:11 AM)
I hope next year! I've been on the road over a year, and I'm grateful as heck to be home. I imagine, early next year, I'll make plans to write and work on a batch of my own music. I don't know exactly when I'll be back on tour, but we'll make sure to post all the dates on the website.
Nils Lofgren
(11:11 AM)
I hope next fall, would probably be the short answer.
Steve (Dallas)
What is your opinion of George Steinbrenner?
Amy Lofgren
(11:12 AM)
It's a love-hate relationship. He kept this team going, and seems half-crazy to us, but we love him! In the days when he would fire Billy Martin, and rehire him, it was hysterical. They're handing a lot of the day-to-day stuff over to his son, so we'll have a new Steinbrenner to love.
Nils Lofgren
(11:13 AM)
I'm more of a distant fan, but it's a source of constant entertainment.
Joe (Scranton Pa)
Are you guys upset like I that at the closing of the stadium the one player who could make you happy in the 80's, Donnie Baseball won't be around? It is a tough day, but that makes it even tougher for me as a child of the 80's.
Nils Lofgren
(11:14 AM)
Don was actually one of the players I really liked as a distant fan, so I'll be sad that he won't be around. I guess a rival team is not going to give Don the week off to parade around in past glories.
Amy Lofgren
(11:14 AM)
I'm excited to see who will be around, though. It'll be fun to see all the old guys there.
Amy Lofgren
(11:15 AM)
I wish I was going to be there!
Joe Roberts, Michigan
Speaking of ballparks, do you have any good stories about playing the first concert at Fenway Park?
Nils Lofgren
(11:17 AM)
For me, by far, we all got in these vans to go to the gig. It totally shocked us--we went the past half a mile of bars, full of people screaming and shouting with drinks in there hands, as we pulled into the gig. I don't know if they did it on purpose, but the last half a mile was like that, all these people wishing us well.
Amy Lofgren
(11:18 AM)
I heard that, one Mr. Bruce Springsteen lifted the curse on the Red Sox, free of charge. As a Yankee fan, I was very happy for the sport that they won the World Series. I've been to one Red Sox game at Yankee stadium in the Stadium, and it was at the height of the rivalry. It was dangerous! A scary, scary place to be. People were fighting in the stands.
Steve (Dallas)
If you could change one thing that the Yankees organization did in the past, what would you change?
Amy Lofgren
(11:20 AM)
Not let Thurman Munson fly an airplane. That was a really rough time.
Nils Lofgren
(11:20 AM)
I probably would have had them hang on to Babe Ruth, and had him just finish as an old crackup of a player. Let him finish his days as a Yankee.
Danny Heaton, Youngstown, OH
What are the traps with singing the National Anthem? Is it hard to remember the words?
Nils Lofgren
(11:21 AM)
Surprisingly, yes. It's also a very difficult melody with a high range. You have to start a little low and give yourself headroom. I did an electric guitar version for a while, and it wasn't very good, but I came up with an acoustic version that keeps the reverence and has quite a bit of personality. It's available at my website. But it is a challenge to take on.
Amy Lofgren
(11:22 AM)
And Nils sings it beautifully!
Nils Lofgren
(11:22 AM)
I had this great record, I was 10-0 with the song. I was very proud of it, as I'm a real sports jock. The Diamondbacks asked me to sing their opening game, and to my horror, they LOST my home opener and tarnished a perfect 10-0 record. So I owe that to a baseball team.
Michael Johnson
Is it harder setting out to write a song about a specific thing than just writing a song that could be about anything?
Nils Lofgren
(11:24 AM)
No real rules, but in general, it's hard to force anything. In this instance, my wife gave me a great idea, that as a sports fan, had enormous appeal--"Everyone is beautiful in Yankee Stadium". I tried to write it through her eyes. It somewhat gives you an idea--if you don't have an emotional affinity towards the idea, then it's difficult, but this was a fun journey.
Zach (Olney, MD)
So no new E Street Band Tour next year? What about the Super Bowl?
Nils Lofgren
(11:25 AM)
As always, that information, until it comes from Bruce and John Landau Management, it will just remain rumors. 90 percent of rumors are just that, but as a big fan, I'm always rooting for another chapter. I have no idea whether that will happen or not.
Wayne, Darlington, SC
Thanks for doing this. If Babe Ruth is the Elvis of baseball, who are the Bruce and Neil of baseball?
Nils Lofgren
(11:28 AM)
To me, the Bruce Springsteen of baseball is Lou Gehrig. The Neil of baseball? I'm at a loss for words there. You couldn't go wrong with DiMaggio, but the workmanlike quality of Gehrig reminds me of Bruce.
Mike, Pittsburgh
Nils, I hear Bruce is a big baseball fan, true?
Nils Lofgren
(11:30 AM)
Bruce is a sports fan, but I'm pretty sure he's most passionate about baseball. I see him more regularly talking about it. Of course, Glory Days featured a baseball storyline. I did watch a great Super Bowl at his house with my Redskins against Denver. All Bruce's buddies were razzing me when the Broncos went uo 10-0. Bruce and I put up money on the 'Skins, and Doug Williams went on to put up a 34-point second quarter.
Amy Lofgren
(11:30 AM)
And Bruce is definitely a Yankee fan.
Nils Lofgren
(11:30 AM)
We went on really late on one of our shows once, and I was wondering what was going on, when I saw Joe Torre visiting Bruce, and I was like, 'alright'. I didn't meet him at that point--I just wanted to pick up a guitar and rock.
Rich/NJ
How about a Nils Lofgren/Bernie Williams jam ?
Nils Lofgren
(11:31 AM)
Hey, why not? Just tell Bernie to give me a shout, and let's do it.
Amy Lofgren
(11:31 AM)
He'll have to come to Arizona though.
Nils Lofgren
(11:31 AM)
I need to stop traveling for a little bit.
Nils Lofgren
(11:32 AM)
I'd like to thank my wife Amy for this brilliant idea that inspired me, and, sadly, the Yankees for not being in the playoffs--it really got me to be able to finish this song last week. It's a sad day that the stadium is coming down, but I'm grateful for all the great memories.
Amy Lofgren
(11:33 AM)
Ditto. And when we go to Yankee Stadium, really, everyone is beautiful.