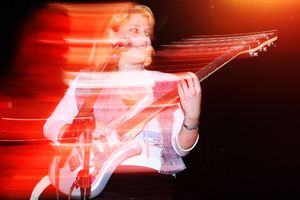 That's not a trick. She really plays that fast.
Welcome to The Show! On Monday, we continue our tour of the music world with a visit from
Marnie Stern
who will stop by to chat about her love of cheesy sports movies, her new album and much more!
Stern is in the middle of touring for This Is It and I Am It and You Are It and So Is That and He Is It and She Is It and It Is It and That Is That which has received rave reviews. The third track on the album is titled "Shea Stadium" and is a blistering example of her virtuoso guitar prowess. As she told Spinner.com, "I try to make [my music] as anthemic as possible and as uplifting as possible. I had been watching a lot of baseball movies like 'The Natural,' and I started picturing Shea Stadium. It evokes the feeling of an actual game."
When Stern chats on Monday, she will have also just completed her Kissing Booth adventure in San Francisco and Los Angeles. Need more details? You'll have to ask!
Send your questions now and join the live chat on Monday, Nov. 17 at 3 p.m. ET!
More: Check out previous music chats with Hold Steady's Craig Finn, Beastie Boy Adam Yauch, Duff McKagan and more!