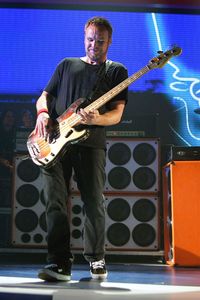 Prior to being a rock star, Ament was a standout high school hoopster.
Welcome to The Show! Have we got another great musical interlude for you or what? On Wednesday, Dec. 8, Pearl Jam bassist, Jeff Ament, will stop by to chat about the agony of being a Seattle sports fan, writing the music for good friend Kenny Mayne's new web series, "Mayne Street," and more!
Ament, who recently released his first solo album, "Tone," has been a fixture in the Seattle music scene for more than 20 years. After playing in several grunge bands during the 1980s, Ament joined Stone Gossard, Mike McCready and Eddie Vedder in 1991 as founding members of Pearl Jam. Over 30 million albums later, Pearl Jam continues to release albums to critical acclaim and play to sold out stadiums around the world.
A native of Big Sandy, Montana, Ament was a talented high school basketball player and still plays pick-up games in his hometown and makes as many NBA games as possible around his hectic tour schedule.
Ament will get behind the keyboard on Wednesday, Dec. 3 at 6 p.m. ET so start sending those questions now!
MORE: Mayne Street | www.pearljam.com | More music chats
Jeff Ament
(6:01 PM)
Hey....I filled the generator full of coal, so I should be good for the next hour or so....fire away! Jeff
Jeff Ament
(6:03 PM)
at a bathhouse somewhere in south hartford in the mid 90s...nice bloke.
Jackson, MS
how did you meet Kenny Mayne?
Steven
When did it really hit you that Pearl Jam had gone big-time?
Jeff Ament
(6:06 PM)
somewhere in ohio in late 91...big club show for us at the time and about a thousand people hanging out afterwards to meet us....
Dee (Wichita, KS)
Chinese Democracy. Discuss.
Jeff Ament
(6:07 PM)
I haven't heard the real release but I kinda liked the bootleg mixes that I heard....we've had a whole band life of 17 years since Use Your Illusion...so it's not that good.
Justin (Seattle)
What is your favorite cover song to perform live?
Jeff Ament
(6:07 PM)
Hopefully we're all still alive and talking to each other....that would be my wish.
Riley, Morgantown
What do you think Pearl Jam will be doing 10 years from now?
Yosi (New York, NY)
What's your favorite pair of sneakers?
Jeff Ament
(6:09 PM)
I have a couple well worn pairs of og Jordan 3s and I prefer the Vans SK8hi to skate in....
Dave Chicago, IL
Why did you guys choose to work with Brendan O'Brien on this album? What has been his biggest influence on the recording process so far? Thanks and keep on rockin in the free world!
Jeff Ament
(6:10 PM)
We trust Brendan with our music...all of us...that's the bottom line really, to let someone that we trust in to the new music....it's going real good so far....
Joe, Queens, NY
Who are the most and least athletic members of Pearl Jam?
Jeff Ament
(6:11 PM)
of course, I think I'm the most athletic until I get pummelled by a 12 foot wave and can't find the surface....then ed would be....actually everyone has their own thing they're good at...
Matt: Waco, TX
Will you guys ever come back to Texas?? Also, how's the record sounding right now? You can always root for the Rockets, by the way!
Jeff Ament
(6:12 PM)
we will play tejas in the next ten years, I promise...as long as brent's playing for the rockets I will be a fan of yao.
Jonas Merrill
Jeff....great show at Dante's on Friday night. I had a blast...you guys looked like you were having a great time as well. I couldn't hear much on Saturday. Anyway, with no NBA hoops in Seattle at the moment, are you a Blazers fan now? If not, you should be because that team in SWEET!
Jeff Ament
(6:14 PM)
It's good to be friends with the GR guys still...we're having a lot of fun. I am a Blazers fan...you stole Mr. Sonic from us before that lunatic Clay Bennett stole our Supes...
Boston Massachusetts
What happened to your what appeared to be extensive hat collection?
Jeff Ament
(6:15 PM)
I burned them when I employed Jeff Van Gundy's hair doctor...ha....
Bill (Altadena, CA)
Will Pearl Jam ever play a show at The Staples Center or The Nokia in downtown L.A.?
Jeff Ament
(6:16 PM)
I hate the Staples...it's like an indoor football stadium....you might as well be at home if you're not in the first 20 rows...
Nathan: Santa Clarita CA
When can we expect the new album?
Jeff Ament
(6:16 PM)
we're working on it...this one's souffle-like so it might take a while.
Tony - Philadelphia, PA
Hey Jeff! Any chance you and the band will play The Spectrum before they tear it down in a few months? Philly would love to see you guys help close out this historic building.
Jeff Ament
(6:17 PM)
man...I love the Spectrum...it sounds incredible for a big arena, the way that the garden and the forum do....we gotta hurry up and finish this record so we can play the spectrum...
Amherst Massachusetts
What is your usual post-show routine?
Jeff Ament
(6:19 PM)
if it's a good show, I will have a beer with the fellas and maybe a game of scrabble with kelly, stone and smitty and then a nice long bath....boring, huh?
Amherst Massachusetts
Do you ever laugh looking back at how you and the band dressed back during the "Grunge" years? (I'm thinking about Mike specifically)
Jeff Ament
(6:20 PM)
are you kidding? those clothes put marc jacobs on the map....and I could ride my bike and skateboard to the bar in those clothes
Ben Perdue (Charlottesville, Virginia)
Do you have any tips for aspiring fretless bass players. Your playing has really inspired me to pick one up to use in my band. BTW please come play a gig in Charlottesville!
Jeff Ament
(6:22 PM)
I just decided in 1990 that I was going to try and play fretless on everything and see how it when...it helped my intonation to play it live...put a little pressure on me to hit the notes....we're aren't allowed within a 50 mile radius of the dave matthews compound....I jest...
Sam (PA)
What sports teams do you root for?
Jeff Ament
(6:23 PM)
rockets, bucks, blazers....u of m grizzlies...uw huskies, red sox, 49ers....mostly, I like to watch great games and it doesn't really matter who's playing...
Amherst Massachusetts
What is your favorite kind of beer?
Jeff Ament
(6:24 PM)
I'm mostly a wino, but after that occasional great show, I will drink the hell out of a corona.
Amherst Massachusetts
Who would win in a fight, you or Eddie? Could Matt take on the whole band?
Jeff Ament
(6:24 PM)
c'mon, why do you think I'm still in the band?...
João Guilherme (Rio de Janeiro, Brazil)
Is there any song from Pearl Jam or your solo projects that you like to hear while practing a sport? Like a "gas" song to inspire you playing. I particullary love listening to MFC skateboarding. [Sorry for the bad English. Cheers from Brazil, we need Pearl Jam back here! :D]
Jeff Ament
(6:26 PM)
I don't really listen to any of our stuff after we've finished unless I can't remember the bridge that we're going to play that night...
Gary (Pittsburgh, PA)
What ramifications do you see the departure of the Sonics having on the Seattle area? Also, what would it take to motivate the band to come back to Pittsburgh? ;)
Jeff Ament
(6:26 PM)
other than a bunch of unhappy hoop fans...and the complete demise of the seattle center...not much.
Brian (Dallas, Texas)
Why does Pearl Jam hate Texas? It has been over 5 years since you have played here.
Jeff Ament
(6:29 PM)
ask dave abbruzzese....
Jeff Ament
(6:30 PM)
I finally realize that we were a pretty cool band with some killer songs...it's fun to still be playing them...
Amherst Massachusetts
How much better are you then Flea?
Jeff Ament
(6:31 PM)
flea can play circles around me, but hoops are another matter...
Don (Arlington, VA)
Now that you've released your solo album, what are pros/cons about going through the album-making process alone as opposed to with the band?
Jeff Ament
(6:31 PM)
they're both great...one makes me appreciate the other and it all keeps me playing and creating....
Ville (Helsinki, Finland)
When are you coming to Finland with Pearl Jam?
Jeff Ament
(6:32 PM)
hopefully soon....we need to make up for that not so great show there in the mid 90s...
Julian Philadelphia, PA
Hello Jeff- Would you agree with the statement that Xavier McDaniel was the greatest Seattle Supersonic of all time? I think he gets overlooked way too much when people discuss the history of the Sonics franchise. Your thoughts on that topic? Thanks JB
Jeff Ament
(6:34 PM)
x was crazy and the best player during the lean late 80s....his fingernails were so long that you could hear clip the ball everytime he shot the ball...and I was in bad seats in 1987
Brandon Crowe Richmond, Virginia
Do you favor a playoff system or the current BCS system in college football?
Jeff Ament
(6:34 PM)
playoffs?!!!!did somebody say playoffs?!!!!!
Boston, Massachusetts
Do you hike Glacier National park? What is your favorite trail? Mine is the Highline trail.
Jeff Ament
(6:35 PM)
Highline is killer....and Glacier is a secret, shhhhh.
Mike (Canada)
Jeff, any truth to the PJ and Ben Harper shows in Australia. Thoughts on Ben's music. New rock band he has created?
Jeff Ament
(6:38 PM)
I hope so...that would be fun. I can't wait to see his new band....
Julie : Kentucky
How many points have scored in a single game of basketball. Oh and is Ed a good ball player?
Jeff Ament
(6:40 PM)
right when I finished high school, I was playing in big tourney and we were all drinking beer on the way up thinking we were'n't playing for a few hours....10 beers = 46 points! ...it didn't work out so good the next time...so I haven't had a beer since...
Steiny (NYC)
How close are you to United States Senator Jon Tester?
Jeff Ament
(6:41 PM)
I worked on a farm right next to his family's farm for three summers in the late 70s...and we talk every few weeks...I'm so impressed with how he's done....one of greats.
Steiny (NYC)
What was it like having your father be the mayor of Big Sandy, Montana for fifteen years?
Jeff Ament
(6:42 PM)
My dad and mom did lots of volunteering for many community projects when I was growing up...being mayor was a thankless job for my dad, but he wanted to contribute, so he did....I had to be on my best behavior being the mayor's kid and I had the shortest hair being the barber's kid...
Jeff Ament
(6:42 PM)
we can only speak to Boom when spoken to...
Brian (Staten Island)
Does Boom even speak to you guys?
Steiny (NYC)
What was it like playing bass in lead actor Matt Dillon's backing band?
Jeff Ament
(6:44 PM)
I was channelling lou barlow from dinosaur and john malkovich....method, baby.
John Chicago
In what way have you seen the band and yourself Evolve?
Jeff Ament
(6:45 PM)
well, I'm proud to say that we've evolved very naturally....we've never decided to "take a new direction"....but we're always pushing each other to take chances and do new things...
Upstate NY
How excited are you about the upcoming PHISH reunion? WHere you able to score tickets, because I seem to be having a tough time, lol.
Jeff Ament
(6:45 PM)
the singer for Marillion? brilliant, I love Clutching At Straws.
Steiny (NYC)
What is it like running Ames Bros.?
Jeff Ament
(6:46 PM)
I have never run Ames Bros....my brother and coby do all the work there....initially, barry and I thought I would have time to contribute but I didn't....
Matt Waco, TX
Any new bands that you're really liking at the moment?
Jeff Ament
(6:47 PM)
not new, but...Mogwai, Tom McRae, KOL, where's my IPod?
Clinton Florida
What skateboarders do you admire?
Jeff Ament
(6:48 PM)
all of 'em....skating well is hard....but I tend to gravitate towards the older dudes: Steve Olson, Jay Adams, Alva, Jeff Grosso, Duane Peters....those guys...
Steven, Worksop, UK
What's with Chris Cornell's new album Jeff? Is he ok?
Jeff Ament
(6:55 PM)
I know....I hope he is alright.
Clinton Floida
My favorite Sonics players were Shawn Kemp and Gary Payton.Did you ever meet them?
Jeff Ament
(6:55 PM)
yep...kemp is my all time fav NBA player...the nicest guy on the planet...screw all the haters, that's you art thiel!
San Francisco CA
Are you playing any other instruments on the new album?
Jeff Ament
(6:56 PM)
I played everything except the drums on 6 of the tunes....
Brian (Staten Island)
What is your favorite song to Open With? My favorite is Release.
Jeff Ament
(6:56 PM)
release is a good one... I like to come out hard sometimes....last exit./...hail hail...etc.
Steven, Worksop, UK
Hi Jeff. How do you feel about the rummers about Led Zeppelin getting back together without Robert Plant? A good or bad thing? ... personally I'd prefer it if they didn't.
Jeff Ament
(6:57 PM)
exactly...I hope Planty and Pagey figure it out though cuz I didn't make it to the London show!....f**k.
Steiny (NYC)
What was it like climbing Mount Kilimanjaro?
Jeff Ament
(6:58 PM)
incredible and even better to see the Malawi countryside....Africa is incredible...
Steiny (NYC)
What is it like being on Neil Young's 1995 album, Mirror Ball?
Jeff Ament
(6:58 PM)
we made that record in 4 days...Neil wrote 6 of those tunes in the last 3! including "the ocean"....I had the flu the last two days, so I barely remember what we did..the best way....
hi (ny)
what happened?
Jeff Ament
(6:59 PM)
my dad looked into my mom's eyes and well, I can't really talk about what happened next...
Steven, UK
Would you describe yourself as a mellow or angry mad type of guy?
Jeff Ament
(7:00 PM)
mostly moderate....but I will go angry and I will get mellow....it's good to feel it all...
Brad, Boston, MA
What hurts more, the Sonics defecting to OKC or the Seahawks impersonating the Bengals this yeat?
Jeff Ament
(7:00 PM)
definitely the sonics....the seahawks will be healthy next year and make the playoffs....but the sonics, I mean the fooking thunder!
Brian (New York)
When you guys play Crown of Thorns, does any sense of "extra" emotion come over you and Stone?
Jeff Ament
(7:01 PM)
yep, it's a hard one to play.
Steiny (NYC)
Would you say The Beatles are one of your influences?
Jeff Ament
(7:01 PM)
yes....the first album that I bought was Let It Be in 1970....it's still top five for me....they were one of a kind.
Steiny (NYC)
Did you watch Mayne on Dancing with the Stars?
Jeff Ament
(7:02 PM)
I've never seen DWTS...but I felt for Mayne losing that bet and having to do the show because he lost.....
Steiny (NYC)
What sports did you play growing up?
Jeff Ament
(7:03 PM)
we did it alll...there were no real cliques in my small town...so we hooped, played sandlot football, baseball, hockey...skated my ramp after football practice...was on a bowling team for 5 years....whatever we could we did...
DRodneyEllis
Can you give a pair of "shants" to Kenny Mayne and get him to wear them?
Jeff Ament
(7:04 PM)
he shan't be wearing anything of mine...
Matt
So, how does one get from Big Sandy, Montana to stages and sold out shows all over the world?
Jeff Ament
(7:05 PM)
good question....I ask that question everytime I'm on stage or playing music with the fellas....how did I get here?
Haz (Pasadena, CA)
Did you ever get a chance to meet MOOKIE Blaylock?
Jeff Ament
(7:05 PM)
we met a few times....one time, we did a little special for some NBA show....played a couple games of HORSE....he crushed me, he could shoot the lights out.
billy beck little rock arkansas
did the band ever consider buying the sonics?
Jeff Ament
(7:06 PM)
if I had Starbucks money, I woulda...
Jeff Ament
(7:06 PM)
I started that s**t....0001.
rob (olympia)
what is your ten club number?
D Glove 20
wheres the best place you've ever watched a game?
Jeff Ament
(7:09 PM)
probably boston garden the old one...and I saw a twins game at the old metropolitan....
Mark, Missoula, MT
where is the damn snow Jeff, Im getting itchy!
Jeff Ament
(7:10 PM)
I know...my board is waxed and my gear is washed...
Mike (Hoboken, NJ)
What is it like responding to everything Steiny (NYC) reads on your Wikipedia page??!?
Jeff Ament
(7:10 PM)
steiny is best friend....he will rewriting the wikipedia after this session..
Frank (LA)
How about the Chili Peppers on hiatus? Any thoughts?
Jeff Ament
(7:11 PM)
they had a good run.
Mark, Missoula, MT
How much pressure does the band feel from the fans to tour incessantly-as I believe there are many who consider you guys the best live rock band out there!
Jeff Ament
(7:12 PM)
I love playing....travelling to 5 cities a week, not so much.
Amherst Massachusetts
When did "Grunge" die for you, if it ever existed?
Jeff Ament
(7:14 PM)
grunge died right now as I answer this last question....take care everybody...see ya out there later this year hopefully....thanks for the q's....jeff
Buzzmaster
(7:22 PM)
Thanks, Jeff! And thanks to everyone for submitting such great questions! For the record, YES, Jeff saw all the questions coming in and was doing his best to answer as many as possible!