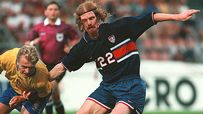 Lalas joins SportsNation on Wednesday!
Welcome to The Show! On Wednesday, National Soccer Hall of Famer Alexi Lalas will join us to chat about the FIFA World Cup Qualifier match between the US and Mexico at Crew Stadium in Columbus, Ohio (Wednesday, Feb. 11 at 7 p.m. ET, ESPN2).
In his national team career, Lalas earned 96 caps and nine goals between 1991 and 1998. His contributions to the national team led to his selection as the 1995 U.S. Soccer Athlete of the Year. Alexi also served as the president and general manager of the Los Angeles Galaxy of
Major League Soccer until August of 2008.
Send in your questions now and join Lalas Wednesday at 2 p.m. ET!
MORE
Special guests | SportsNation home page
Buzzmaster
(1:58 PM)
Alexi will be here soon!
Alexi Lalas
(2:07 PM)
Greetings. Exciting day for soccer and I am happy to be here to answer any and all questions. Fire away!
Jeffrey, California
Mexico is very susceptible to counter attacks. How do you see the Mexican defense in this game against the U.S.?
Alexi Lalas
(2:10 PM)
The Mexican defense rises and falls with Marquez. He is the class back there, and the leader. I think the speed of Donovan and the physical presence of Ching, will pose some problems. But I think they key to Mexico's success tonight is establishing a rhythm. If the U.S. lets Mexico knock it around, it could be a long night. The U.S. needs to impose itself on Mexico from the first whistle.
Rick, Livingston NJ
Alexi, whats your biggest memory from your USA vs Mex matches?
Alexi Lalas
(2:13 PM)
It is always a big game. The 80s it was all Mexico, 90s it went back and forth, and 2000s it is all U.S. I remember getting crushed in Azteca, having to deal with the altitude, smog, and 100,000 screaming Mexican fans. But I also remember beating Mexico 1-0 a week before the World Cup in 1994 at the Rose Bowl. But my most painful memory is Ramon Ramirez introducing my groin to his boot.
Josh (Minneapolis, MN)
Alexi! Former Birmingham Cobra here, give me some love. There's a lot of talk about Landon being the best US player ever. While I do think he's a very good player, having seen Tab Ramos play back in the day, for me, he's number one. What say you?
Alexi Lalas
(2:15 PM)
Lots of love to Michigan soccer. I wish there were more players from Michigan in professional soccer. I agree Tab Ramos is the most talented U.S. player ever to come along, unfortunately his timing was bad. If he was in his prime now, I think he could be considered one of the best players in the world.
Adam, San Antonio, TX
How do you feel about the US Voodoo doll being made in your image? What did you do to them to make them dislike you even after your retirement?
Alexi Lalas
(2:18 PM)
I take it as a compliment. If the Mexican team is worried about me, then they have even bigger porblem. I promise I will not play a minute tonight. But, for the record, I have nothing but love for the country of Mexico, the people of Mexico, and the culture of Mexico. I choose to live in Southern California, a place where the Mexican influence is an incredible positive part of our community. I speak Spanish and have plent of Mexican friends. However, when it comes to the Mexican National Team, I want the U.S. to win every time. If they think that voodoo will solve their problems, then they got another thing coming.
Jacob (VA Beach)
your thoughts on beckham wanting to play for milan?
Alexi Lalas
(2:19 PM)
You guys have a bunch of questions on Beckham, so let me give you my take:
Alexi Lalas
(2:23 PM)
He is playing well in Milan, and by all accounts is enjoying himself on and off the field. It is very clear that the only way he feels he will be given a chance to play with the English National Team i if he is playing with an "elite" club. I do not begrudge any player chasing a dream. And getting maximizing their career opportunities.Last week, everything changed becasue David himself said he wanted to remain with Milan. So now it is all about money. And the valuation of David Beckham to the Galaxy and MLS is a difficult proposition. Ultimately, I think that the Galaxy should do what is right for the soccer team. They need to get as much money as they can, shake hands, and go their seperate ways. The Galaxy will survive and thrive beyond Beckham. In addition, anyone that says the signing of Beckham was a bust is delusional. The attention that he has generated over the last few years for the team, league and sport is unprecedented. While it has not gone perfectly on the field, I think that it was a wonderful platform from which the league and the brand has grown.
Lou (CT)
How over-rated is Freddy Adu. Can he really live up to all the hype or do we expect so much that he can never attain?
Alexi Lalas
(2:26 PM)
We sometimes forget that he came on the scene at the age of fourteen. I am not sure he is ever going to be the dominant player that many people want him to be. But I think he is going to improve and be a serviceable option at the international level. To be fair there were some unrealistic expectations for a player with undeniable skill, but lacking the physical presence that seems to be required in today's game.
Jonathan, Chicago
If you were the coach for tonight's game, what would your starting lineup be?
Alexi Lalas
(2:28 PM)
Howard, Hejduk, Bocanegra, Onyewu, Pierce. Dempsy, Kljestan, Bradley, Beasley, Ching and Donovan.
Alexi Lalas
(2:29 PM)
This is what I think will happen tonight. My concern is a inexperienced and soft center midfield. But if we get into a flow and sustain pressure from the start, we should win tonight.
Ben (Kensington, UK)
What are your thoughts about Convey being released by Reading? Do you see him heading off back to the US?
Alexi Lalas
(2:31 PM)
Just because you sign with a club overseas it does not mean that you're any better or worse than an MLS player. Our overseas players need to be consistently playing. For San Jose I think this is a great move as they are getting a player who understands the league and is in need of a change.
Dan, Los Angeles
When's the tell-all book about US Soccer, AEG and the Galaxy coming out? Please don't tell us you signed a confidentiality agreement. Bad enough Waldo's book hasn't seen the light of day.
Alexi Lalas
(2:31 PM)
The story is still being written. But I think that an account of the good the bad and the ugly is in the works.
dirt nagle, big apple
Do you still play in Nectar Drop?
Alexi Lalas
(2:33 PM)
I still write record and perform. Music is a huge part of my life. If anyone want to check out some music you can go to my mysapce music page, which is www.myspace.com/alexilalas
Adam, Virginia
Greetings from Virginia. How would you rank yourself among the all-time great US-born defenders?
Alexi Lalas
(2:34 PM)
I am the best defender ever to play the game. At least that is what I tell myself.
TR (seattle)
Alexi, you said you thought Freddy Ljunberg would make no contribution to the new Seattle MLS team this year. Reports we are getting say his rehab is way ahead of schedule. Care to retract?
Alexi Lalas
(2:37 PM)
I hope my prediction is wrong. I would love to see Freddie contribute, but I think it is important that when teams spend a tremendous amount of money on big-name players that they understand the expectations of them on and off the field. They also need to recognize that MLS is unlike anything they have ever experienced. I will be the first to congratulate Freddie and Seattle.
Christopher, New Jersey
Alexi: What was the bigger honor, LARS player of the year, or US Soccer player of the year?
Alexi Lalas
(2:39 PM)
Being named LARS player of the year will always be the single greatest honor of my career. I am having a replica of the trophy made and upon my death my ashes will be interned in the cup for all to come and pay hommage.
Scott, New York
Who's the better athlete in the family - you or your brother Greg?
Alexi Lalas
(2:39 PM)
Greg cannot even walk straight. Although he got more girls. I think they took pity on him.
Andy (Rochester, NY)
How good is Tim Howard, been playing in the top league for years and on a team that's been to Europe the fast few years. Should he have been the starter last world cup?
Alexi Lalas
(2:41 PM)
Great goalkeeper, even better person. I have known Tim since he was a ball boy while I was playing at Rutgers. I think any team in the world would feel comfortable having Tim behind them.
Baltimore
Odds of a Mexican red card tonight?
Alexi Lalas
(2:41 PM)
In these games anything can happen. Bench clearing brawls, group hugs at center field, or even a game of soccer.
Matt, New Rochelle NY
Will you ever play again?
Alexi Lalas
(2:42 PM)
Expansion is my best friend. As the talent pool becomes deluted the chances of me making a comeback increase dramatically.
Chuck (Colorado Springs)
After tonight's game, where does Alexi Lalas go from here?
Alexi Lalas
(2:42 PM)
My hotel.
Alexi Lalas
(2:44 PM)
Thank you everyone form your questions. I am running around ESPN promoting tonight's game so I have to run. I will be working for ESPN throughout the year on anything and everything soccer related. I am looking to put out some new music later this year. And I am launching a new website. In short I am keeping busy. Onwards and upwards and go USA!