Chat with Willie Jeffries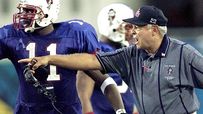 Coach Jeffries compiled a record of 179-132-6 in 25 years of coaching!
Welcome to The Show! On Wednesday, the first black Division I head college football coach, Willie Jeffries, will stop by to chat about lengthy career and Black History Month.
Coach Jeffries coached a total of 19 years at his alma mater South Carolina State University in two stints as well as five years at Wichita State University and five years at Howard University. He won nearly 60 percent of the college games he coached, which made him the "winningest coach" in the 107-year history of SCSU and owner of more MEAC victories than any other coach. Jeffries was also the only coach to coach against both Eddie Robinson and Paul "Bear" Bryant.
Send in your questions now and join Jeffries at 4:30 p.m. ET on Wednesday!