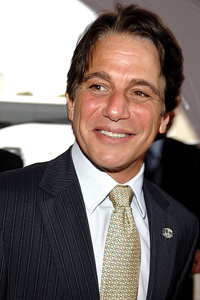 Tony Danza boxed to a 9-3 record.
Welcome to The Show! On Friday, actor and current host of "The Contender" Tony Danza will chat about the season finale of the TV show's fourth season.
The last episode can be seen Wednesday at 9 p.m. ET on Versus. This season featured 16 cruiserweights who faced off in a 12-episode competition. With veteran trainers Tommy Brooks and John Bray, these fighters went through the most intense training and most challenging fights of their careers.
Danza is no rookie to boxing. Before becoming an actor, Danza competed as a middleweight. He fought from 1976-79, compiling a 9-3 record, with all nine wins coming by knockout. However, during a gym workout in 1978, he was discovered for the part of Tony Banta on the TV show "Taxi." The show ran until 1983, when Danza began work on "Who's the Boss?" which ran from 1984-1992. Over the years Danza has starred in TV shows, movies and even Broadway.
Send your questions now and join Danza Friday at 1 p.m. ET!