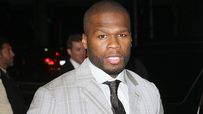 50 Cent's second video game, "Blood on the Sand," hits stores Tuesday.
Welcome to The Show! On Tuesday, rapper 50 Cent will stop by to chat about the release of his video game "
50 Cent: Blood on the Sand
" as well as his upcoming album "Before I Self Destruct," which is due out in March.
In the sequel to 50 Cent's first video game -- Bulletproof, released in 2005 -- gamers play as 50 Cent in a fast-paced action shooter. 50 Cent and the G-Unit battle across two war-torn countries to collect a payday and exact revenge. The game is published by THQ and hits the street on Tuesday. It will be available on XBox 360 and PlayStation 3.
Since his debut album "Get Rich or Die Tryin'," 50 Cent has produced two other albums. His fourth comes out in March. He has appeared in five movies, while he has contributed music to 16 movies.
Send your questions now and join 50 Cent Tuesday at 1:30 p.m. ET!
MORE
Musician archive | The Life | Video Games | Previous chat guests | SportsNation