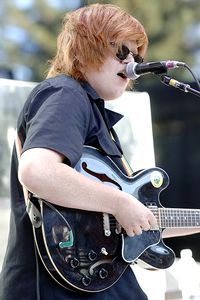 Dennen makes 19 tour stops in March.
Welcome to The Show! On Thursday, March 12, as a part of our ongoing series of
chats with musicians
, singer/song writer, and big baseball and Oakland A's fan,
Brett Dennen
stops by to chat just hours before his tour stop in Vacouver, BC, Canada.
Dennen is touring to promote his lastest album "Hope for the Hopeless," which hit stores in October 2008. It is his third album.
The Oakdale, Calif. native was named one of Rolling Stone Magazine's 10 artists to watch in 2007. In 2008, Entertainment Weekly put Dennen on its list of eight guys on the rise. His music has appeared on several TV shows, including Grey's Anatomy, House, The Unit and Scrubs. He has also appered on The Tonight Show with Jay Leno and on February 9, he was on Late Night with Conan O'Brien.
Aside from music, Dennen also has teamed with the Mosaic Project since its inception. The nonprofit organization works toward a peaceful future by reaching children in their formative years. It unites young children of diverse backgrounds, provides them with essential skills to thrive in an increasingly diverse society, and empowers them to strive for peace.
Send your questions now and join Dennen Thursday at 5 p.m. ET!
MORE
Musician archive | The Life | Previous chat guests | SportsNation
Buzzmaster
(5:04 PM)
Hang tight everyone! Brett will be joining us shortly!
Brett Dennen
(5:08 PM)
Hello. I'm here!
Bill C
Are yoiu stoked about baseball season starting?
Brett Dennen
(5:10 PM)
Obviously I'm really stoked but the nice thing is the season is so long! A single game doesn't matter too much which is good. Baseball season for me is very poetic. It means summer is almost here. I'm excited.
Jackson, St. Pete
Do you ever get nervous on stage or are you totally comfortable?
Brett Dennen
(5:11 PM)
I get nervous quite a bit. It just depends .If I'm opening on a big show I get nervous. Everytime I've ever done a TV appearance I get nervous for those. But when it's a sold out show that I'm headline and I know they are there to see me it's hard to get nervous. I just have to be myself. Nothing wrong with getting nervous though. You can turn that into good energy.
Brian Parker
Seems you've been on most of the late shows .. which was your favorite to perform on?
Brett Dennen
(5:12 PM)
Conan because I'm a huge Conan fan. But I was really nervous for that. I felt more comfortable on Leno. He treats everyone so well. The hospitality is really great. He makes a point to come talk to you and hang out. I really enjoyed my time on Leno.
George Brett (Kansas City)
In baseball you can throw a perfect game. Is there such a thing as a perfect gig?
Brett Dennen
(5:13 PM)
Yeah. It's hard though. Just like in baseball there are so many factors that go into throwing a perfect game. You can't do it by yourself. It takes the whole team. With playing a perfect show, I don't think I have done that yet. A perfect show would involve the surroundings, the crowd, the moment, every note, I would have to be totally there. Gigs can get repetitive or you can always have that loud, drunk person in the front row. You never know. I just haven't had that perfect show yet.
Zach Dominick
Would you trade your musical career to be a baseball player?
Brett Dennen
(5:14 PM)
No. Because to me being a baseball player would be just about the most stressful thing I could ever do. I could never do that. If I was to play ball, I'd want to be an AL pitcher. I'd never want to bat! And I like being in control of the game. There's just no way I could be a pro!
Brent, AZ
Do you care if baseball players use steroids?
Brett Dennen
(5:17 PM)
Good question. Definitely like a lot of people my love of baseball has been a little tainted. As an A's fan I had to watch everything that happened with McGwire. I grew up with baseball and when the steroids came into the picture it really tainted things. I just don't know where to draw the line with steroids or doping. When Sammy Sosa and McGwire started hitting all those HRs, people really got back into the game or at least that's' what it felt like. Baseball isn't as easy to get into the highlight shows so that HR chase really got people back into it. I can't imagine the pressure they were under to hit those HRs. The temptation to take steroids has to be huge. I can see both sides of things. I'm against it but I understand why a player would feel pressure to take them.
Rick Newman (Wichita, KS)
Did you anticipate "Ain't No Reason" was going to be as big/popular as it was or did you just think it was another song? Do you think most musicians are surprised by which of their songs really take off with fans?
Brett Dennen
(5:20 PM)
I think most musicians are surprised by which songs become really popular. I don't know Britney Spears but I don't know if many people know for sure a song is going to be a hit. I just write what I feel or what I'm interested in. I didn't write Ain't No Reason to be a radio hit. It was just a statement I wanted to make. My friends feel the same way about what they write. I don't want everyone to always love what I do but I want them to appreciate it.
Stephanie Watts
What has been the highlight of your musical career so far?
Brett Dennen
(5:22 PM)
Hmmm.. I have to highlights. One is two years ago I played and sold out the Fillmore in San Fran. That is my all-time favorite venue. I went there a lot as a kid. It's the epicenter of the San Fran music movement. The other was working with Femi Kuti.
Allison Cooper (Orlando, FL)
Do you watch any of the shows that have used your music? And do you think some of the stigma is gone in terms of musicians allowing their music to be used elsewhere? Would you ever license one of your songs for an advertisement?
Brett Dennen
(5:25 PM)
The only TV shows I really watch .. hmm ... I don't want much of anything now. I used to watch The Wire when it was on. I started watching them to see how they were using them. I had a song on a Hilton commerical. It's crazy that it's such a stigma. I was watching on YouTube a clip of Paul Simon on Letterman. Simon said he would never use his music on a commercial. He's my hero. I've used my music to sell something but I think the industry is different now. I can't really make money off just records. It's hard to get on the radio. It's not even about money. It's about getting your music out there. Radio is a very narrow thing that not a lot of musicans can be on. It's a very small world. TV and commercials can be a good thing. Look at Feist and Ipod. So many people got turned onto her because of that. I would never let my music be used for a product I didn't believe in. But if it's something that has a good message then I would definitely do it.
Jeremy Tyner
Are musicians competitive at all like athletes?
Brett Dennen
(5:26 PM)
Yes. I know plenty of them that are competitive. Sports by nature are competitive. But the music business .. the business .. is competitive. Whether it's getting on the radio or winning a Grammy. When you get a taste of success, it gets really competitive for some. I know people who try to outdo other people and I'm OK with it because I know competition makes you try your best. But it can also take away from the purity of playing music just for playing music. You don't want to change up your style just to be a winner.
Timo
Which would you rather do ... perform at halftime of the Super bowl or sing the national anthem at Game 7 of the World Series?
Brett Dennen
(5:28 PM)
Gosh. That's a tough question. I'd probably choose halftime. The National Anthem is so hard to sing. You have to really really believe it. I've been asked to sing it before and I've declined. There is a lot of stuff about believing in America and I'm an American but some of those words I don't believe in. Plus at the Super Bowl you can play your own stuff.
Keith (Charlotte)
Do you know if any MLB players listen to your music?
Brett Dennen
(5:29 PM)
I know of people in sports who listen to me. But I don't know any of them personally. I've heard Andy Roddick and Phil Jackson listen to me. I put Luke Walton on a guest list once but not sure if he came to the show.
Rachel St. Albans, Vermont
Do you play the piano? What formal musical training have you had or are you completely self taught.
Brett Dennen
(5:30 PM)
I'm self-taught and I play the piano a little. I'm a novice. I've played piano in gigs before but I'm not as comfortable as I am with a guitar. I experiment and play around on the piano.
Dale (Austin, TX)
Will you be at South by Southwest next week?
Brett Dennen
(5:30 PM)
No I'm not. Next week I'll be in San Francisco.
Alisha
How's life on the road treating you?
Brett Dennen
(5:31 PM)
It's really great actually. I'm glad you asked. For a long time, for the past five yeras, the road has been really hard. I've put in so much work and so much time. I'm more comfortable now. I have a great crew. It's much more enjoyable and relaxing now. It's almost irresistable.
Kyle (K.C.)
What is your favorite kind of venue to play?
Brett Dennen
(5:32 PM)
I like big clubs like the Fillmore or nice, big theatres with a big stage and a couple levels with standing room on the floor. Those are really inspiring to play in.
John (Peoria, IL)
Your music is amazing and truly inspires fans and amateur musicians such as myself! Is it possible to be a really passionate sports fan but still be peaceful?
Brett Dennen
(5:35 PM)
Yeah! Absolutely! Look at soccer. Everything that happens on the pitch and how drunk the fans get and how crazy it gets. They go to war with each other in the arena (and sometimes in the parking lot) but it's a sport that unites everyone in the world. One ball and two teams. It's a universal language. Even four years ago when we had our last World Cup there was a Civil War going on in the Ivory Coast and they took a pause to watch the games. There is so much relevance and poetry in sports.
sun (boise, idaho)
you hang out after your shows and mingle with your fans?? (gonna see you in a couple days in idaho, can't wait!)
Brett Dennen
(5:37 PM)
I do. I usually hang out right outside by the bus. Maybe if I'm not a good mood I won't but usually I like to say hi to people. Thanks for the questions! I really appreciate all of you taking the time to write in. There are so many things you could be doing right now and the fact you wanted to know what I had to say really means a lot. Take care.