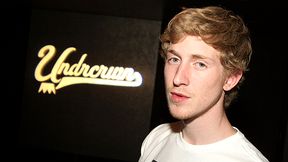 Roth on the comparisons to Eminem: "He made it possible for me to be here, he opened the doors, but we come from an entirely different inspiration."
Welcome to
The Life
! On Thursday, rapper Asher Roth will stop by to talk a little football and chat about the upcoming release of his debut album, "Asleep in the Bread Aisle," which will hit stores April 20.
Roth, a native of Morrisville, Pennsylvania, delved into hip hop as a hobby in high school and began to attract a strong following in college with the help of social networking sites like Facebook and MySpace. He relocated to Atlanta where he found himself rapping in front of Jay-Z and watching his career take off. Roth released "The Greenhouse Effect Mixtape" in 2008 which was made available as a free download on Roth's website, The Daily Kush. His song "I Love College" has been played more than 29 million times on Myspace.com/asherrothmusic.
Send your questions now and join us Thursday at 4 p.m. ET to chat live with Asher Roth!