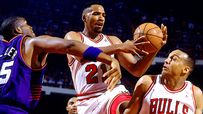 King played five seasons with the Bulls.
Welcome to The Show! On Monday, we're launching a new website dedicated to the coverage of everything Chicago -
ESPNChicago.com
. To help us kick off the new website, Chicago Bulls TV anaylst Stacey King will be by to chat about the NBA playoffs.
King began his NBA career after the Bulls selected him with the sixth overall pick in the 1989 draft. He spent five seasons with Chicago, winning three NBA championships. King was an All-American at Oklahoma and recently had his number retired by the Sooners. As a senior in the 1988-89 season, King averaged over 26 points and 10 rebounds per game.
Currenty, King teams with Neil Funk to form the Comcast SportsNet Chicago's announcing team for the Bulls. He's in his third full season of providing game analysis.
Send in your questions now, then join King on Monday at 2 p.m. ET/1 p.m. CT!
MORE
ESPNChicago.com | Previous chat guests | SportsNation Index
Buzzmaster
(2:00 PM)
Stacey will be here shortly, everyone!
Buzzmaster
(2:32 PM)
We're tracking down Stacey, everyone!
Stacey King
(2:34 PM)
Hello, what's going on?
Bryce (Sterling, IL)
Stacy, do you think the reemergence of Kirk Hinrich has benefited Derrick Rose going into the postseason?
Stacey King
(2:35 PM)
Yeah I do. It's taken some pressure off Derrick to have to do everything. His minutes are down in the second half in the last month of the season--he's not playing 40+, which enables him to get some rest. Kirk's leadership abilities have helped as well. I look for it to continue.
Johney (Detroit, MI)
Stacey- would the Bulls rather face the Cavs or Celtics in the playoffs?
Stacey King
(2:37 PM)
I think they'd rather play the Cavaliers. Boston is banged up and older, but Boston has experience over the Bulls--the Bulls don't play well against Boston's halfcourt game. They are more successful in a transition game, which they would see more of in Cleveland or Orlando. Boston would slow it down and make it a halfcourt game.
DeWayne(Chicago)
Stacey, why doesn't Vinny Del Negro get more COY love? all the other coaches have real superstars.
Stacey King
(2:38 PM)
They had such a bad start. Let us not forget, had they not made this trade, I don't know that they would have won 35 games. This trade, if anything, would be more in line for an executive of the year recognition. It didn't bring any marquee players, but it brought in battle-tested players that have been a plus for the Bulls.
matt , chicago, IL
do you think the bulls have the will and/or ability to play 48 minutes of consistent defense? if not is it because of the players or because of vinny not being able to teach it?
Stacey King
(2:40 PM)
They haven't played a consistent defensive effort all season long. I go back to the trade that Paxson pulled off in Sacramento. He brought two tough-minded defensive players--Miller is a center who can man the post and rebound well, which takes pressure off Tyrus Thomas and Joakim Noah. They have defensive lapses still up front--they will get beat off the dribble and have yet to put a 48-minute stranglehold on the team. They can shut teams down in stretches and have gotten stops when they needed them.
Mike (Chicago, IL)
I know it's early but do you see Ben Gordon coming back next year?
Stacey King
(2:41 PM)
I think so. I think he likes it here in Chicago. He enjoys playing with his teammates here. It's going to come down to where he feels comfortable. A lot of these players tend to go for the highest bidder, but the grass isn't always greener. With a big payday comes big expectations, and Gordon has a comfort zone here. I don't think he'll get the huge payday he's looking for--the money is drying up a little bit these days.
DeLow (Chicago, IL)
Stacey - I've notice that Kirk spends WAY too much time dribbling without passing the ball. Doesn't that hurt the Bulls more often than not in the half court?
Stacey King
(2:43 PM)
Sometimes. It's that Steve Nash sense--the difference is that Steve Nash has had the personnel to do that, and find someone for a dunk or whatnot. He has many more weapons than Kirk. When you dribble as much as he does, it can take you out of the flow. The Bulls are doing a much better job of working with it, however. I can't really complain about his play in a very solid offense.
Casey, Philadelphia
What kind of offense do you see the Bulls moving towards in the next few seasons? Many of us are frustrated that the Bulls often seem lost in their half-court offense? Besides the high pick and roll, what will they use? Thanks.
Stacey King
(2:44 PM)
Right now, from what I've seen this season, Vinny is doing a cross between Suns and Spurs, because he played in San Antonio with Greg Popovich and was in the front office in Phoenix when D'Antoni was there. I don't see it changing too much...unfortunately, you don't have a Shaq or Stoudemire on the post, but they do have the perimeter players. We've seen a little bit with the Bulls where they score 115, and give up 120, so you have to think the defense will be a priority.
Rod (Chicago)
Stacey, what was your favorite moment of the 2008-2009 Bulls season?
Stacey King
(2:46 PM)
It's not one particular thing. Just the play of Derrick Rose and how he elevated his team, and how they were struggling...he's a shining star, and the way he's handled himself with maturity and leadership, you don't see players like that in this league that often. You could compare him to a Chris Paul or Deron Williams, or even Magic Johnson in the intangible impact he has had. It's all about trying to win, playing hard, and competing every night.
Chad Boise, ID
I think the Bulls are a scary match up for any team in the first round. Do you think the Bulls have a great chance at a first round upset?
Stacey King
(2:47 PM)
Yes, depending on who it is. They have two things going for them right now...they are one of the best teams at home this season, and atrocious on the road, so when you talk about a seven game series, it's a double-sided game. If they can steal a game on the road at Orlando or Boston, they could be an upset team. Were I one of those teams, I would not overlook them.
Ken, Palatine, IL
Stacey, Sorry, I am a huge KU fan and was delirious when they won the title over you and your Sooners in 1988. With that said, do you think Cole Aldrich will make a good pro, or will he end up like Big Country Reeves? I am guessing Sherron Collins will be a 2nd round pick.
Stacey King
(2:50 PM)
I was just starting to get over that KU loss in '88, and I'm bleeding internally again. Thanks a lot! I think Aldrich is a big kid who could use one more year of school. He's made a big improvement from his freshman year, and if he can show he can run the court consistently and be a threat on the low post, he's a lottery pick. As far as Collins, I also think he should stay in school another year. I liken him to Will Bynum of the Pistons, who has worked his way into the lineup, and is paying big dividends. If he puts up the numbers again that he has this season, I think he'll be on the level of Ty Lawson, except Collins is much stronger.
Stacey King
(2:50 PM)
I appreciate all the questions, and hopefully we can do this again. Go Bulls!