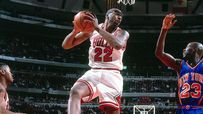 Salley won four rings with three different teams.
Welcome to The Show! On Tuesday, four-time NBA champion John Salley will stop by to chat about the upcoming NBA playoffs.
Salley earned his rings playing for three different teams. The first two rings came as a member of the Detroit Pistons. He was a member of the "Bad Boys" Pistons team that won back-to-back titles in the 1988-89 and 1989-90 seasons. His third ring came while playing on the 1995-96 Chicago Bulls team that set an NBA record by winning 72 games. He also played on the 1999-2000 champion L.A. Lakers team.
Now that his playing days are over, Salley has been working with PETA, urging students to consider vegetarianism. Salley became a vegetarian 17 years ago and now he'll be helping PETA host two veggie-burger giveaways to students in the Chicago area. The students' lunches will be provided by Chicago's Soul Veg Restaurant. Other vegetarian athletes include Prince Fielder of the Milwaukee Brewers, Raja Bell of the Charlotte Bobcats, and Olympic legend Carl Lewis. For more information, go to PETA.org.
Send your questions now and join Salley on Tuesday at 3:30 p.m. ET/2:30 p.m. CT!
MORE
ESPNChicago.com | Previous chat guests | SportsNation Index