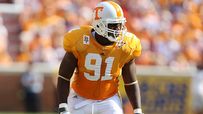 Mel Kiper has Ayres going 11th overall.
Welcome to The Show! On Friday, NFL prospect Robert Ayres stops by to chat about playing at Tennessee, his experience at the combine, and the NFL draft.
Considered one of the nation's best defensive players coming out of Marlboro County High School, Ayers struggled to earn his place with the Volunteers until his senior season. With a new dedication, Ayres surfaced as one of the few bright spots during a difficult season for the Vols. He earned All-SEC honors and shared the Andy Spiva Award, given to the team's most improved defensive player.
According to Ayres' Scouts Inc.'s draft profile, he is a "good natural athlete for his size. Quicker than fast and can beat blockers to the point of contact. Fluid changing directions when attacking upfield and shows good lateral mobility scraping down the line of scrimmage. Has some experience lining up in two-point stance."
Send in your questions now, then join Ayres on Friday at 12:40 p.m. ET!
Check out what other prospects have said in chat!
MORE
2009 NFL Draft index | Previous chat guests | SportsNation Index