NBA's 65 in 65: Spencer Haywood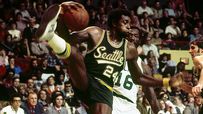 Haywood played 12 NBA seasons.
Welcome to The Show! On Thursday, we continue our 65 in 65. That's
65 NBA chats in 65 days
. We will hold an NBA chat each day through the end of the NBA Finals. We'll bring you players, analysts, writers, anyone who can help you fill your NBA fix. Thursday's guest is former NBA player Spencer Haywood.
Haywood will always be a permanent fixture in the NBA after becoming the first player to force his way into the league by way of legal action. He decided to turn pro after his sophomore year, but NBA rules, required a player to wait until his class
graduated, stopping him from entering the league.
Drafted by the Seattle SuperSonics in 1971, Haywood still holds the team's single-season record for points per game with 29.2 and rebounds with 13.4. He had his No. 24 jersey retired by Seattle on February 26, 2007.
Send your questions now and join Haywood in chat on Thursday at 11 a.m. ET!
Watch the NBA Playoffs on ESPN & ABC and the Finals on ABC.
MORE
65 NBA chats in 65 days | NBA playoff Index | SportsNation Index