NBA's 65 in 65: Dee Brown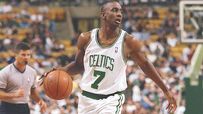 Brown won the 1991 NBA Dunk contest.
Welcome to The Show! On Wednesday, we continue our 65 in 65. That's
65 NBA chats in 65 days
. We will hold an NBA chat each day through the end of the NBA Finals. We'll bring you players, analysts, writers, anyone who can help you fill your NBA fix. Wednesday's guest is former NBA player Dee Brown.
Brown was selected by the Celtics with the 19th pick of the 1990 NBA Draft. He was a member of the NBA All-Rookie Team in his first year when he played in all 82 games and averaged 8.7 points. One of the highlights of his career came in 1991 when he won the NBA Slam Dunk Contest with a "no-look" slam dunk. Brown later became the first head coach of both the WNBA's Orlando Miracle.
Send your questions now and join Brown to chat in Wednesday at 11 a.m. ET!
Watch the NBA Playoffs on ESPN & ABC and the Finals on ABC.
MORE
65 NBA chats in 65 days | NBA playoff Index | SportsNation Index