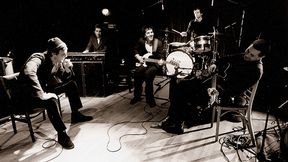 Catch The Walkmen on tour now with Kings of Leon.
Welcome to
The Life
! In our never-ending quest to bridge the gap between the sports and music worlds, we bring you a live chat with Pete Bauer, bass player for The Walkmen, and full-fledged NBA fan.
Bauer and The Walkmen are currently on tour with Kings of Leon and still basking in the glory of their heralded 2008 release "You & Me" which appeared on numerous year-end best lists. The band is made up of Paul Maroon (guitar, piano), Walter Martin (organ, bass), Matt Barrick (drums), Hamilton Leithauser (vocals, guitar) and Bauer who also flexes his organ skills in addition to playing bass.
A self-diagnosed obsessive basketball fan, Bauer is in a fantasy basketball league with other musicians and despite being in first place all season, suffered a heartbreaking loss in the playoffs. A fan of the Chris Webber-Vlade Divac edition of the Sacramento Kings, Bauer currently is without a favorite team and instead chooses to follow specific players including his favorite, Allen Iverson.
Bauer will join us on Wednesday, April 29 at 3 p.m. ET. Send your questions now about life on the road, playing in a successful rock band and whether we are all just biding time until the Cavaliers and Lakers face off in the NBA Finals.
MORE
The Walkmen | Previous music chats | SportsNation Index
Timothy Weiner
is this Bulls-Celtics series the greatest series ever or what?
Pete Bauer
(2:57 PM)
Hey everybody. Thanks for writing in. I didn't think a single person was going to write in so I am very excited. I really love watching rajon rondo turn into a star ( I am a Kentucky fan and always root for him ) but my favorite series are still those kings lakers series with vlade and chris webber even if they never turned out right in the end.
Gary, Los Angeles, CA
Did you receive any royalties from MLB when they used "The Rat" in their promos for the 2007 playoffs or from AMC TV when they used "Red Moon" on an episode of "Breaking Bad"?
Pete Bauer
(3:01 PM)
No, and I was very disappointed actually. Every time I saw that ad I was licking my greedy chops, but the check never came. I didn't even know it was going to happen I'm the first place though, but that's probably because I usually delete emails instead of opening them.
Josh, Brooklyn, NY
What bands that you've guys toured with can really ball?
Pete Bauer
(3:03 PM)
The french kicks really can't. They try but can't. Built To spill really cleaned our clocks and the kings of leon are really talking a lot of trash so we will see.
Robert (Nashville)
Tough year to be an Iverson fan. How did you feel about the whole Detroit saga?
Tony Miller (Philly)
Which country has the most interesting fans?
Pete Bauer
(3:08 PM)
Brazil...our promoter down there was totally friendly for the five days we spent. Then on the last night, he got into some pretty shady smelling hashish and turned into a swearing, crazed and belligerent lunatic. It was a real blast though.
HP, Los Angeles, CA
Have the Kings of Leon fans been receptive of the Walkmen as openers on this current tour? How does it feel like to be playing stadiums?
Pete Bauer
(3:10 PM)
Last night ham made eye contact with a very large woman right as she was yelling "get on with it" from about twenty feet away. But over all yeah. Our sound man keeps telling us to cut the triangle solos.
Jen, Middleton, MI
who's the best basketball player in the band?
Pete Bauer
(3:11 PM)
I like to think that I am, but ham is probably the best.
Colin (St. Louis and Illinois)
what do the new songs sound like????
Pete Bauer
(3:12 PM)
There are a lot of them and they all sound sort of country.
Jason (Orlando)
What other musicians are in your fantasy league? Who is in last place?
Pete Bauer
(3:15 PM)
Paul from my band a lot of DC people. Michelle from weird war and the make up runs it. It's alwAys fun trying to figure out who you are playing. I think guy from fugazi is in it. And I am starting a feud with this dude from Extra golden who upset me in the playoffs.
Steph
would you trade your music career to be a pro athlete?
Pete Bauer
(3:16 PM)
Yes.
Brandon Bergman, NY NY
I hear Paul Maroon is a good ball player. Have you played each other in any games on this trip?
Pete Bauer
(3:17 PM)
You must have heard that from pauls mom or wife because they are his only cheerleaders.
JW, Chicago
Are you guys ever going to release a studio version of "Today or Tomorrow?"
Pete Bauer
(3:18 PM)
No
Jon (Rhode Island)
There's a lot of complaining about the hard fouls in the NBA. What do you think about Rondo's foul on Miller last night? Flagrant?
Pete Bauer
(3:19 PM)
I cannot answer that because I'm too big of a rondo fan
Dave (San Diego, CA)
Were you tempted to stop watching basketball forever out of anger when news broke of the Tim Donaghy scandal and how he officated the 2002 Western Conference Finals?
Pete Bauer
(3:20 PM)
I was a lot more upset in 2002. I almost quit my job and gained about 25 pounds.
Brent, Ohio
Two questions: 1) If the walkmen and kings of leon play 3-on-3, who wins? 2) Can we expect a headlining tour this summer (perhaps after pitchfork)?
Pete Bauer
(3:22 PM)
I would have been skeptical, but gone with the kings, as they apparently played like highschool ball, but them they absolutely whooped me and ham in ping pong the other night, so they may have the skills to back up their trash talk Also we are doing a little tour right after that pitchfork festival
Daniel (Boston)
It seems like the Walkmen sound has a lot of affinity with vintage 50s rock 'n' roll. I used to live in Memphis and wonder if you've ever thought about recording a song or cover with a more rockabilly/Sun Studios vibe. I love that era and think you guys would have a fresh musical take on it.
Pete Bauer
(3:25 PM)
Yeah. I think that's sort of what we are trying to do most of the time and just fail. We got to record at sun studios recently which was really something. We had one of Otis reddings trumpet players in our horn section. It was a heck of a day.
Josh, Brooklyn, NY
Can anyone in the Walkmen grab the rim?
Pete Bauer
(3:25 PM)
The best any of us can do is touch it
Matt (Highland Park, IL)
who is ur favorite b-ball plyr?
Pete Bauer
(3:26 PM)
Vlade Divac
BH (Detroit)
When can we expect another record or a headlining tour?
Pete Bauer
(3:27 PM)
End of the year for the record. September for touring I think.
Roger Rogerson
Who is the most/least in shape member if your band? Also, who'd win in all all out battle? Thanks.
Pete Bauer
(3:29 PM)
On paper Paul is the most in shape, but he doesn't look very healthy, so he may also be in the worst shape
Vish, San Diego, CA
Why are you guys so awesome?
Pete Bauer
(3:30 PM)
What?
Clay (Charlotte)
Are you guys going to Bonaroo?
Pete Bauer
(3:31 PM)
No, Paul is having a baby. He's the first man in history to give birth
Mark Jeffries
Do you watch college ball as well or just NBA?
Pete Bauer
(3:32 PM)
My wife comes from a long line of Kentucky fans so I follow them. I really dig calipari and never really liked gillespie so next year should be great.
Sam (Houston, TX)
Have you caught Leonard Cohen on his current tour? He's still kicking butt at 72.
Drew (Buffalo)
You're alright
Pete Bauer
(3:33 PM)
Sadly no, and for the worst reasons...like being in England
Johnstone (Wicker Park)
Are you looking forward to playing the Pitchfork festival? Its always a great weekend in Chicago.
Matt
did you get into music just for the chicks?
Pete Bauer
(3:34 PM)
And the dudes
Pete Bauer
(3:34 PM)
Yeah. It is a good time. I really want to see the Jesus liZard.
brandon (pennsylvania)
do u think the cavs will win the championship this year
Pete Bauer
(3:35 PM)
Yes and I hope so. Ham likes the lakers
Brad (Gadsden,Alabama)
If you played in the nba what postion would you play?
Pete Bauer
(3:36 PM)
I would like power forward but I would probably play hot dog vendor.
Riley, S.C.
Do you guys ever play hoops while on tour?
Pete Bauer
(3:37 PM)
Not as often as we want to but ham and I just played today in cape fear.
Kelli (San Jose, CA)
what are your all-star lineups for both music and basketball?
Pete Bauer
(3:39 PM)
Roy orbison vox Jimi Hendrix guitar Jamie Krents bass John bonham drums Iverson vox John starks guitar Shaquille oneal drums Chris webber bass Vlade divac tour manager
Johnstone (Wicker Park)
Was You and Me your favorite album you have released?
Pete Bauer
(3:40 PM)
Yes actually. We all still like it which is unusual
HP, Los Angeles, CA
Why don't you guys ever play the track "Everyone Who Pretended to Like Me Is Gone" live anymore?
Pete Bauer
(3:41 PM)
Take it up with matt he somehow stopped being able to play the beat.
Andrea
Any plans to tour Asia this year?
Pete Bauer
(3:42 PM)
If we're invited
Joe (NYC)
Can you ever trust Tony Almeida again? o wait... this is Pete Bauer?! I'm outta here.
Pete Bauer
(3:43 PM)
Get outta here! Scram!!
Allison (Norman, OK)
I didn't really jump on your guys bandwagon until You and Me .. but I'm glad I did. Im curious what bands you guys like to listen to?
Pete Bauer
(3:44 PM)
Ham walt and I just discovered umbrella by rihanna? So that song. I've been listening to beach house for a couple months none stop.
Ryan (Avon Park, FL)
What's yr fav song to play on the organ and fav song to play on the bass?
Pete Bauer
(3:45 PM)
Take me out to the ballgame for organ and low rider for bass
Jamie (Brooklyn, NY)
Do you think Iverson is retiring?
Pete Bauer
(3:47 PM)
No. And if new Orleans knew what was good for them they would sign him and trade chandler for shaq. That would be a heck of a team.
Vish, San Diego, CA
Is there a washing machine in the back of the van? Ham always seems to be wearing the same attire night after night...
Pete Bauer
(3:48 PM)
Ham brings like ten identical pairs of clothing on tour.
Jon, NYC
How'd this tour with Kings of Leon come about? Did they approach you or did you approach them?
Pete Bauer
(3:49 PM)
They asked us
Jason
So you guys are playing ACL? Nice! Which other bands set would you most like to watch?
Pete Bauer
(3:51 PM)
My wife is going to kill me if we are not on the same day as pearl jam. So I'll probably be watching her crying and singing along and telling me how I should carry myself more like vedder.
Drew (Buffalo)
Are you concerned about Ham possibly carrying the Swine Flu?
Pete Bauer
(3:52 PM)
Funny you should ask...I think hams girlfriend actually has the swine flu and if I had to put money on it, I'd bet he gave it to her.
Gary, Los Angeles
Best baller of all time in your opinion?
Pete Bauer
(3:53 PM)
Mike Jordan?
Len (Las Vegas, NV)
What songs would you like to see the Walkmen cover?
Pete Bauer
(3:54 PM)
We just did a mean cover of umbrella in the van yesterday so that.
Logan (Toronto)
who do you like to win the capitals-pens series?
Pete Bauer
(3:54 PM)
Caps!
Jamie (Brooklyn, NY)
Do you guys ever cut your sets short to go watch the end of NBA playoff games? Also, please clarify that you beat the French Kicks Mark II, not Mark I.
Pete Bauer
(3:57 PM)
Yes. Last night, the night before, and the night before that. Also, it was a later incarnation of the kicks, but I can only imagine that other bass man would have slowed them down
Tyler, Gainesville, FL
what are some specific instances of collaborative songwriting in the band? like an example of who wrote what parts on what songs?
Pete Bauer
(3:58 PM)
Paul brings a part in , we all crap on it, paul goes home , Paul brings another part in.
Goygus (Atlanta)
Would you like to have a concert at the New Yankee Stadium?
Pete Bauer
(3:58 PM)
Yes but I can't afford to get in the place
Drew (Buffalo)
I was at a club in Virginia Beach once and that Umbrella song came on, half the club literally pulled out umbrellas and water started falling from the ceiling, I don't know if it was weird or awesome. Your opinion?
Pete Bauer
(3:59 PM)
That sounds great!
Juan (Santa Ana, CA)
Hey love the band! Which NBA team would you want to own?
Pete Bauer
(4:00 PM)
The wizards so i could change the name back to the bullets
JW, Chicago, IL
2008 Boston Celtics vs. 1986 Boston Celtics. Who wins in a seven-game series?
Pete Bauer
(4:01 PM)
Impossible. 86 guys are too old!
Timo
Be honest, are the Kings of Leon guys cool or do they treat you like a red-headed step-child? And I always wanted to know .. what do you do when your set ends? Go back to the hotel? Hang out and watch?
Pete Bauer
(4:03 PM)
They seem friendly. They have a lot of motorcycles and are good at ping pong. Usually we like to drink beer and watch basketball. Thanks everyone for writing. Really appreciate the questions.