Chat with Gregg Valentino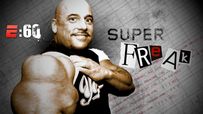 Valentino owns 28-inch biceps.
Welcome to SportsNation! On Wednesday, Gregg Valentino, the subject of "The Man Whose Arms Exploded" story on ESPN's E:60 will stop by to chat.
Valentino, 48, began bodybuilding at the age of 13. By his late teens, he already had 18-inch biceps. While training naturally for most of his life, Valentino decided to experiment with steroids. By using drugs, he changed his 21-inch biceps into 28-inch arms. Check out his story on E:60 and read about it on ESPN.com. Watch E:60 on Tuesdays at 7 p.m. ET on ESPN.
Send your questions now and join Valentino Wednesday at 1 p.m. ET!.
MORE
Previous chat guests | SportsNation Index
Buzzmaster
(12:57 PM)
Gregg should be here soon!
Buzzmaster
(12:59 PM)
Gregg is here!
Jonny (NY)
Are you worried about or have you run into any health problems associated with the steroid use?
Gregg Valentino
(1:00 PM)
No. I have not done steroids for at least 8 years. I've been tested and believe it or not, my health is fine. ESPN tested me at the end of the show and my results were normal.
Evan (Phoenix)
How painful was the hematoba in your arm?
Gregg Valentino
(1:01 PM)
It was very painful, but it had nothing to do with steroids. I was hit with a bat. I just drained it. The TLC show put their own spin on it. It had nothing to do with steroids.
Henry (Buffalo)
Were you focused just on your arms or did you weightlift the other parts of your body?
Gregg Valentino
(1:02 PM)
I was huge all over. If you look at me, especially when I was flexing, I had more than just big arms. My arms grew so big that they got the attention. They were my money makers. My legs were my best part. It wasn't just like I lifted with my arms. I was big all over. I had huge shoulders. People can't get over arms.
Gregg Valentino
(1:02 PM)
My arms were my signature. I milked that to make money.
Gerald (Chicago)
You got your arms upto 28 inches, how much bigger do you think you could have gotten them?
Gregg Valentino
(1:03 PM)
I don't think I could have gotten them any bigger. And I wouldn't want them any bigger. But I was proportionally bigger. Even my head was big.
Chad (Las Vegas)
I saw the E60 story and you seem to show a lot of remorse at the end of the story, but I have to ask. How much of that remorse is from your son/daughter and how much of it is marketing and you seeing a new, more lucrative, market out there for you?
Gregg Valentino
(1:04 PM)
None of it is marketing. My remorse is from my kids, but it's also from the fact that I'm sick of this whole steroid thing. I went through a lot of bad stuff that most people haven't gone through. It's from my arrest. I wish it would leave. It has been 8 years. Enough already.
Clay (Charlotte)
I read an interview where you said you were a good athlete in other sports as well. When you were younger did you ever try to do that professionally or was bodybuilding your only passion?
Gregg Valentino
(1:07 PM)
Here's the thing. I was an unbelieveable baseball player and football player. But I was too short. I hate football, but my father pushed me to play. That's why I picked bodybuilding. I was an all-county baseball player and football player. I got awards from the president. I have that all here and ESPN took the video. They have proof. They just couldn't get it into the show.
Alex (Newark, NJ)
When did you become a steriod user? And when did you personally see results on your body?
Gregg Valentino
(1:08 PM)
I became a steroid user at 36 in 1996. I was already a top natural bodybuilder before that, since the 70s. I saw results immediately. Well trained muscle responds better than untrained muscle. I was already really built, so when I took them, I was put into warp drive. A guy who comes into the gym with nothing, it won't show up as much.
David, Miami
Your arms are the result of synthol injections and we all know it. They look as real as triple G breast implants. Please stop trying to trick people into believing it's steroid use that caused this. Steroid use, good genetics, proper nutrition, and heavy training can give you aesthetically pleasing arms like Lee Priest's, not big, ugly bags of oil like yours.
Gregg Valentino
(1:10 PM)
Well, you seem to be an expert on what I do. You know me so well, so I can't argue with you. By the way, Lee Priest is my friend and you can ask him anything you want about me.
Gregg Valentino
(1:10 PM)
By the way, there is no oil in my arms, because ESPN checked me.
paul (pa)
When people talk about steroid use, they talk about change in demeanor and mood. Did you experience any of the so-called "roid rage"?
Gregg Valentino
(1:12 PM)
No. Steroids, if you are a jerk, will make you a bigger jerk. It's an excuse that people have. No roid rage at all, no mood swings.
kevin(pittsburgh,pa)
What do you think when someone commits a crime and people blame it on steroids?
Gregg Valentino
(1:14 PM)
I think that's ridiculous. Steroids do not cause people to beat up other people. There's no such thing as "roid rage." Steroids make people from a little jerk into a bigger jerk. If they're a jerk already.
adam (Houston)
Good stuff on espn on you. i just wish america would stop disrespecting you. keep up the hardwork and keep being you.
Gregg Valentino
(1:15 PM)
Thank you Adam, I appreciate it. But David thinks I'm just a bag of oil and is an expert on me. Maybe you should talk to him and change his opinion.
Tim (New York, NY)
What would posses you to do something so idiotic such as getting your arms that big? It is not even a good looking body builder's body.
Gregg Valentino
(1:16 PM)
I was big all over. It wasn't just arms. Everything just kind of happened. It wasn't planned.
keith (NJ)
What do you think of the steroid problem in sports?
Gregg Valentino
(1:18 PM)
I think what an athlete does is his personal business. I can not point the finger and say they're bad guys, because I did it myself. And I would be a hypocrite. I worry about the kids coming up now. Those kids that see those stars using that stuff and it's bad. No teenager needs to mess with that crap and destroy his body. Their own testosterone is already super high. By adding steroids, it ruins their body. It's not cheating if everybody's doing it.
Gregg Valentino
(1:18 PM)
But there is a problem, because the young kids are mimicing these athletes.
Gregg Valentino
(1:18 PM)
I think it's a bad thing, but I can't condemn them, because I would be a hypocrite.
Matt (DC)
Gregg, Did people ever try to confront you physically due to your size? And if you did get any fights, could you even throw with those tree trunks?
Gregg Valentino
(1:19 PM)
Yes. I've had a few altercations because of my size and also because I'm short and guys think they can get over me. I handle myself extremely well.
Drew (Buffalo)
Do you regret anything?
Gregg Valentino
(1:21 PM)
Yes. The whole steroid thing caused me to get arrested and to lose a big chunk of my life. As a natural, I had never lost my class in a bodybuilding show. I was already a champion.
Lisa (TN)
How easy was it for you to secure your steroidS?
Gregg Valentino
(1:22 PM)
It wasn't hard. This was the 90s when I was doing this. Things were more readily available back then. It was easy to start. You just take it and that was it. But it was more readily available. It was a different era than today. My steroid usage ended in 2001 when I was arrested. From that point back, it was a different time.
Clay (Charlotte)
If you didn't start getting drug tested, would you have continued your steriod use?
Gregg Valentino
(1:23 PM)
Probably, yes. I was so deep into it that I was blinded by just the whole thing. I didn't realize how far gone I was.
Cody (Dallas)
What does your family think about you taking the juice?
Gregg Valentino
(1:25 PM)
My family loves me like your family would love you. They're not happy about it, but they see me in different eyes than what the public sees me. Your mother and father might not agree with what you're doing, but they still love me. They're there for me.
Drew (Buffalo)
Was it hard to stop?
Gregg Valentino
(1:25 PM)
No. I was sitting in jail. That stopped it. It was easy because I got arrested.
Gregg Valentino
(1:27 PM)
I know it's easy to judge me when you don't know me and you don't know my whole story. ESPN only scratched the surface, there's a lot more to me. I want to thank you all for understanding and if you love or hate me, I wish you all the best. Any teenagers reading this, or anyone else, please stay away from steroids. They are illegal and they will ruin your life.
Buzzmaster
(1:29 PM)
Thanks Gregg!