NBA's 65 in 65: Arron Afflalo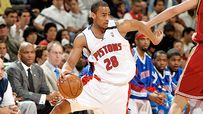 Afflalo was co-winner of the 2009 Haier Shooting Stars Competition.
Welcome to The Show! On Thursday, we continue our 65 in 65. That's 65 NBA chats in 65 days. We will hold an NBA chat each day through the end of the NBA Finals. We'll bring you players, analysts, writers, anyone who can help you fill your NBA fix. Thursday's guest is Detroit Pistons guard Arron Afflalo.
In his second year in the NBA, Afflalo has proved to be a steady backup guard for the Pistons. In 149 career games, he has averaged 4.3 points while shooting 42.5% from the field.
Send your questions now and join Afflalo on Thursday at 2 p.m. ET!
Watch the NBA Playoffs on ESPN & ABC and the Finals on ABC.
MORE
65 NBA chats in 65 days | NBA playoff Index | SportsNation Index