NBA's 65 in 65: Shaun Livingston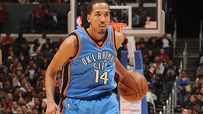 Livingston has battled back from injuries to return to the NBA.
Welcome to The Show! On Tuesday, we continue our 65 in 65. That's
65 NBA chats in 65 days
. We will hold an NBA chat each day through the end of the NBA Finals. We'll bring you players, analysts, writers, anyone who can help you fill your NBA fix. Tuesday's guest is Oklahoma City Thunder point guard Shaun Livingston.
In his first two seasons in the NBA, Livingston played a total of 91 games averaging 6.3 points per game. In his third year, he increased his average to 9.3 ppg as the team won 40 or more games in back-to-back seasons for the first time since 1991-93.
In February 2007, Livingston suffered a devastating left knee injury tearing his ACL, PCL, and lateral meniscus, badly spraining his MCL and dislocating his patella and his tibia-femoral joint. The injury kept him out of the rest of the 2006-07 season and all of 2007-08.
Since returning to the league this past year, Livingston has played for the Miami Heat, Tulsa 66ers of the NBDL and now the Oklahoma City Thunder.
Send your questions now and join Livingston on Tuesday at noon ET!
Watch the NBA Playoffs on ESPN & ABC and the Finals on ABC.
MORE
65 NBA chats in 65 days | NBA playoff Index | SportsNation Index