NBA's 65 in 65: Jamal Mashburn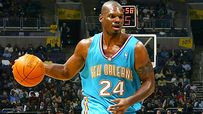 Mashburn is a one-time NBA All-Star.
Welcome to The Show! On Saturday, we continue our 65 in 65. That's
65 NBA chats in 65 days
. We will hold an NBA chat each day through the end of the NBA Finals. We'll bring you players, analysts, writers, anyone who can help you fill your NBA fix. Saturday's guest is former NBA forward Jamal Mashburn.
Nicknamed "The Monster Mash," Jamal Mashburn was a prolific scorer in his 12 seasons in the league, with a career scoring average of 19.1 points per game. Mash is only one of six players since 1970 to have averaged at least 20 points per game in his final NBA season, when he averaged 20.8 points in 2003-04.
Send your questions now and join Mashburn in chat on Saturday at 2:30 p.m. ET!
Watch the NBA Playoffs on ESPN & ABC and the Finals on ABC.
MORE
65 NBA chats in 65 days | NBA playoff Index | SportsNation Index