NBA's 65 in 65: Eddie Johnson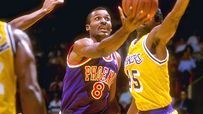 Johnson currently serves as the color analyst for the Phoenix Suns.
Welcome to The Show! On Friday, we continue our 65 in 65. That's
65 NBA chats in 65 days
. We will hold an NBA chat each day through the end of the NBA Finals. We'll bring you players, analysts, writers, anyone who can help you fill your NBA fix. Friday's guest is former NBA guard/forward Eddie Johnson.
Johnson spent 17-seasons in the NBA playing for six different teams. His 19,202 career points ranks 45th all-time and his 1,199 games played ranks 26th all-time. In just his rookie season, Eddie was voted as the NBA's Sixth Man of the Year.
Send your questions now and join Johnson on Friday at 11 a.m. ET!
Watch the NBA Playoffs on ESPN & ABC and the Finals on ABC.
MORE
65 NBA chats in 65 days | NBA playoff Index | SportsNation Index