NBA's 65 in 65: Scott Hastings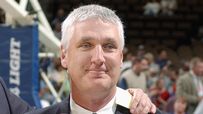 Hastings was a NBA Champion with the 1989-90 Detroit Pistons.
Welcome to The Show! On Saturday, we continue our 65 in 65. That's
65 NBA chats in 65 days
. We will hold an NBA chat each day through the end of the NBA Finals. We'll bring you players, analysts, writers, anyone who can help you fill your NBA fix. Saturday's guest is former NBA center/forward Scott Hastings.
An 11-year veteran of the NBA, Hastings played for five different teams including the Knicks, Hawks, Heat, Pistons, and Nuggets. While with the Pistons, Scott won a NBA Championship defeating the Trail Blazers four games to one.
Currently Hastings co-hosts a daily sports talk radio show on KOA in Denver. He is in his fourth season as a play-by-play analyst for the Denver Nuggets and in his sixth season as the color analyst for the radio broadcasts of the Broncos. It is believed that he is the only person in existence to possess two Super Bowl rings and an NBA Championship ring.
Send your questions now and join Hastings in chat on Saturday at noon ET!
Watch the NBA Playoffs on ESPN & ABC and the Finals on ABC.
MORE
65 NBA chats in 65 days | NBA playoff Index | SportsNation Index