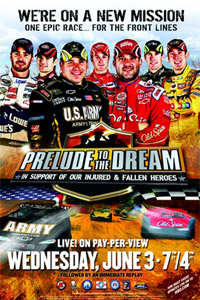 Welcome to SportsNation! On Wednesday, NASCAR driver Tony Stewart stops by to chat about the season, as well as the fifth annual "Prelude to the Dream" race on Wednesday.
Stewart will again host the dirt Late Model race for charity on Wednesday night at Eldora Speedway, which can be seen live on HBO Pay-Per-View at 7 p.m. ET/4 p.m. PT. The race includes 25 of the world's best drivers, including Stewart, Ryan Newman, Kyle Busch, Jeff Gordon, Jimmie Johnson, Carl Edwards and others. The race will benefit four charities that support the military and their families.
Stewart finished second in last weekend's race at Dover. Stewart led down the stretch before Jimmie Johnson passed him on the final lap. However, with his strong finish, Stewart took over first place in the points standings. His nine top 10 finishes this season and six top fives both lead all drivers.
Send in your questions now and then join Stewart at noon ET Wednesday!
MORE
Previous chat guests | SportsNation index
Buzzmaster
(11:56 AM)
We've got Tony!
Moraine, Ohio
Tonight's Preude, with the weather as it is today & has been the last few days, do you feel the track is going to be too wet to race on tonight? Radar is showing a lot of rain to still fall throughout the day today. Jut how much rain can the track take on before it's "too wet"? There are people asking what it it's rained out, will you resched. & will it still be on Pay Per View?
Tony Stewart
(11:57 AM)
A lot of it was the preparation before the rain. The track was hard before the rain, so it's able to run the water off. We're working on it, so we'll just have to see.
Tim: (Baltimore, MD)
Great race last week! Truly enjoyed watching Jimmy and you battle it out live at Dover. How does it feel to be back with Chevy this year?
Tony Stewart
(11:58 AM)
We were just trying to do everything we could to hold him off. You're watching his line and trying to make him go elsewhere on the track. It's awesome to be back with Chevy and it's aweseome to be back racing well, in the front.
Cassie (Geneva, NE)
How did you first come up with the idea of the Prelude?
Tony Stewart
(11:59 AM)
When we bought the track five years ago, we'd been to some other tracks where owners had some NASCAR drivers come in and it was a huge success. We talked to some of our buddies and we wished we could do something like that. So, we talked to our buddies and got them together. Being able to race with guys they knew and could race with, they were excited about that. It's appearance where they just show up and race.
AnnMarie SHR GG Lindenhurst, NY
In what ways do you mentally prepare yourself for an upcoming race?
Tony Stewart
(12:00 PM)
I wake up. It's just something you're used to doing. You do the same thing every week. The biggest thing is just waking up and be ready. You just try to relax. It's a long day.
Ryan (Melrose, MA)
In that commercial where you're staring at that car, is it really your car? And is it fun making commercials?
Tony Stewart
(12:01 PM)
It's not my car, but I have one like it. We did the shoot in Charlotte and mine are in Indiana. It was probably the easiest commercial I've ever done. I just had to stand there.
Jeff Macomb, MI
Hey Tony!! Congrats on the All-Star win and the success your team is having already so far this season. Do you have any plans of opening up a third team in the future?
Tony Stewart
(12:01 PM)
Eventually, we want to have a fourth team too. We just don't know when that's going to be. You want to make these decisions at the right time. First of all, we want to make sure that Ryan and I have a chance to win championships.
Melissa( Allentown,PA)
Hey Tony, Do you still own your horse? If so, how is the riding going? Best of luck the rest of the season!!
Tony Stewart
(12:02 PM)
I still own him, but I haven't had a chance to ride him since last summer. I've been a little busy with this new project.
Bonnie from Enfield, Connecticut
It sounds like most of the drivers in the Prelude to the Dream just basically want to out-race you. How do you feel about that?
Tony Stewart
(12:03 PM)
Nahh, it's not extra pressure. It's fun. I know this place inside and out, because I've owned it for five years. It's fun. Everyone has fun coming up here. There's no pressure for anybody, other than me trying to get the race off today.
James SHR GG
What NASCAR rules would you want to see added, removed or changed?
Tony Stewart
(12:04 PM)
I think there are always ideas we have as drivers that we think we have a good idea. But that's why NASCAR has been so successful for 60 years is because they know what's right and the best way to do things.
Peter (Detroit, MI)
Tony, you went up to the Brickyard this week and did a tire test for goodyear? How did the trst go?
Tony Stewart
(12:05 PM)
We did. We ran Monday and Tuesday. Everything went really really well. Unless something drastically changes before the race, we'll be in good shape.
Ryan (Jefferson City, MO)
Tony, what would it take for me to be hired into your engineering crew, given that i already have a degree?
Tony Stewart
(12:06 PM)
Hmmm...I wish I knew the answer to that. I really don't do the hiring and firing in that area. You just have to do some work with some of the teams at the lower levels. No one really comes out of school and gets hired by NASCAR right now.
Hook (Southern Maryland)
Who do you think is your biggest competition tonight in the Prelude to the Dream?
Tony Stewart
(12:06 PM)
It's hard to say because there are so many good guys coming. Robby Gordon ran well last year. All the guys have a shot at winning. Clint Bowyer is another. You can really never count anyone out.
Daryl SHRGG (Palmdale,CA)
How many cars are you working on at any one time in the shop?
Tony Stewart
(12:07 PM)
It can be in different stages all the way up to 8 different cars. Cars that are getting bodies put on, cars getting paint, cars getting ready for the track.
Chase (Atlanta)
What is the funniest prank/pratical joke that you've done or seen in the garage?
Tony Stewart
(12:09 PM)
Oh God...A lot of times when there's a new crew member, they'll send him down to somebody else's truck to get a "long weight." But there's no such thing as a long weight. They'll say "go down to the 31 truck and get a long weight" and that guy says, we don't have one go see the 44 truck. Everyone in the garage is in on it and they just keep sending him a long.
Adam (Galax, VA)
What about the double-file restarts? When are we going to see them?
Tony Stewart
(12:09 PM)
I hope we'll see them soon. I'm excited about it. It's a pain in the butt to have to deal with a lap car on every restart instead of racing for position. I think it will be a great thing.
Angie (Versailles, KY)
Are you REALLY gonna be happy if Ryan wins a points race first, or do you want to be first?
Tony Stewart
(12:11 PM)
Honestly I don't car who does it. My job as owner is to make sure that everyone has a chance to win. Ryan put the trust in me to make sure I give him good cars. THere are days when I would rather that he do well then me because he put that trust in me. The best case is we're first and second in points. IF someone could say that we could be first and second, I wouldn't care if it were Ryan first.
Tim: (Baltimore, MD)
In what area of the country would you like to see a track built?
Tony Stewart
(12:11 PM)
Right now, we need to take care of the tracks that we have. It's hard, because if you build a new trackk someone somewhere else has to suffer. If you build a new track, you have to take away an event from another track.
ma
when u were a little kid, were u a huge nerd like the kid in ur commercial?
Tony Stewart
(12:12 PM)
(laughs) No, definitely not. The Old Spice commericial is funny to watch. But I was the kid that was playing on the escalator and not afraid to get on it.
Tony Stewart
(12:13 PM)
Keep your fingers crossed and do an anti-rain dance for me. We need it.