NBA's 65 in 65: M.L. Carr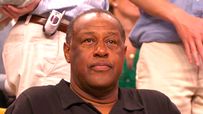 Welcome to SportsNation! On Tuesday, we continue our 65 in 65. That's 65 NBA chats in 65 days. We will hold an NBA chat each day through the end of the NBA Finals. Tuesday's guest is former NBA player and Boston Celtics head coach M.L. Carr.
Carr played for the Spirits of St. Louis in the ABA in 1975-76 season, earning a place on the all-rookie team. Following the 1976 NBA-ABA merger, Carr became a member of the Detroit Pistons. He stayed in Detroit for three seasons before being traded to the Boston Celtics in 1979 where he finished his career. He later became GM of the Celtics in 1994 and coached the team from 1995-97.
Send your questions now and join Carr to chat Tuesday at 11 a.m. ET!
Be sure to watch Game 3 of the NBA Finals Tuesday at 9 p.m. ET.
More Special Guests: 65 NBA Chats in 65 Days | NBA Finals | SportsNation