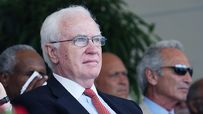 DuPuy began working for MLB in 1989 as outside legal counsel.
Welcome to SportsNation! On Monday, Major League Baseball's President and Chief Operating Officer Bob DuPuy stops by to chat about the state of the game of baseball.
As president and COO, a position DuPuy took over in March 2002, DuPuy is responsible for all phases of baseball's Central Offices, including licensing, sponsorship, international, broadcasting, publishing, marketing, public relations, government relations, baseball operations, legal affairs, finance, baseball's internet operations and the labor relations committee.
Send your questions now and join DuPuy at 4 p.m. ET Monday!
More Special Guests: MLB index
Bob DuPuy
(4:01 PM)
I appreciate everybody participating, and we're off to a good start in the 2009 season. Looking forward to the questions!
rich, st. petersburg [via mobile]
The Rays were such a great story last year, but how concerned is MLB about their stadium situation and attendance?
Bob DuPuy
(4:02 PM)
Moreso the stadium than attendance. The attendance is up some, and we hope that, as soon as possible, they get a new facility that will enable them to compete for generations to come. They definitely need a new ballpark.
Jay (Louisville)
Mr. Dupuy, have their been any discussions about evening the number of teams in divisions? It seems to me that this would even the competition between the divisions and leagues.
Bob DuPuy
(4:03 PM)
There has been some discussion about that. One of the issues would be that you would have to have interleague play every day of the league if the leagues were 15-15 and evenly split into five-team divisions. At this point, there does not appear to be a strong sentiment towards changing the current configuration.
chauncey (teaneck)
How has the economy affected the game?
Bob DuPuy
(4:04 PM)
like everyone, we have worried and continue to worry about the economy. Our teams have responded very well with holding ticket prices and concession prices and providing value packs, and special promotions so that the fans who want to attend games can still afford to do so. We think MLB provides affordable family entertainment and our teams are showing that through their behavior. But we obviously are concerned about the pain felt by our fans throughout the country.
Rich A
My question is about small market teams and their obvious lack of winning formula. What can be done to help teams like the Pirates and Royals? Personally a salary cap makes sense to me but with the players association having so much power that will never happen.
Bob DuPuy
(4:06 PM)
Revenue-sharing and the competitive balance tax have in fact increased competitive balance significantly. Over half the industry has been in the playoffs over the past three years, and small-market teams like Minnesota, Florida, and Tampa Bay have managed to find a winning formula despite being in small markets. The two teams you mentioned, Pittsburgh and KC, both show signs of improvement on the field, and we hope that continues.
Cory ((PA))
Who in your opinion is a better league? AL or NL
Bob DuPuy
(4:07 PM)
The World Series champions have been fairly well split, although the All-Star game has been dominated by the AL. I think there are terrific teams in both leagues.
Ben (Charlotte)
What will Major League Baseball's reaction be if Scott Boras and Stephen Strasburg ask for $50 million?
Bob DuPuy
(4:08 PM)
Each team makes its own decisions, and whichever team drafts Strasburg will have to deal with him and his agent. We would be stunned by that type of proposal, given the history of the draft and its uncertainty.
Imre (Missoula, MT)
As a Cubs fan I'm really anxious to see the Cubs sale completed. Can you please let us know what, if anything, MLB can or is doing to facilitate and expedite the process? Thanks!
Bob DuPuy
(4:09 PM)
The commissioner has had several discussions with the Tribune Company and the proposed buying group. It's in everyone's interest to have the sale completed, but ultimately, the decision to sell or not sell is made by the owner of the team and not by the league. However, I agree with you that the sooner the transaction is consummated, the better it would be for the game.
Jay (Louisville)
Bob, I think the MBL network is great! It allows fans keep up with MLB even if not in MBL cities. Are there any other ideas on how to make baseball more accessable to fans across the country? What is the buzz around the MLB office?
Bob DuPuy
(4:10 PM)
Everyone shares the enthusiasm for the network. The quality of the talent, distribution, and broadcast has been terrific for a startup. We want them to be the ultimate destination points for the average fan who can't get enough baseball through their local broadcasts.
Max (Atlanta, GA)
What did you think about the Tom Glavine situation?
Bob DuPuy
(4:11 PM)
Tom has had a great career and has been a credit to the organizations that he has pitched for. I think John Schuerholz's comments over the weekend probably put that matter to rest. Again, each team has to make its own decisions regarding personnel, and John addressed the situation eloquently.
Jon (Chicago)
Mr. DuPuy, in regards to the fast rising rookie salaries, any thought to implementing a rookie salary scale like the NBA? Or maybe something like the NHL where a team still owns your rights even if you stay in school or go onto college?
Bob DuPuy
(4:13 PM)
I think a system as Jon described and as other leagues have would help on a number of fronts, including ensuring the teams with the best records could draft the best players. It is something that will no doubt be addressed in our collective bargaining discussions.
Bumpy (NYC)
with all the HR's being hit at the new yankee stadium (100 so far this year), is there any talk of new stadiums in the future having specific minimum distances from home plate?
Bob DuPuy
(4:14 PM)
We do have minimum dimensions at new ballparks. Due to the uniqueness of Yankee Stadium, there was an attempt to replicate it, but there are standards in place.
Jeremy (California)
Under what conditions might MLB consider expansion? Would a move to eight divisions make sense in that case?
Bob DuPuy
(4:14 PM)
I think most of our fans and teams are satisfied with the current number of teams. While it's possible that we might expand into other markets or countries, I don't believe expansion is on the horizon in the short- or medium-term.
Bob DuPuy
(4:15 PM)
I appreciate the questions and interest, and keep watching!