Welcome to SportsNation! On Thursday, ESPN.com poker columnist Andrew Feldman will stop by to chat about the World Series of Poker and take any other poker questions you may have. He'll also be joined by professional player Mike Matusow.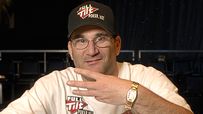 Matusow is better known as "The Mouth" at the table, due to his trash talking. He is a three-time World Series of Poker bracelet winner and the winner of the 2005 World Series of Poker Tournament of Champions.
Send your questions now and join the chat Thursday at 2 p.m. ET!
More Andrew Feldman: Blog | Chats | Colums| Poker index
Andrew Feldman
(1:52 PM)
Hey everyone. Very happy to have Mike Matusow joining us very shortly so send in your questions and we'll get to them as soon as we have Mike. How about Brock Parker and his second bracelet in four days...wow.
Mike Matusow
(2:00 PM)
Hello everybody.
Brian (Durham)
Hey Mikey good luck the rest of the way. I was wondering, who are your 3 favorite players you enjoy talking trash to the most? Whos skin do you love to get under?
Mike Matusow
(2:01 PM)
Phil Hellmuth, Daniel and Sam Grizzle.
Zain (Atlanta)
Mikey big fan, Its been a rather slow World Series for you, are you still thinking positive?
Mike Matusow
(2:02 PM)
Yea. It's been a really rough start. This is the sixth tournament I'm in right now and I'm trying to defend my title. I still have average chips and still have a shot in the tournament. I've only played six tournaments and still have 30 to go, so I'm OK.
joe (md)
You seem to have gotten better at dealing with bad beats....how??? I need that tip!
Mike Matusow
(2:03 PM)
I keep myself calm every day with good medication I'm on keeps me relaxed and focused. When I take a beat it doesn't really bother me anymore, I just say nice hand. I'm really level and it's poker, I deal with it. Once you take the ego out of poker, its just poker and taking bad beats is just part of the game. I have good positive energy and I expect to win every hand so when I lose every hand, I just try to stay up beat.
BigHat (Bakersfield CA)
Mike, what percentage of the players at the level of games you normally play are net winners over the long haul? And what stake game do you most often play?
Mike Matusow
(2:05 PM)
I'd have to say that with the rake, there's probabl less than 1% of winners over the long haul. I've lowered my level and I now play $25/$50 PLO, $100/$200, $300-600 mix. I haven't been playing real high lately just hanging in the weeds.
Andrea (cleveland, ohio )
Mike, Do you take part in any bracelet bets? If so, can you tell us about them?
Mike Matusow
(2:07 PM)
No bracelet bets. I have $20,000 bet between me and my friend Justin Smith against Daniel and Erick Lindgren which is out the window since Daniel has final tabled 9 out of 9 events. He was so tired in the 2-7 that he was giving money away. I see that he's burned himself out the first week and it sucks being so many points behind right now, but I'm feeling good. Lindgren hasn't done much and I can't believe I'm six tournaments in and haven't cashed. I've bubbled three tournaments and two of them I got knocked out on the second to last hand on Day 1. I'm looking forward to today, but I'm only on four hours sleep so I'm tired, but I'll make it through.
John (LA)
Mike do u think Daniel Negranu is the best tournament poker player?
Mike Matusow
(2:11 PM)
No. I think he's a lucky tournament poker player. For three days he got his money in with h worst hand 17 times and he got lucky 17 times. There's a lot of good tournament players. Daniel's mother has been gravely ill for six months and I believe good things happen to good people and because other things aren't going so well, I think that's why he's having a good series. He's a great player, don't think I'm knocking him. He played about as half as good as his results dictate this WSOP. I've played lights out poker this WSOP and I've really been unlucky. Every time I make a small mistake, I get punished for it. Daniel makes mistakes and he gets rewarded for it. Last year I didn't make any mistakes...last year I felt stronger last year and I know it has to do with the weight loss bet, and I haven't felt as strong this year. I'm not sleeping as well, and I'm focused, but at the end of the night I feel weaker and am making the mistakes then. Today is a real telling tale with four hours sleep.
Tim Lavalli (Poker Shrink)
Mike, just how great was it to work with those two brilliant writers on your book?
Mike Matusow
(2:13 PM)
They're lucky I didn't fire both of them. I'm joking. They did a good job. Check Raising the Devil will be the best book you'll ever read. You'll enjoy it and I recommend everyone buy it and it isn't because I make money off the book...I wrote it to help people, help young kids and help people understand what can happen to you when you enter the world of high stakes poker.
Joe (Canada)
Mike, what do think about the $40k event, should the world series have more of them every year?
Mike Matusow
(2:14 PM)
It destroyed the WSOP. It was the worst idea in history. It destroyed my WSOP. I was so depressed about the way I got knocked out I didn't get out of bed. It financially hurt everyone right away. It was a very bad idea.
Larry (Los Angeles)
Mike, you're one of my favorite poker players, and I suspect that deep down you're a heckuva nice guy (perhaps with a wicked sense of humor). But you're known for ... well, some might call it boorish behavior at the poker table. My question is, why? Does it help you win more money? Do you do it to get more TV time?
Mike Matusow
(2:15 PM)
Basically that question is more of an old question. I don't act like that at the table anymore. I did it then for TV to build my character Mike the Mouth, but more or less now I stay quiet and focused. I talk crap to people i know, but if I don't know them, I stay quiet.
Will (San Diego)
Mike, how often do you play Razz? Do you enjoy drawing for your life or has the game been a source of baldness?
Mike Matusow
(2:16 PM)
The least amount as possible. Did you just ask that!
Robert M (Hanford,CA)
Do you think you've changed your style of play up? I haven't seen any blow ups from you. All the BIG Tournaments you are involved in it seems you're the most patient and composed to be always doing extremely great in all of them. Your my favorite player of all time.
Mike Matusow
(2:17 PM)
Well, that's because I am the most patient, composted player on the circuit right now. Pick my spots and that's why I win. I changed my game 180 degrees and it's done wonders for me. I made some big bluffs last night and it cost me a good amount of chips, but my strength has been my patience.
Jeremy (Seattle, WA)
Mike, what the biggest difference in the top pros playing in all the events vs only a few? Is it the side games, prop bets(for bracelets), motivation, buy in amounts?
Mike Matusow
(2:19 PM)
The people that are playing in all the events are just trying to burn themselves out. People like Ferguson or Juanda have more money than god just register and let themselves get blinded off. They go from tournament to tournament. Daniel is living proof that running from tournament to tournament is a bad idea. He was the deadest money I've ever seen. I told him you look tired, but he said he was fine and he went through $30,000 in 10 minutes. I'm just trying to pace myself. Before play today, even though I'm tired I'm going to run a couple miles, eat a good lunch, take a jacuzzi and give myself a good shot to win today.
Brian (Charlotte, NC)
Hi Mike. I loved your new book. Have you always been open about the things you went through early in your career or was the book a way of opening up and getting these things off your chest?
Mike Matusow
(2:20 PM)
The book was a way of opening up. I told a lot of things to a lot of people, so I just wanted people to know what happened to me. All the negative things that happened and why they happened and I want to make sure that it doesn't happen to anyone else. Know what I'm sayin'?
Pete (Rochester, NY)
What has been the public's reaction to your portrayal on last year's WSOP coverage, which was significantly different than any other portrayal ESPN has given you?
Mike Matusow
(2:21 PM)
I was real happy that I became good friends with Norm and Lon and they treated me as the person I am. It made me happy that the real public got to see the real Mike. It meant a lot to me. The only thing that sucks about last years WSOP is that I played my heart out and had some lunatic destroy my dreams, but thats poker.
Brock (Las Vegas)
Do you think I have any chance to win a third bracelet this year.
Mike Matusow
(2:23 PM)
Played with him for years. He's a very, very good limit hold 'em player. He just got average at no-limit which shocks why he won a NL bracelet. He's legitimately has a shot to win three because we still have five weeks to go. He's a great hold 'em player, but every year someone wins two. Next week might be my week. Poker is so streaky its unfathomable how streaky it is.
Billy (Indianapolis)
Big fan Mike. Do you think this is the year that you finally go all the way in the Main Event? You've had some great finishes the last couple of years, thought you may be ready for the bracelet.
Mike Matusow
(2:28 PM)
I think that my style fits the main event pretty well and if I stay patient and focused and avoid the land mines that you have to avoid, that I will maneuver myself into Day 3. that's my goal. I don't ever try to accumulate any chips on Day 1 or 2. There are too many land mines out there so if I get to Day 3 with an average stack I'll be able to maneuver my chips and move up the leader board. It's a good system I have for the main event and I'm above average as the field gets down, I'm good maneuvering my chips without risking any. The game is an art. It's a game where you need to accumulate chips without people realizing it and I'm a great artist. Winning the main event is always on my mind, but I doubt will ever happen. Winning a WPT event is something I want to do to cement my legacy. Ever year I give it a good shot, so is this the year? Who knows.
Jeffrey (Newport, RI)
Hey Mike. I was wandering what do the top professional pros think about the more abundent cheaper tournaments for the WSOP? And I also believe that you dont get enough credit for your consistency every year at the WSOP for most of this decade. How are you able to achieve that success Mike and with the battles you have faced off the table sir?
Mike Matusow
(2:30 PM)
None of the pros really play the $1,500, the other small buy-ins. Pros are playing for best all-around and with the big fields, you just can't get points. There's too many people to go through, too many great NL hold 'em players. Pros are playing to win the 200-300 player tournaments to win and get points and move on up. Plus we've had enough hold 'em over the last four years. Nobody wants to play hold 'em.
Josh (Las Cruces)
Hey Mike, I am a big fan! I have been playing mostly tournaments and very little cash games (with little success), I want to make the transition to playing more cash games, What styles work well for low limit cash games?
Mike Matusow
(2:31 PM)
It depends. I like to put a lot of money on the table, play a lot of pots and play aggressive in cash games. If you put 10x the money on the table than everyone else has, you can control the table. In tournaments you always play super tight, not in cash games.
Boomer (Cincy)
Rank the Main Event Champs best to worst from the past 5 years?
Mike Matusow
(2:32 PM)
Moneymaker plays pretty darn good now. I don't know. The worst is probably Jerry Yang. Followed by Jamie Gold. Followed by Raymer. Then Moneymaker, then Hachem, then Eastgate.
Jim (Philadelphia)
Mike, did you ever play against Stu Ungar? If so, is there anybody comparable to him playing nowadays?
Mike Matusow
(2:33 PM)
I met him a couple times. I never played against him, but I heard a lot of things about him.
Phil Ivey (Las Vegas)
Mike will I have more bracelet than Hellmuth all time?
Mike Matusow
(2:34 PM)
Probably not because you're a better all around poker player. Hellmuth is hungry and he'll win. Ivey went five years without winning a bracelet and he needed a lot of luck to win that one. I see a trend of someone like an Erik Seidel with 8 bracelets who has more of a chance to pass Hellmuth than Ivey.
Mike Matusow
(2:36 PM)
I haven't cashed yet, but for everyone out there, I'm playing really well. I'm going to have a big World Series. I know I'm Mike Matusow and I can't make a mistake without getting punished, but I like the way I'm playing. I feel I'm really card dead, but I'm running good online, I just can't catch cards in a tournament. Usually its the other way around and its going to flip the switch. I'm confident that I'm going to have a good WSOP. A long way to go.
mike (canyon lake)
Hey Mike, i was wondering who are your closest friends in poker?
Mike Matusow
(2:37 PM)
I talk to Phil Hellmuth every day. He's probably the closest. Daniel too, but we're just more acquaintances right now. We used to talk more. As far as Hellmuth, someone needs to be able to listen to him talk about himself for hours. It's one of my strong talents.
Jason (Newton, MA)
Mike, why should I join Deep Stacks University?
Mike Matusow
(2:39 PM)
It's a reactive training site. It's the best out there. Everything you want to learn...how to learn from certain players. It reacts based on how you play. I'm the dean, I'm the main guy and I'm looking to making many poker players a lot of money at Deepstacks University.
Chad (Chicago)
Mike, given the recent freezing of online accounts, what's your guess as to the number of players for the Main Event?
Mike Matusow
(2:40 PM)
Good question. This is really going to hurt Harrahs a lot. They froze a lot of bank accounts. I've never cashed on or offline before. I don't even know how to do it, but I think the government is making a big mistake at the wrong time. This could be detrimental to PokerStars, Full Tilt and the online industry. I think it's pretty horrible that they can say that you can't play poker from your house.
Clint (Atlanta)
Mike, what advice would you give to someone thinking about turning pro and what's the best way to get started?
Mike Matusow
(2:41 PM)
Stay in school. Don't turn pro. It's a tough thing to do. It's a rough life, rough job. There's no endorsement out there right now due to everything getting shut down. If you can't get endorsement money, it's too tough a job.
ed romeo (new york)
Do u think the expanding skill level of the average player is making it harder to make a living for a pro poker player. And where and who do the professional poker players try to play against and play at to make there living.
Mike Matusow
(2:43 PM)
Absolutely. There are so many great players. That's why we're all playing the mixed game tournaments because its easier to win. There are so many great NL hold 'em players right now, we're looking for our best chance. It won't be long until they figure out how to play the limit tournaments too.
Mike Matusow
(2:43 PM)
Thanks for all the questions everyone. I'm going to take a jacuzzi before heading to play today. If I make the final table, I'm going to win the tournament and defend my title.
Andrew Feldman
(2:44 PM)
Thanks Mike! Very entertaining stuff from Mike. I'll hang around for a little longer and take any questions you may have....
William (New York)
Andrew, did i send my message to the right e-mail for you?
Andrew Feldman
(2:45 PM)
Nope...next!
Ken (San Angelo)
What happened to John D'Agostino?
Andrew Feldman
(2:46 PM)
Great question. I see D'ags every year at the WSOP, but I'm not sure what he's up to. I'll find him and let you know....
Ben (Tustin, CA)
Why do you think Gus Hansen has poor results at the WSOP
Andrew Feldman
(2:47 PM)
Because he'd rather be placing large sports bets. I'm not sure why he can't pull through at the WSOP, but he still remains one of the best without a bracelet.
Mike (TX)
So if you win a Main Event satellite online (lets say FTP), you can't take that money out to go actually play in it?
Andrew Feldman
(2:50 PM)
Mike - I'm not really sure what it's all about, but I do know that we're currently investigating the situation. We've spoken to the PPA and are trying to get all the details and will post a story on it ASAP. That said, I would honestly email whatever site you play on and ask them the current cash out procedures. I'm not advocating one way or the other as I'm not sure of the reach of the recent actions.
Zain (Atlanta)
Andrew, over under 7k in Main Event?
Andrew Feldman
(2:51 PM)
I said 6,200 before the WSOP began. Then with the great numbers early on, I was all about over 7,000. Now I'm not sure we'll reach 6 if players can't get their money offline.
Hank (Enfield, NH)
Andrew - more mild mannered, Seidel or Seed?
Andrew Feldman
(2:52 PM)
Seidel. Seed had a much more volatile past than many don't hear about. Erik on the other hand is almost always calm and collected.
Bill (Rockford)
How do poker players pay taxes? For instance, if Phil Ivey wins 2 million in a cash game, why does he have to put that on his tax info when the gov't has no way of knowing he won that money?
Andrew Feldman
(2:54 PM)
They pay just like everyone else, reporting their wins and losses. Its easy to take a look at tournament wins and earnings, but cash games are much harder.
Cosmo (Hartford, CT)
Andrew, if you win a bracelet I'll go back to playing poker. Get on it.
Andrew Feldman
(2:54 PM)
So you'll stay retired. Awesome. Better luck next year.
Pete (Rochester, NY)
I cashed out via wire with the money for my main event seat Monday (right after the check I requested got placed back into my Stars account) and received the money today. I doubt the cashout problems will affect the turnout that much.
Andrew Feldman
(2:54 PM)
And there you go...
Lon (Tracy, CA)
Any chance you guys can do more poker edge updates prior to the ME?
Andrew Feldman
(2:55 PM)
Of course. We are planning one either today or tomorrow. Thanks for listening. During the main event, we'll be daily from the Rio and as usual, I'll have interviews with everyone and anyone. I'm hoping to get Jason Alexander back on the show again this year, too.
Yince (Albequerque)
Has Scotty lived down the 2008 HORSE tourney yet? Are people willing to look past it yet and kind of say that was "Scotty being Scotty"?
Andrew Feldman
(2:56 PM)
I think he has. He's apologized profusely and he knows how out of line he was. Everyone will still keep his actions in the back of their mind, but I don't think it weighs heavily on him at this time.
gregg (philly)
how common is it for name pros to go broke?
Andrew Feldman
(2:57 PM)
Extremely. The problem is that they just borrow money from each other all day and all night. Pick a player...any player...they've been broke, staked, back on their feet, and broke again.
Bob (The Bronx)
Do you think Doyle will plan his retirement? for instance, he might the '10 Main Event will be his last time playing poker( at least in public)?
Andrew Feldman
(2:58 PM)
No. Doyle will play until he cannot play any longer. There is no retirement from poker for a man like him...only death. And I think he won his death bet too.
Kevin (AZ)
How does a standard staking deal work? Like you hear so much about Dwan, etc. staking players?
Andrew Feldman
(2:59 PM)
It really depends on the player, the action and the trustworthyness -- no, not a word. Some players will split the action, others will take a larger cut, but you have to prove yourself to be a good HORSE before anyone will invest in you.
Mike (Kyiv, Ukraine)
No Limit Hold Em got so popular because it is so fun. What game do players find as enjoyable to play? What could take over Hold em in the next few years?
Andrew Feldman
(3:01 PM)
Pot-limit Omaha. Great game and for those that like hold 'em, it's a simple transition with a lot more strategy.
paul (NY)
Andrew can we have Daniel Negranu in any future?
Andrew Feldman
(3:01 PM)
Working on it.
Jason (Newton, MA)
Have you heard any more about Harrah's Interactive? Do you think they will really open an online poker room?
Andrew Feldman
(3:02 PM)
I think that is most definitely in the cards. With their recent announcement, it's only a matter of time until Harrah's opens up their own site. I'm guessing it will open around the time poker gets legalized/regulated.
Andrew Feldman
(3:03 PM)
Ok, that's it for today. Thanks to Mike for joining us and thanks again for all the questions. I'll be back tomorrow. Same time, same place.