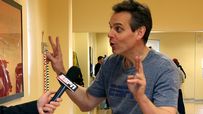 Welcome to SportsNation! On Wednesday, SportsNation TV, and ESPN Radio, host Colin Cowherd stops by to chat.
Cowherd hosts The Herd with Colin Cowherd which can be heard daily from 10 a.m.-2 p.m. ET. His new SportsNation TV show, which he will host with Michelle Beadle, debuts July 6 and will air Monday-Friday at 4 p.m. ET on ESPN2.
Send your questions now and join Cowherd Wednesday at 2:30 p.m. ET!
More Colin Cowherd: The Herd | Search | ESPNRadio.com | SportsNation.com
Buzzmaster
(12:55 PM)
Colin will be here at 2:30 p.m. ET to take your questions!
Buzzmaster
(2:16 PM)
Colin is here early...
Colin Cowherd
(2:17 PM)
Hello America...please ask interesting questions.
Shane (Idaho)
Colin, an area that doesn't get a lot of love on ESPN is college football recruiting. Is that becasue of legal issues surronding these young kids, ie not being able to talk to them, show photos etc? ESPN talks NFL draft for two or three months but the second most popular sport, college football doesn't get that much exposure during its "draft" season.
Colin Cowherd
(2:18 PM)
It's not that compelling to a large audience. It's a niche topic.
duane (fort myers,fl)
i was just listening to you talk about the hockey ratings. it's pretty bad when fort myers had the 5th highest tv ratings number in the nation for saturday's stanley cup finals. we have the hurricane's farm team here so there is some interest in the sport.
Colin Cowherd
(2:18 PM)
Hockey has an incredibly intense and loyal audience, but it's depth and magnitude is very very small, according to every single survey ESPN has ever done.
Joe (Bama)
Colin, is this show going to suck?
Colin Cowherd
(2:19 PM)
Well, people thought my radio show would and it's lasted five years.
Doug (Richmond, VA)
Colin, The most expensive restaurants are sometimes not the best. Usually they are, but value weighs heavily on what is the best.
Colin Cowherd
(2:20 PM)
Best is a subjective term, but in every industry, best is usually based on a large group of educated consumers agreeing on something. Most educated consumers agree that La Jolla is a nicer place to live than Yuma, Arizona.
Adam (Springfield, MO)
Colin,Which sport has a brighter future: College B-Ball or the WNBA?
Colin Cowherd
(2:21 PM)
College basketball has a larger audience, and because it has a larger audience star players will move it to greater heights.
Pete (Maryland)
Colin, what do you think of these guys who tattoo themselves with team logos?
Colin Cowherd
(2:21 PM)
Got to be honest, I don't think much of anybody that tatoos themselves several times.
Trevor (Texas)
How many Texas Longhorn games are you going to attend this year? I'm shooting for at least 4, including the Red River Shootout which I attended last year. Hook'Em!
Colin Cowherd
(2:22 PM)
I may go to one - Texas-Oklahoma. I have Texas winning the national championship.
Dan (Central Oregon)
Is the pay players to play college sports argument EVER going to be seriously considered?
Colin Cowherd
(2:23 PM)
No. Think about it. What are you going to pay a gymnast? The same as a football player? Only one or two sprots even make money. Are you going to pay a kid in Iowa City the same stipend as you pay a kid that goes to very expensive USC? There will still be inequity everywhere. Frankly, free education is more than enough.
Ryan (Pittsburgh)
I will agree that hockey is very much a niche audience and it's not a sport where you have a ton of interest if your team isn't playing (never figured out why that was), but yesterday First Take had some nonsense about hockey being less popular than Arena Football, Women's college hoops and some other garbage. It was like 15th on the list of popular sports. That was a complete joke to me and ESPN lost credibility in airing that nonsense.
Colin Cowherd
(2:25 PM)
Ryan, ESPN does rolling research every year. Hockey rates about 14th in every single survey. For the record, NBC does a sports survey every year and hockey finishes somewhere between 12-15 in their surveys too. Don't lead with your heart, lead with your head.
Lenny (Oregon)
Was the cereal bracket fixed, like the NBA Finals?
Colin Cowherd
(2:25 PM)
Absolutely. Tony the Tiger paid off our officiating crew.
Zach (CT)
Which do you dislike more: Europeans, soccer, both equally?
Colin Cowherd
(2:25 PM)
This may shock you, but I love the World Cup. And I will watch a good qualifying match for Team USA over 90% of baseball games.
Trevor (Texas)
Hey Colin, love the show. I was listening to the show at lunch today and was wondering how you think the NHL could get hockey mainstream?
Colin Cowherd
(2:26 PM)
Maybe, a very outspoken transcending superstar could help a little.
J.B. (Dunmore, PA)
Colin: This is of course subject to change but what three college football games scheduled for the 2009 season most intrigue you right now?
Colin Cowherd
(2:27 PM)
I'll go to USC-Ohio State, Texas-Oklahoma. As of now.
greg (cary, nc)
the yanks will need a #2 pitcher to be a contender in th playoffs, what pitcher do you think they could trade to get to make that possible?
Colin Cowherd
(2:27 PM)
It's got to be somebody they have. Joba or Hughes, I guess.
Ryan (Pittsburgh)
Well I'd love to see the criteria for this research. When's the last time Arena Football sold 15,000-18,000 seats in arenas 40 times a year for most of their teams like hockey?
Colin Cowherd
(2:29 PM)
Ryan, you're confusing attendance with interest. Lots of people go watch Blue Oyster Colt at the state fair, but there's a reason no major label will sign them.
Rick (LA)
Colin, if ESPN had the hockey contract you would be talking about it more on your show(s). True or False?
Colin Cowherd
(2:29 PM)
LA is my No. 1 affiliate. That said, no way in hell.
Delvin (Charlotte, nc)
Will Strasburg get the money he wants?
Colin Cowherd
(2:30 PM)
A performers always get the money that they want. In every industry.
Marc (MS)
Colin, here is an interesting question. Why does your voice on the radio seem vastly different than on your ESPN TV promos. It kind of surprises me.
Colin Cowherd
(2:30 PM)
A lot of people don't realize this, but I don't really do my radio show. It's an impersonator.
J.B. (Dunmore, PA)
Has Ann met Michelle yet?
Colin Cowherd
(2:30 PM)
Yes. They made out briefly.
Steve (Syracuse, NY)
Herd- whats your favorite music to listen to while working out?
Colin Cowherd
(2:30 PM)
Always been Eminem. U2 and Eminem.
Bill (Dover, DE)
Do you expect Lidge to ever be back to normal. OR, return to his old self?
Colin Cowherd
(2:31 PM)
These pitchers that come out of World Series with all the extra innings and pressure often fail the following year.
Trevor (Texas)
What QB is going to be selected first in the NFL Draft next year?
Colin Cowherd
(2:32 PM)
Bradford at Oklahoma has the size. I still love Colt McCoy at Texas though as a gamer. I just love watching him play.
People that Care (Everywhere)
Colin, are you aware that you hold the careers of your producers in the palm of your hand? And do you care?
Colin Cowherd
(2:33 PM)
I realize that I am one bad mood away from Fish living in a box. Yes.
Joe (LA)
Can you tell us non east coasters about Michelle Beadle? First, is she single and can you give us a 10 year range on her age? Second, did you have a say in who your co-host would be and was she your first choice? Anything else you?d like to add? Thanks!
Colin Cowherd
(2:34 PM)
She's early 30s. Talks like a guy, dresses like a girl. Big city girl, big family, very sharp. And she can take a punch. Meaning, she's not easily offended.
Tim (Ohio)
What's the SportsNation tv show going to be like, why should fans check it out, and what excites you most about hosting it?
Colin Cowherd
(2:34 PM)
Tim, it's not going to look or sound like any ESPN show. It's going to be very live from calls to e-mails to Twits. We have our own studio. It's just going to be a very different looking, sounding show, with very little teleprompter.
Steve (WI)
Do you think Vick should be let back into the NFL? I know I don't!
Colin Cowherd
(2:35 PM)
Sure. I wouldn't want him, but I think he deserves a second chance.
Ryan (NY)
I read that you guys are going to show weird web videos - what does that mean? can i submit my own?
Colin Cowherd
(2:35 PM)
Yeah, anybody can submit anything. We will be interested in it.
Jacoby (Brooklyn)
Why are you making out with a baseball glove in your picture?
Colin Cowherd
(2:36 PM)
You're weird Jacoby. I'm going to punch you right in the neck.
Steve (Ohio)
Colin, how did you select Michelle as cohost? Was it strictly your decision?
Colin Cowherd
(2:36 PM)
7 gals auditioned. She was the best.
Heath (Dallas)
I'm sort of perplexed by all the Vick bashing. I'm not a huge fan, but playing football is what he's trained to do. If a computer technician was convicted of cruelty to animals, would we bar them from taking IT positions?
Colin Cowherd
(2:37 PM)
Quarterback in the NFL is a public position. An IT guy can do behind the scenes work and nobodies going to protest the company.
John (Portland)
Do you prefer ESPN Radio's Colin, SN TV Colin, or just Lord Colin?
Colin Cowherd
(2:38 PM)
The latter has a really nice ring to it.
Fogel (MA)
Colin, are you coming up with all the ideas for the Nation show with Amanda and Fisch or do you have different people working on the tv show?
Colin Cowherd
(2:39 PM)
Amanda and Fisch aren't part of it. I have a totally different production staff working on it.
J.B. (Dunmore, PA)
Will you be decorating the set with your children's art work?
Colin Cowherd
(2:40 PM)
We're going to use old gas station signs. Very retro.
Stephen (SC)
What do you think is the single most important reason the Big 10 has struggled in football the last 5-6 years?
Colin Cowherd
(2:41 PM)
It's a cold weather conference. ESPN now televises between somewhere between 450-500 games. We didn't used to do that. But about the time we decided to do so, young athletes decided they didn't have to go to cold weather to get viewed.
Mike (Portland, ME)
Do you realize you are becoming the Howard Stern of the Sports World--- in a good way- embracing different mediums and expanding beyond the dj or radio show in your case?
Colin Cowherd
(2:42 PM)
I always respected Howard. I would never try to imitate him. I've always been very outspoken and very risk oriented.
Majeed (La Jolla)
Yes, you're right. This place is truly heaven! Btw my wife loves your show!
Colin Cowherd
(2:42 PM)
Your wife is obviously a balanced, reasonable woman.
Tone (Seattle)
Why is big ten football suffering, but big ten basketball seems stable?
Colin Cowherd
(2:43 PM)
Because nobody is great in college basketball any more. Everyone leaves after one year to the NBA. The Big Ten is bad, but no worse than anybody else.
Tom (Los Angeles)
It looks as though your front running passion......Southern Cal football program is going down with the NCAA. Your thoughts (a couple years probation; no bowls; loss of scolarships; loss of wins; loss of Bush's heisman). Ow!!!
Colin Cowherd
(2:44 PM)
Well, I'm just going to sit and wait and see what they find. Clearly there was some shady stuff with Reggie Bush.
Tone (Seattle)
How long until people outside the US start buying baseball franchises like how the Glazers, Hicks, the browns owner all own teams in the premiership?
Colin Cowherd
(2:45 PM)
It's just part of globalization. There are firms in London now buying buildings all over New York. That's the world we live in. There's a lot of money in China and a lot of money in Europe.
PAUL (LA)
What show on TV is the SportsNation show most similar to?
Colin Cowherd
(2:45 PM)
It's a cross between Morning Joe on MSNBC and that CNBC show with Jim Kramer.
addyson (indiana)
if you had been in charge of hiring UK's next coach, who would you have picked over Cal?
Colin Cowherd
(2:46 PM)
Somebody less slimy.
Marc (MS)
So you're going to TV huh, Colin? Finally sold out.
Colin Cowherd
(2:46 PM)
They offered my three shows in five years. Finally took one.
Jay (Toronto)
Wanted to say thanks for turning me onto Phil Steele's college FB mag. I bought it last night and am just overwhelmed by the amount of info in that thing. Very impressive job by him.
Colin Cowherd
(2:48 PM)
Phil Steele's magazine is so far and away the best, it's not even close. If you bet college football, it's the bible.
Mike (Portland, ME)
What day and time will the show be on? I need to plan my gym schedule around it
Colin Cowherd
(2:48 PM)
4-5 p.m. ET, Monday through Friday, ESPN2.
Steve (Syracuse, NY)
Herd what am I going to do when the finals are over...Baseball? Seriously? I dont know if i can take that every night...is it football season yet?
Colin Cowherd
(2:49 PM)
Well, we're only about six weeks out of football. August 1 is the beginning of football season to me.
Colin Cowherd
(2:50 PM)
OK kids. Got to go get a mani/pedi.