Chat with Gregg Berhalter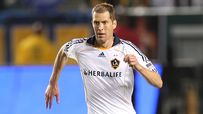 Welcome to SportsNation! On Tuesday, LA Galaxy defender Gregg Berhalter will stop by to chat about ESPN's MLS Game of the Week between the Galaxy and the Houston Dynamo.
Berhalter spent the past 15 years playing in Europe after leaving the University of North Carolina at Chapel Hill in 1994 after his junior season. In April 2009, Gregg returned to the United States and signed his first club contract in the states after moving back. On April 3, he was revealed to the Los Angeles Galaxy.
Berhalter began his international career with the U.S. national team in 1994 and has 43 total appearances. Today, Gregg continues to be a part of the national team system.
Send your questions now and join Berhalter on Tuesday at 3 p.m. ET!
Tune in Sunday, June 28 at 10:00 p.m. ET on ESPN2 for Houston at LA.
More Soccer: MLS chat guests | Soccernet
Buzzmaster
(3:00 PM)
Gregg Berhalter will be here in minutes to take your questions!
Buzzmaster
(3:06 PM)
Gregg is here!
Stephanie (California)
What is your game day schedule?Do you have any pre-game rituals?
Gregg Berhalter
(3:08 PM)
For a 7:30 game, I'd wake up around 8. Have breakfast, have a cup of coffee, read the paper for a while maybe. Between breakfast and lunch, I'd have a workout, break a sweat. Have lunch at noon. After that, take a nap, pretty long nap, like 2.5 hours. Then have a meal about 4 hours before the game. I get to the stadium about 5:30 for a 7:30 game. Then loosen up and get ready.
Anthony (Los Angeles CA)
Greg, What's been the hardest thing to adjust too, since joining LA Galaxy?
Gregg Berhalter
(3:09 PM)
Hmmmmm. First off, everything's been great so far. I'm so excited to be back. I'm familiar with the coaching staff and the players. From that standpoint, it's been easy. The games are a little hectic a little less organized, but still very competitive. I'm enjoying the competitive environment and I'm having fun.
zach (New York City)
Do you like playing at the Home Depot Center?
Gregg Berhalter
(3:10 PM)
The Home Depot Center is one of hte best facilities in the league. The training fields the lockerrooms the training rooms. Archetectually, it's beautiful. I really enjoy it. Then you add our fans on top of it, it's amazing. It's a really special environment.
BAJ (Orange County)
What are your major concerns after the last two matches? What changes do you feel are needed in the defense in order to get a result against Houston?
Gregg Berhalter
(3:11 PM)
I think that's a good point. We need to sure things up in the back and score some goals. I wouldn't like to point to any one area, but we're concerned after the last few games that we're not scoring enough and letting up too many. We want to put pressure on the other team.
Steve (Cleveland)
How does the commute factor in for an LA athlete compared to other cities? How far do you live from the stadium?
Gregg Berhalter
(3:12 PM)
I live 30 minutes from the stadium. It is always an issue. you have to be concerned with the timing. If you have a weekday game and it's in the evening, you have to worry about traffic. We've been carpooling so we can go in the carpool lane. It's not too bad.
Phil (Houston)
What were your main reasons for coming back to the states? Do you miss playing in Europe? Would you recommend it to other American players considering playing abroad?
Gregg Berhalter
(3:13 PM)
One big decision is that I was in Europe for 15 years and I wanted to make the transition to live back in the states. When this opportunity came along, to play and come back here, I made the decision. I had a great time and really enjoyed playing there. So I wouldn't say that I don't miss anything, but I am having a good time here and really enjoy playing here.
Cobifan (Hollywood, CA)
How do you think the Beckham factor is going to effect the team chemistry next month? Are you preparing for the changes that this may cause?
Gregg Berhalter
(3:14 PM)
I think it can only help us. When you bring a player with his quality back to the team, it can only help us. His workrate is tremendous, his passing ability is tremendous. We haven't heard much about it, a date, but we're looking forward to it.
John (Manhattan Beach)
Houston has played 11 straight games without a loss and really seem to be rolling right now...what do you have to do in order to stop that run?
Gregg Berhalter
(3:15 PM)
That's a good question. We're definitely meeting a team that's in form. Right off the bat, we know it's not going to be easy. When you'r eplaying a team like that you know you have to raise your level. We're going to be paying attention to the video. We respect our opponent and they're coming in on a long winning streak so it's not going to be an easy game.
Bernie (Orlando)
What are your thoughts of tomorrow's US game against Spain? and would you like to play for the national team?
Gregg Berhalter
(3:16 PM)
Absolutely. I'll have my eyes on that game. It's going to be a great game. The character the US showed to come back and win that game is incredible. Credit to those guys. The situation was looking bleak after the first two games, but they hung in there and got a fantastic result against Egypt.
Cesar (LA)
What's your favorite part of being with the Galaxy?
Gregg Berhalter
(3:17 PM)
It's hard to say, because there are so many great aspects to it. The team is great. A bunch of great guys. The weather in Southern California is great. The facilities are great. It's not easy to say. Overall, I'm just pleased with the situation.
Paul (Boston)
Of all your stops in Europe, is there one club that you enjoyed your time with more than the rest?
Gregg Berhalter
(3:18 PM)
Not really. London was a great place. It's a great city with more of a world feel to it. Munich is an incredible city. The time I spent in Holland was really nice. Some smaller cities had some closer atmospheres. Overall, every city I took something from.
Nick (GA)
What is your favorite spot to eat in LA?
Gregg Berhalter
(3:19 PM)
Unfortunatley. I haven't been to many restaurants in LA yet, because I live down in Orange County. I'm looking forward to trying the sushi places or the Italian places.
Gregg Berhalter
(3:19 PM)
If you could reccommend some places, that'd be great.
Justin (Redondo Beach, CA)
What do you think of the Chivas USA/Galaxy rivalry compared to other ones you have been apart of in Europe?
Gregg Berhalter
(3:20 PM)
I would say it's a great rivalry. Whenever you have two teams from the same city playing each other it makes for a great atmosphere. Some of the ones I've played in Europe are a little longer standing, so it's a bit more intense. But the fans get riled up, the players get riled up and it just makes it more fun.
Tim (Wisconsin)
Tactically, where has the overall American pro level improved over your career? What are the tactical weaknesses?
Gregg Berhalter
(3:22 PM)
I think the league is definitely developing. You have an emphasis more on tactics now. It gives players more awareness. It's something that improves over time. Overall, the tactical level is improving in the MLS.
Gregg Berhalter
(3:23 PM)
Come out to the stadium on Sunday night. We need all the support we can get. Come on out and be nice and loud!