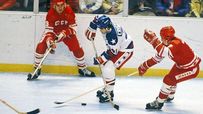 Eruzione captained the 1980 USA hockey team.
Welcome to SportsNation! On Monday former U.S. Olympian Mike Eruzione stops by to chat about his 1980 ice hockey team.
Eruzione scored the winning goal against the USSR team in the 1980 Winter Olympics in what's been named the "Miracle on Ice" game. Team USA went on to defeat Finland and win the gold medal. Team USSR had won every ice hockey Olympic gold since 1960.
Eruzione, who works for his alma mater Boston University, is helping the U.S. Olympic Committee with a new fundraising initiative to help future Olympians. In the lead-up to the Fourth of July, Americans will have the chance to show national pride and be part of the Olympic mission through "America Supports Team USA."
Send your questions now and join Eruzione at 4:15 p.m. ET Monday!
More Special Guests: Previous chats | SportsNation
Buzzmaster
(4:15 PM)
We'll have Mike Eruzione here to chat in minutes!
Buzzmaster
(4:18 PM)
We've got Mike!
tom (florida)
Mike, with the big win against USSR, you still had another game to play...how hard was it to get back up for the next game after such a big win?
Mike Eruzione
(4:20 PM)
Actually, it wasn't that difficult, partly because we had a day off between games. The next day practice, Herb skated our butts off. He wanted us to get ready for the next game. If we had to play the next day, it might have been difficult, but it was pretty easy to get ready for Sunday, with the day off.
alan (detroit)
Mike, what kind of work are you doing with Team USA?
Mike Eruzione
(4:21 PM)
Well, I'm not doing anything with Team USA, though they've asked me to talk to the players in August for their camp. I work at BU and I travel around the country doing some speaking. I'm involved in hockey that way, but not with Team USA at all.
Greg (NYC)
How many times have you watched replays of the game?
Mike Eruzione
(4:22 PM)
Well, it's kind of funny, I've only seen the game twice. I saw it a few years after the Olympics and a few years ago. That's about it.
Steve
How can we help the US Olympic team with this fundraiser?
Mike Eruzione
(4:23 PM)
Your donations will be the support that we're looking for. A lot of money is nice to have, but whatever you're able to give and donate will help. We always say that America doesn't send atheltes to the Olympics, Americans do. There are a lot of athletes out there in need of financial support.
Carl (Georgia)
Do you wear your gold medal around?
Mike Eruzione
(4:23 PM)
Sorry, Carl, no. It sits in the safety deposit box in the bank. I don't bring it with me when I travel.
Moose (Pittsburgh)
Mike, after all these years, our victory in 1980 is still one of the best moments of my life. Our victory for the Cup this year was great, but nothing compared to what you guys did.
Mark (Charlotte, NC)
Mike, i'm sure you've gotten this question once or twice before, but what are your thoughts on the "new" NHL? While it has successfully suppressed things such as the Clutch and Grab era, it has also manipulated the rules to allow more scoring and promote more offense. Ultimately is the NHL headed in a direction that you agree with?
Mike Eruzione
(4:25 PM)
I do follow the NHL moreso in the playoffs. I do like the new rules. I think it's taking the clutching and grabbing and holding out of the game. I don't think the scoring is up. I think because the goaltenders are so good, I would like to see the goalie pads and equipment smaller. They've really kind of taken away the defensemen's physical play in front of the goalie. I think they should put their play back in the defenseman's hands.
Bobbo (NY)
How closely does the movie Miracle capture what really happened in 1980?
Mike Eruzione
(4:26 PM)
I've seen the movie a few times. I know when it first came out I saw it quite a bit. I think it shows quite well what we went through. It captured the spirit of our team, the moment of our team and the excitement of what the country was going through. If anything, they softened Herb up a little in the movie, he was a little more intense.
dan (denver)
Mike, how often do you get stopped per day by fans wanting to talk about 1980?
Mike Eruzione
(4:28 PM)
Well, not so much when I'm home, but when I'm traveling, it's usually an Olympic event. There, I get stopped quite a bit to talk about it. I enjoy it. It's an athletic moment that touched not just the team but the nation. I've had many people come up to me and say that they remember where they were when Kennedy was assassinated and with 9/11 and when we won. So it's nice to be remembered in a good way.
tim (wash)
do you still keep in touch with the guys from the 1980 team?
Mike Eruzione
(4:29 PM)
A few of us do keep in touch. I stay in touch with Jack O'Callahan quite a bit. The Minnesota guys stay in touch because they all live out there. But it's hard to get 20 guys together. we're hoping that with the 30 year anniversary coming up we can get togheter, play some golf, and have a few beers.
Steven (NJ)
What was it like to have Herb Brooks as a coach?
Mike Eruzione
(4:30 PM)
It was great. Demanding. Just like all coaches, you run from sometimes you lov ehim and sometimes you hate him. He was difficult to play for and fair and honest. There was no BS with HErb, it was always upfront. You always knew where you stood. I don't think we could have won without Herb. And I think he would have said he coulddn't have won without us.
Bob (Pittsburgh)
Do you ever regret not playing in the NHL?
Mike Eruzione
(4:31 PM)
Nope. Not at all. I guess, I would have come back and play if I could have played with Mario. But there was no doubt in my mind that I could have played. But I made a decision at 25 that I wanted to move on with my career. Teams need the players that do what needs to be done. Maybe like a Max Talbot type player. But I didn't do that and decided to move on to something else.
Jake (Ohio)
Do you think there will ever be as good an international hockey team as the 1980 U.S. team?
Mike Eruzione
(4:33 PM)
I would like to hope so, but I don't know if we ever will have a team capture the imagination of the country. You have to look at the circumstances in 1980. There was more to the game than just a hockey game. Then the amatuers vs. the professionals. We were the amateur young team playing against the professionals. I don't think we'll see that moment again. It would be nice to see it again, because then I could see it because it was more of a blur for me and my teammates.
Mike Eruzione
(4:35 PM)
Thank you for your support and questions. The big thing is what this whole conversation was about - awareness for our athletes and try to raise funds to help them out to represent us in the Olympic games. For the upcoming Olympic games and the ones yet to come.
Buzzmaster
(4:36 PM)
Thanks Mike. Everyone be sure to check out TeamUSA.org!