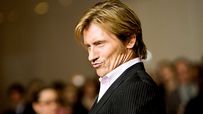 Leary's new movie launched July 1.
Welcome to SportsNation! On Monday, comedian and actor Denis Leary will stop by to chat about his favorite Boston teams -- Bruins, Red Sox -- and his new movie, Ice Age: Dawn of the Dinosaurs.
In the third installment of the "Ice Age" movies, which hit theaters July 1, Leary does the voice work for Diego, a saber-toothed Tiger. The pack of friends is back and they stumble upon an underground world filled with dinosaurs. They all must evade the dinosaurs while trying to escape.
Leary's career began in the 1980s, doing comedy shows in Boston. A native of Worcester, Mass. and an Emerson College graduate, Leary is a big fan of the Boston Bruins and Boston Red Sox. He is a veteran of over 40 movies. Leary also stars in the show Rescue Me, which enters its sixth season in 2010.
Send your questions now and join Leary at 12:30 p.m. ET Wednesday!
More Special Guests: Previous chats | SportsNation
Buzzmaster
(12:07 PM)
Denis Leary should be here shortly to take your questions!
Buzzmaster
(12:17 PM)
I think they're walking over here right now!
Mike (Ohio)
I saw Ice Age with my kids and it is absolutely hysterical. Diego gets winded and appears to have lost his edge, then regains it later on. Is Diego the Roger Clemens of the Ice Age movies?
Denis Leary
(12:19 PM)
No! Diego is the Gordie Howe of the Ice Age movies. The Chris Chelios of the Ice Age movies. Go see it five more times.
Sam (Boston)
Has this generation of Boston fans been spoiled? Does another generationg of despair and heartache need to begin?
Denis Leary
(12:20 PM)
Yes! Totally. But let it begin after I'm dead, because I'm having too much fun enjoying the Red Sox, Fenway, championships.
Chase (Chicago)
What is your take on the Manny saga? Are you glad he is gone, especially after he tested positive? Jason Bay is the man after all.
Denis Leary
(12:21 PM)
Yes, totally happy with Jason Bay. Could not be happier. Bobby Orr coming out of the left field wall, genious. I wish Manny nothing but bigger man boobs and further ejections from Dodger games.
Dave (Rocky Hill)
How is it that you play at NY fireman on Rescue Me and never wear a Yankees cap in the show? Please stop giving black Shawn those awful colored Yankees caps.
Denis Leary
(12:21 PM)
Well, I also write the show, so I have a little bit of say. Not a lot, but a little bit.
Chris (Toronto)
Hey Dennis, Do you think the Sox should go after Halladay? I think we have a ton of prospects and should mortgage the farm for him. Halladay, Beckett and Lester? Good lord.
Denis Leary
(12:22 PM)
God, I've been talking about it all morning. Yeah. I would trade the town of Brookline, MA, which is highly valued real estate and the Back Bay and the Prudential Center for Halladay.
Denis Leary
(12:22 PM)
And one of my kidneys.
Steven (NJ)
Do you like voice over or acting more?
Denis Leary
(12:23 PM)
I like the money from voice over more and I like the interaction of acting with other human beings as a work experience. But I am not complaining.
Chase (Chicago)
I think perhaps your greatest mivie roll of all time was playing Smalls' Dad in Sandlot. Would you agree?
Denis Leary
(12:24 PM)
Well, I got to tell you, based on a huge number of kids and now some grown up adults, I can't believe how much people have seen that movie. It's one of those eternal movies for kids. I don't know if its the greatest movie, but it's had the biggest impact.
tom (boston)
i know you love the red sox and bruins, but wheres the love for the patriots
Denis Leary
(12:25 PM)
I am a Packers fan. When I was growing up, my older brother and I had to share this room in the attic in the first building we lived in and then the basement. It was basically the Vietnam war re-enacted every day. He was a Pats fan and to piss him off, I picked the Packers because they were the good team in the 60s.
Erich (Philly)
When i was younger i couldent stop watching it the sandlot
Rob (FL)
So what do you think the chance are of the bruins putting it all together this year and getting to the cup
Denis Leary
(12:26 PM)
I think the chances are actually pretty good. I think they're one or two players away. I think they're planning on using one of the kids they got earlier in the draft. I have a lot of faith in that team this year.
Nate (Virginia)
Dennis, how hard is it to act like a Yankee fan in Rescue Me after growing up a Sox fan? Also, why no more hockey scenes is Rescue Me?!
Denis Leary
(12:27 PM)
Oh, it's not easy. It's the reason that I actually should be given the Emmy this year, next year and the year after. This year, there's an episode named after Mickey Mantle. Tommy has to watch a DVD of Mantle's career highlights and a speech about a liver transplant and Tommy salutes him with a drink....I tihnk I smell Emmy.
Justin P (Boston)
When you were at Emerson, where were your favorite places to hang out?
Denis Leary
(12:28 PM)
Wow...The Rat, it's not there any more. It was a punk rock club in Kenmore Square. Right by Fenway. That's where we hung out. And Fenway. And the Garden.
Roy (Miami)
What do you think of Brad Penny's season so far?
Denis Leary
(12:29 PM)
So-so. Listen, he's way ahead of the game in terms of where he was. He's got to get rid of the high socks. A plus-size guy with the tight uniform pants and high socks, not a good look. He needs the baggy pants.
BJ (Lowell)
What are your feelings on the likely event of Favre to the Vikings?
Denis Leary
(12:30 PM)
I think it's OK if he goes there as the groundskeeper. He's at the age where he sohould be riding a lawnmower. And what a great deal for the Vikings if you have a hall of famer cutting the grass. You could sell out the stadium on a Tuesday to watch him cut the grass.
Ben Helms (Los Angeles)
Whos' your favorite Red Sox of all time? And/Or favorite personal Red Sox story?
Denis Leary
(12:31 PM)
Carl Yastrzemski. Yaz. No. 8. Last triple crown winner.
Jody (Slidell, La.)
What will become of Dice K?
Denis Leary
(12:32 PM)
I say, right field, the greatest sushi stand of all time. We're in for another 175 gazillion dollars contract wise. Why not have the greatest sushi stand right in Fenway.
Sullivan (Clovis, NM)
As a diehard Yankees fan I love the rivalry with the Red Soxers. How do you think your pitching staff will hold up rest of this season, Leary?
Denis Leary
(12:33 PM)
Fine. I'm not worried about the pitching. That's the least of my worries. My question back to you is, in my long Irish life, I have never heard Sully and New Mexico mentioned in the same sentence. I'm very impressed. Where are you orginially from?
Jay ((Ann Arbor))
Denis, If you could lace them up for one game in the NHL who would you want your linemates to be?
Denis Leary
(12:34 PM)
Of all time, I'd go I'm playing left wing and Esposito is my center and Cam Neely is my right wing and Bobby Orr and Ray Bourque. On that line, I could score 50 goals a year, without a stick.
Chris (PA)
What has been your favorite episode of Rescue Me to film? And the episode you think was the best overall?
Denis Leary
(12:35 PM)
Geez.. I don't know. I like the hockey episodes, because I can skate and get paid for it.
Kevin (Mi)
What do you think about the Red Sox big 2004 season. Were you at Fenway
Denis Leary
(12:36 PM)
We did go to a few games that year, but we didn't go to any playoff games that year. My son and I thought we had to sit in the same seats at home for every game. We stayed in those positions for the next games. We were sitting there during the Yankees come back, so we had to sit there.
JIM (La)
Hey, Dennis How is the stand up coming? Any dates coming to Southern Ca?
Denis Leary
(12:37 PM)
Dear Jim, as part of the Rescue Me comedy tour which took place during the months of April, May, June, we did two shows in LA at the Nokia Theater, which were two of the greatest stand up shows I've ever been a part of. One of which we sang the song, We're So Happy That Jim's Not Here. Next May we'll be doing the Rescue Me comedy show once again at the Nokia Theater for two dates.
tim (albuquerque)
are you a big basketball fan if so how did you feel about this season and what do you think the biggest offseason move has been?
Denis Leary
(12:39 PM)
Huge basketball fan. Huge Celtics fan. Desperately wanted LeBron to win the championship. Hate Kobe. Hate the Lakers. Hate Phil Jackson. Hate Jack Nicholson. Hate Kobe. Hate Kobe. Hate Kobe.
Nick (Atlanta)
Denis, what is your favorite place to take in a sports game outside of the Boston?
Denis Leary
(12:39 PM)
Wow..Wrigley Field, Chicago. It's a great place to watch baseball.
Karl (Raleigh)
What's your thoughts on Sheed coming to the Celtics?
Denis Leary
(12:40 PM)
Extremely happy. Couldn't be happier. Hate Kobe, Hate Kobe.
Denis Leary
(12:41 PM)
Ice Age 3 is, completely unbiased opinion, quite possibly the greatest movie ever made. Why We Suck is, again completely unbiased opinion, quite possibly the greatest book ever written. Rescue Me, the greatest TV show ever seen in the history of mankind. Hate Kobe. Hate Kobe. Hate Kobe.
Buzzmaster
(12:42 PM)
Thanks Denis!