Chat with Ken Griffey Sr.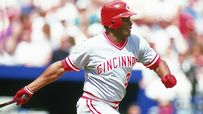 Griffey won back-to-back World Series in 1975-76.
Welcome to SportsNation! On Monday, former Cincinnati Red Ken Griffey Sr. stops by to chat about the baseball season and the work he's doing for prostate cancer awareness.
Griffey finished his career as a .296 batter, three-time All-Star and two-time World Series champion. He was a member of the Cincinnati Reds from 1973-1981, during The Big Red Machine days. Toward the end of his career, Griffey made history in 1990 when he played in the same game as his son, Ken Griffey Jr., becoming the first father-son combo to do so. Later that season, they hit back-to-back home runs.
Griffey is working on The Depend Campaign to End Prostate Cancer. He was diagnosed with prostate cancer in 2006, but through proper awareness, he was able to catch it in the early stages.
Send your questions now and join Griffey Sr. Monday at 4:15 p.m. ET!
More Special Guests: Previous chats | SportsNation
Ken Griffey Sr.
(4:18 PM)
Hello, how are you doing? I'm hanging in there. Are you ready to go with your questions?
Matt Helmann (Seattle, Washington)
Mr. Griffey...what was it like playing in the same outfield as your son? Junior is my favorite player of all time.
Ken Griffey Sr.
(4:20 PM)
It was a new experience for anybody, especially me. I had to approach it like we were playing in the backyard when he was 12, otherwise I wouldn't be able to concentrate and do my job. That's the way I looked at it.
sparky (milton,ky)
ken during your career who was the best pitcher you faced and how did you prepare for him?
Ken Griffey Sr.
(4:22 PM)
The best pitchers I faced were Tom Seaver, J.R. Richard, Larry Dierker, Tom Griffin...there were just so many of them. What you tried to do was go day to day and figure out how they were going to pitch you. We knew that we were going to get their three best pitchers each time out, so we approached it accordingly. I played with some great players...I knew that Pete Rose was going to get on at some point and go from first to third on a single, so I just tried to get him over.
Ryan (Charlotte)
Glad to see you're working to end PC, Ken. I remember hearing a few years back you were undergoing surgery because of the cancer. How did everything work out from there?
Ken Griffey Sr.
(4:23 PM)
Everything worked out alright. I had the surgery two years ago and right now I am cancer-free. I just had my PSA done recently, and everything is fine. I just try to do some walking and eat better. I'm on the run all the time, and it's tough when there are so many things on the menu that you want to try, but I'm doing pretty good.
Megan (Dayton, Ohio)
Ken, my dad is a huge Reds fan and watches games every night. He's also a little stuborn and almost 60 years old -- how do I get him to go to the doctor to see if he has any health issues?
Ken Griffey Sr.
(4:24 PM)
The best way I can tell you is, well, hopefully you won't have to trick him, but tell him you want him around for a long time. I didn't like going to the doctor, but I have fourteen grandkids and I want to be around to see them play basketball, football, baseball...some of them I have to train! I want to be around to see them improve their skills. The best way to do it is just to let him know you want him around in order for him to enjoy your life.
Brad (Gadsden,Alabama)
Ken, Who is going to win the home run derby?
Ken Griffey Sr.
(4:25 PM)
I had two on my mind, but there was a third one---Prince Fielder---added a few years ago. The reigning HR champ is Ryan Howard, so he'd be the one to beat, but it could be Pujols as well. It's a tossup to me as to which one will win.
brandon (dc)
Mr. Griffey, I was cruising online and saw that you are on the Board of Directors for Zero-The Project to End Prostate Cancer, could you please explain what they do? Thanks for all your work
Ken Griffey Sr.
(4:27 PM)
We try to make sure people go and get screened early. I try to make sure people understand that prostate cancer will affect one in every six men--it's a very dreaded disease. Part of the proceeds from buying Depend products will go to the Zero Foundation...if you go to Depend.com you'll be able to find information on the disease, as well as my own personal testimony. Get screened early, and if you catch it early, it is treatable.
Ken Griffey Sr.
(4:27 PM)
Make sure you see your doctor too...have an annual visit with your doctor. That's the important thing.
Danny (Allentown,Pennsylvania)
In a Home Run Derby. Ken Griffey Sr. vs. Ken Griffey Jr. in your primes. Who Wins?
Ken Griffey Sr.
(4:30 PM)
Me. 'Cause I would cheat. To be honest with you, he would win! People always ask what the difference between us is. We didn't have hitting or pitching instructors when I was a kid. If you didn't hit, you didn't get to the Big Leagues, period. I had to learn everything myself, but when I was training him, I knew exactly which way he would go. He's 6'3"...I'm only 5'11" to be honest with you. I knew he was going to average about 30-35 home runs per year. The mental aspect was most important for him...I went through all the basics of learning the game, and I was able to teach him the shortcuts...the mental attitude to stay consistent for 162 games. He had 400 ABs in the minors, and I had over 2,000, so he was ready early.
Jay (New York)
Hi Mr. Griffey,I just wanted to ask you 1 question. I saw your name on the list for the New York Yankees Old Timers Day, are you really going to be there? I got to watch Jr live with the Red's and M's but never got to see you play and I'll be at Old Timers this year and think it would be a blast to see you out there with the other greats.
Ken Griffey Sr.
(4:31 PM)
Yes, I'll be there...that's in a couple of days I think, on the 18th. I don't know if I'm gonna play, but I'll be there. They invite me every year. I get to meet up with Oscar Gamble, Mickey Rivers, Graig Nettles, tell all of our stories (all of them are true!) and enjoy our time together. I had a chance to go to Opening Day, and there were about 115 of us there. It was a lot of fun.
Steven (NJ)
Who were your favorite players growing up?
Ken Griffey Sr.
(4:32 PM)
My favorite player was a guy named Willie Stargell. I enjoyed watching Mays, Mantle, Clemente, and Aaron, but the first professional major league ballplayer I watched was Willie. I emulated him in Little League.
Travis (Omak, WA)
Has Junior said anything to you about the outpouring of love that the Seattle fans have showed him this season? It must make you smile when you see the love the Seattles fans have for your son.
Ken Griffey Sr.
(4:33 PM)
He's talked about it, and he got a little teary-eyed. When he went up there the year before, he was very moved by the outpouring of emotions that the fans had. They gave him a standing ovation and he broke down a little bit. That was one of the things that brought him back.
Ken Griffey Sr.
(4:35 PM)
The biggest thing we've talked about is the Depend project to end prostate cancer. A portion of the proceeds will go to the foundation. You can find my testimony on Depend.com, and if you detect it early, it can be treated. Thanks!