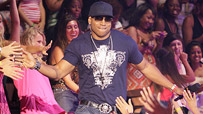 LL Cool J stars in the new show NCIS: Los Angeles.
Welcome to SportsNation! On Tuesday, LL Cool J stops by to chat about his new TV show as he is in St. Louis to take in the 2009 MLB All-Star game.
Last fall, LL Cool J released his 13th and final album - "Exit 13" - with Def Jam Records, whom he had been with for over 20 years. This fall, he will star with Chris O'Donnell in an NCIS spinoff - NCIS: Los Angeles.
LL Cool J is also working providing the chance for fans to win a trip with three friends. Nine lucky people will win a trip of their choice through MasterCard's "Break in Your Jeans" promotion.
Send your questions now and join LL Cool J Tuesday at 2 p.m. ET!
More Special Guests: Previous chats | SportsNation