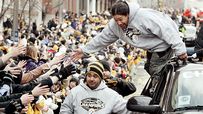 Will the Steelers have another championship parade this year? Ask our experts!
Welcome to SportsNation! On Thursday, since the opening of NFL training camps starts this weekend, we're having a bunch of our NFL analysts and bloggers stopping by to chat.
Here is the schedule of chatters:
Noon: Mike Sando, NFC West blogger
12:30pm: Matt Williamson, Scouts Inc.
1pm: Jeremy Green, Scouts Inc.
1:30pm: Pat Yasinskas, NFC South blogger
2pm: Bill Williamson, AFC West blogger
3pm: Paul Kuharsky, AFC South blogger
3:30pm: James Walker, AFC North blogger
4pm: KC Joyner, Football Scientist
Send your questions now and join the chat Thursday at noon ET!
More NFL: NFL index | NFL blog network | NFL Insider | NFL chats
Nick (Renton, WA)
What is the status with Patrick Kerney? What's your thoughts about him returning to his form from a couple years ago?
Mike Sando
(12:01 PM)
Patrick Kerney works extremely hard. I think he can get back to a high level. The problem is sustaining it for 16 games -- and longer, if needed -- without breaking down physically. Kerney could not do that even in 2007, when he tried to play the playoff game against Green Bay despite an injury that limited him significantly.
Tony Bologna (Fuggadaboutit, NY)
Do you think Chris "Beanie" Wells will take over the starting RB job from Tim Hightower? And if so, how soon?
Mike Sando
(12:02 PM)
Yes. If not right away, then sometime in the first half of the season. That is my read on it now -- without seeing Wells participate in a single Cardinals practice.
Terry Riggs (South Bend, Indiana)
Will the additon of Michael Crabtree help the 49ers go for a good run at the NFC West title?
Mike Sando
(12:04 PM)
It cannot hurt. My sense is that Crabtre will show flashes as a rookie but that he'll take off in his second and third seasons. I say this based on how much time he has missed this offseason, and also on the unsettled nature of the QB situation. It's fair to question how much the QB situation -- Hill or Smith -- might affect the 49ers' preferred style of play, and what that means for wide receivers.
RODNEY (MCDOWELL)
SANDO, HHUGE RAMS FAN HERE. HONESTLY, I HAVE BEEN WITH THIS TEAM FOR A DECADE THROUGH THE UPS AND DOWNS. I SEE THAT THE RAMS HAVE RELOADED HARD THIS OFFSEASON AND LIKE ANY OFFSEASON, ITS MEANS LAST YEAR IS BEHIND US AND TIME TO START A NEW. I BELIEVE THAT OUR SCHEDULE ALLOWS US TO WIN 9 GAMES THIS YEAR MOSTLY BECAUSE I FEEL WE CAN WIN OUR DIVISION OR AT LEAST GO 4-2 OR 5-1. MADDEN 2010 HAS THE RAMS OLINE AS THE BEST IN THE WEST DIVISION. SO WHAT DO YOU THINK WAS THE BEST MOVE BY THE RAMS THIS OFFSEASON SO FAR, AND HOW OPTIMISTIC ARE YOU ABOUT THIS SEASON. (HONESTLY YOU GOT TO KNOW THAT WE WILL WIN MORE THAN 3 GAMES THIS YEAR!)
Mike Sando
(12:07 PM)
I'm not a big fan of CAPS LOCK, but yours was our first and only Rams-related question so far, and I wanted to answer one. So here goes. I'd be surprised if the Rams won nine games this season. That sounds pretty optimistic. I do think the line should be improved. Steven Jackson should produce. Marc Bulger might have a better chance to get some confidence playing in what figures to be a short passing game. I just think it's a little early to start expecting a playoff run. Could it happen? Yes, this is the NFL. It's just premature to expect that right away.
Bill (S.F.)
Do you see the Niner D taking a huge leap as I do this year? Before Singeltary took over we gave up 28 pts per game, and when Coach Singeltary took over they averaged 18 pts per game. BIG DIFFERENCE. If Manny Lawson and Parlys Harrelson improve, with Patrick Willis who I believe may be the best LB in the league, I believe the skys the limit. Your thoughts...
Mike Sando
(12:10 PM)
I think the 49ers were a smarter team in how they used their personnel once Mike Singletary took over. We should also note that the 49ers under Nolan faced the Saints, Patriots, Eagles, Giants and Cardinals. The 49ers under Singletary faced the Cardinals and Cowboys, but also the Rams twice, the Bills, Redskins and a struggling Jets team. Those offenses weren't as good. That said, I do think the 49ers have a chance to finish in the top 10 on defense this season. Some of that depends on how well the offense controls the ball, too.
Scott Miller (MD)
Need Rams questions? How bad will the Rams get beat this year by the Niners?
Mike Sando
(12:11 PM)
The Rams have probably improved more than the 49ers this offseason, given that they had so much more room for improvement. If that is the case and if the 2008 49ers-Rams game in St. Louis is our test case, perhaps St. Louis finds a way to split that series this season.
Rob (Stl)
I'll keep this one in lower case but do you honestly think the addition of Ronald Curry to the Rams shallow receiving core can help us or does a lot of it rest on Avery?
Mike Sando
(12:12 PM)
I do think the move has a chance to help. It cannot hurt. They acquired Ronald Curry and released Chad Lucas. That is a net gain on paper without question. We still have to see if Curry can stay healthy, but at least he has some experience. Curry has about as many career receptions as the Rams' other 11 receivers combined.
C.A. Everson (Pasco Washington)
will the Seahawks rebound and give the Cardinals a run this year?
Mike Sando
(12:15 PM)
Seattle should be able to split with the Cardinals this season, winning at home and losing in Arizona. And I do think the Seahawks can give them a run in the division. I do have some questions about their ability to stay healthy in key spots (QB, LT, DE), but setting aside those concerns, Seattle looks like it can contend in the division.
Jon (San Mateo, CA)
Back to the 49ers...seems like they have the personnel to run a spread offense, especially since that was Alex Smith's offense @ Utah and Crabtree's @ Texas Tech. Any chance we see the spread in the NFL?
Mike Sando
(12:18 PM)
NFL teams do not run true college-style spread offenses because they haven't figured out how to adequately protect the quarterbacks.
Nic (Florida)
Do you think micheal crabtree will start for the 49ers this year?
Mike Sando
(12:19 PM)
Yes, at some point. Maybe not from the beginning, though.
James (San Francisco, CA)
How much of an impact could Kentawn Balmer have on the success of the 49ers defense?
Mike Sando
(12:20 PM)
I don't think a 3-4 defensive end is likely to have a huge impact on the defense.
Ben (UT)
With Alex Smith being injured 2 of the 3 seasons he's played for the 49ers, has there really been sufficient perspective on whether or not he can really play in the NFL?
Mike Sando
(12:22 PM)
Probably not. But if you are injured much of the time, that answers the question. At a certain point, you have to stay on the field. He has not been able to do that. This is a big season for him that way.
Mike (AZ)
Does Kurt Warner have enough left in the tank to lead the Cardinals to a 2nd consecutive Super Bowl appearance?
Mike Sando
(12:23 PM)
He might have enough in the tank, but it takes a special set of circumstances for most teams to advance that far. Take nothing away from the Cardinals last season, but let's say the Giants had beaten the Eagles in the divisional round. Arizona then would have played the NFC title game at Giants Stadium. Arizona could have won that game -- the Cards did beat Carolina on the road convincingly -- but it becomes a lot tougher. It helps when those sorts of things line up.
Mitch (Scottsdale, AZ)
Sando! What is the over / under in years for the cards to slide back into obscurity?
Mike Sando
(12:24 PM)
Obscurity is far too strong a word given the talent on that roster. I also think Ken Whisenhunt has things pointed in the right direction. QB play does dictate fortunes a lot of times, so things change once Warner is finished.
mike (los angeles, ca)
Do you think the niners can win the division this year, and if they can what about them making a surprising deep playoff run like last years cardinals.
Mike Sando
(12:26 PM)
Do the 49ers have the quarterback to win playoff games regardless of venue? I am not yet convinced they do. That is the primary reason I think they might have a hard time doing better than 8-8, based on what we know at this time.
Mike (AZ)
Levi Jones said he wants to come to the Cardinals...do the Cardinals really have room on the O-Line?
Mike Sando
(12:26 PM)
Levi Jones wants a starting job and more than minimum-salary money. The Cardinals at this point would probably like to add him as depth.
Brendan (St. Louis)
How do you think that the Anquon Boldin contract situation will effect the Cardinal's chemistry, and if he doesn't play, will they be able to remain a top offensive team in the league?
Mike Sando
(12:28 PM)
The situation seemed to have no negative effect last season. The Cardinals have shown they will pay key players such as Larry Fitzgerald, Kurt Warner and Adrian Wilson. It's hard to say they've been cheap with those guys. While I think some teammates sympathize with Boldin and hope he gets a new deal, I don't think the sentiment is strong enough to hurt team chemistry in meaningful ways.
Justin (Tri-Cities, WA)
Come on Sando only two Seahawks questions? Do you see Seattle using Seneca Wallace in a wildcat formation?
Mike Sando
(12:29 PM)
Yes. Seems like a no-brainer now that Mike Holmgren is no longer running the offense. Holmgren hated that stuff. He almost never strayed from his offense. Greg Knapp and the new regime will be more apt to mix and match.
david (bellevue, wa)
Dear Facebook friend,With the Seahawks top 5 pick in next year's draft (Thank you Denver), do you think we will go after a Safety (Mays, Berry) or a QB (Bradford, McCoy)?
Mike Sando
(12:30 PM)
Seems like a good opportunity to find a quarterback, if the scenario unfolds as you hope it will. Do you spend top-five money on a safety for that type of defense? Just a thought.
Ikee (Philadelphia)
Sando, what's up man? Haven't heard from ya in a while... One of my favorite shows on ESPN is PTI... Wilbon and Kornheiser play a game called "OddsMakers"... I figure lets play NFC West OddsMakers, out of 100%.... 1) Odds that the Rams win the West, 2) Odds Seahawks win the West, 3) Odds the Cardinals win the West, 4) Odds the 49ers win the West? I got the Rams - 10%, Seahawks - 60%, Cardinals - 75%, and 49ers - 76%... your thoughts?
Matt Williamson
(12:31 PM)
Matt Williamson here now to field any questions you have about the entire league-let's keep this rolling.
Terrill (Virginia Beach, VA)
Will Mark Bulger make it through the year as the starter? Any chance the Rams go after Vick?
Matt Williamson
(12:33 PM)
Maybe I should have let Mike take that one, but that doesn't seem like a terrible fit to me. Put him in a dome and let him really use his legs. Hard to say what that ownership group would think about that however. Tough team to predict. But-they do need playmakers in a big way. That OL should be improved, but I still don't trust Bulger to stay healthy any more.
Thom (Philadelphia)
With Marshawn Lynch out for the first 3 weeks, a fluery of new offensive linemen, and TO on the roster, does the Bills offense stand a chance this year? Is Trent Edwards our guy?
Mike Sando
(12:34 PM)
I would put Arizona out front, with Seattle and San Francisco in the next tier, followed by the Rams. The Seahawks are a little tougher to figure, though. I think they would be more likely than the 49ers to win 10-11 games, based on what could happen if they their key players were healthy and producing all season. The 49ers might have less upside or downside, if that makes any sense.
Matt Williamson
(12:35 PM)
I want to see a lot more from Edwards before I say he is the guy. He is another one that I don't trust to stay healthy-esp behind that OL, which I think might just be the worst in the league. Hopefully they go through with throwing more, as they have stated. That would play to their strengths if they used a quick hitting air attack. Put Edwards in the shot gun and get it out very quick. But still, that OL is a big problem.
Joseph (OH)
Matt,How long will Chad Pennington remain the starter in Miami?
Ben (Rochester, NY)
What do you think that the 49ers have to do to get back to being a competitive team and taking that next step of making the playoffs?
Mike Sando
(12:35 PM)
Gain some stability at offensive coordinator and quarterback while improving the pass rush.
Matt Williamson
(12:36 PM)
As long as they are in contention. I understand that they like Henne a lot and that makes sense, as he can threaten the entire field much better than Pennington. But if Miami is in the hunt and Pennnington is playing effecient, yet unspectacular, ball, then he has to remain in there. I would bet that Henne takes over in 2010.
Aaron (CA)
I've been reading that Vernon Davis will have a better year catching the ball than all the previous years. But, the 49ers depth at receiver is much better than before, which makes me think that Davis will stay in and block again. How will the 49ers use Davis in the new offense?
408 (Santa Cruz)
Who's your pick for worst team this year? Rams? or Lions?
Matt Williamson
(12:36 PM)
Going with the Rams I guess-but there are quite a few teams to pick from. REAL tempted to take Oakland. In fact, yes, give me the Raiders.
Ken (oakland)
will michael crabtree make al davis look like an idiot for passing up on him for the first wide reciever taken?
Mike Sando
(12:37 PM)
Davis should make some big plays here and there, such as the TD catch he made over Adrian Wilson at Arizona. I still question whether he can become a consistent player in terms of route running, hands and overall instincts as a receiver.
Mike Sando
(12:38 PM)
The Lions are one of the five oldest teams in the league. The Rams are one of the five youngest. I like the Rams' approach to rebuilding, even if the Lions win a couple more games early because of their experience.
Matt Williamson
(12:39 PM)
Yes-in time. Heyward-Bey is an inferior prospect to Crabtree, but I also see what Oakland saw in the guy. He could take the top off the D, open up room in the running game and let Russell use his huge arm deep downfield. But-we all know that it probably will not go to plan there. I am very high on Crabtree, but I also wouldn't be shocked if he starts his career rather slow. Coming off an injury. Not a real high % throwing O in SF. Adjusting from a gimmicky spread attack at Texas Tech. But in time, the answer is yes.
Brandon Riggs (South Bend Indiana)
Will James Laurnitis impact the Rams defense
Jake (Loveland, CO)
Knowshon Moreno, starter game 1? Does he have a chance to get 1,500 in his rookie year?
Matt Williamson
(12:39 PM)
Yes and yes-1500 combined yards. Maybe 300 of them coming as a pass catcher.
Mike Sando
(12:39 PM)
Yes, absolutely. I was looking at the Rams' linebackers yesterday and it's clear Laurinaitis needs to play a lot. They simply do not have very many quality options at that position, in my view.
mike (dc)
enough with the NFC west, lets go cross country to the Beast. If Jason Campbell and Portis can put together the offense we saw in the first half of last year, and with an improved defense, what are the chances the Skins can make a playoff run?
Paul (Albany, OR)
Is the Rams offensive line still their biggest issue or did they do enough in the offseason to at least not have that as a weakness?
Matt Williamson
(12:41 PM)
If that happens, then yes. And yes, that D should be improved. I buy that. Not buying the O though. Just seems like there are too many variables for me to back them. Is Campbell ready? Can a WR or two step up? Can they get more production from the backup RBs? Can the OL hold up?
Rob (Stl)
Matt, Do you see Vince Young retaining the starting job for the Titans or do you think he will move onto a new team in the near future and possibly who?
Mike Sando
(12:42 PM)
The Rams have done enough, I think, to prevent the OL from being the biggest weak spot. Receiver has more question marks. I also see potential issues at linebacker.
Matt Williamson
(12:42 PM)
Not sure that he will even be the #2 for Tenn when the season opens. That might be Ramsey's job. Not a fan of VY here at all. Certainly could see him with another team, but in all reality, I think he is rather untradable right now. He makes a ton of money. I wouldn't give much up for him at all right now. Maybe if he looked great in preseason and I would take a chance, but not from what I have seen lately.
chuck (lost city)
Who are your picks to win their respective divisions?
Phil (Indianapolis)
The rams need receivers. Why aren't they (along with everyone else) goingafter Marvin Harrison? We all know he can produce. He might have lost a step, but the man can run routes.
Mike Sando
(12:43 PM)
Flip around the question. If you were Marvin Harrison and you knew you had maybe one more season left, why would you consider the Rams?
Rell (VA)
Who will be the starting corner opposite of Ron Bartell for the Rams? Is there any chance we sign a veteran presence such as a Chris Mcalister? What about a back up for Steven Jackson who is often hurt? Maybe a Duece, or Edgerrin James?
Matt Williamson
(12:43 PM)
Pittsburgh, NEng, SD (easily) and Indy in the AFC-I know that isn't real exciting, but I still feel like those teams are the strongest. In the NFC, I like Philly narrowly over the Giants, Chicago, ATL and Seattle.
Joe (ATL)
Do you think Turner's production will drop off because of all the carries, or improve because of more weapons around him? How do you think the Falcons fare with a tougher schedule but improved team?
Mike Sando
(12:44 PM)
Seems like Tye Hill will get that chance. I wonder how well Justin King can bounce back from that toe injury. He seemed to have promise.
david (bellevue, wa)
Sando, quick follow up. Besides DE, the Seahawks' only question mark on defense is safety. If ballhawk Berry has another great year and/ or if Mays proves himself, why not get a top tier safety with a high pick? Sean Taylor wasn't so bad with the 5th pick in 2004.... I guess the question is if Bradford or McCoy can develop in a pro style offense. What say you? Thanks.
Matt Williamson
(12:45 PM)
Real big on Atl's O. Still have serious concerns on D, but I think they will score a ton of points. Loaded on that side of the ball. I like Turner again this year, but I would guess that his numbers dip a bit. Those carries from a year ago worry me for certain. Doesn't offer much at all as a pass catcher. Could be more passing TDs this year than last. Still-he is strong.
Zack (Houston)
What do you think of the Texans front 7 compared to the rest of the league?
Mike Sando
(12:46 PM)
Taking safeties early has not been the Tim Ruskell approach. Of course, it has not been the NFL approach, in general. I would welcome that type of move just to stem fans' overblown cries about how Brian Russell's starting status spells the downfall of Western civilization. Seriously, though, I think the Seahawks would have to weigh the value of taking a safety that early if, say, a quarterback of high quality were available. You don't get many chances to draft franchise quarterbacks.
Matt Williamson
(12:46 PM)
Would say that the arrow is pointing up with that group. Cushing isn't real flashy and at the draft, I wasn't thrilled with the pick, but I am more on board with it now. They needed a stable player there. Signing A Smith was big. Should be a very solid base end opposite Mario (who is awesome) and then move inside on throwing downs. I like the front 7 overall quite a bit now. Okoye is the key though. If he really steps up, look out.
Brian (Charleston, SC)
How many years does it take for a defense to fully adjust from a 4-3, to a 3-4? (a la the Packers) Personnel wise and style wise. Also, not sure Kampman even wants to play 3-4? I know Dom Capers is supposedly a good coach, but whats the reasoning to do it?
Scott Kyser (Cincinnati)
I KNOW the Niners weren't ever expecting the one and only Crabtree to fall to them in the draft, thus they signed Brandon Jones.....now they find themselves with TOO many wide recievers who actually have talent for a change and someone is going to be the odd man out, who gets the boot?
Matt Williamson
(12:48 PM)
I have crushed this decision since the beginning. To me, it makes little sense. Just think of what they would have if they would have kept the scheme the same. Capers is an exceptional coach for such a move, but it will take time. I have said over and over that keeping their 4-3 would have made them an upper tier D this year. Now, I don't think so. Foolish.
Sean (NY)
Fantasy/Reality question here......How do you think the jets defense actually is? are they over-hyped?
Mike Sando
(12:48 PM)
Arnaz Battle's health could be a key variable there. I wonder if the 49ers would have been excited about bringing back Isaac Bruce had they known Crabtree would fall to them. Watch the injury situation at that position. Something tells me the 49ers might need that depth.
Matt Williamson
(12:48 PM)
No. Strong group. Top 10 for sure. Pace being out to start the season is a major worry though. Also, the O isn't going to do the D any favors. Could see a lot of three and outs by the Jets' O.
Gary (Fredericksburg, VA )
How many games do you think the Bengals will win this year. Given their schedule and the incredible offseason I put them at winning 10 or more and possibly taking the division. That is me being bias though.
mike (los angeles)
do you think if the niners go atleast 7-9, that singletary and raye job is safe
Matt Williamson
(12:50 PM)
8-8. That should be considered great improvment by the way. Still really worry about the OL. I think the running game is vastly sub par. And I also still worry about their ability to get after the QB. But they will be better.
Luis (North Carolina)
How much of a dropoff will we see in the Dallas offense now that TO is gone?
Mike Sando
(12:50 PM)
Probably. They can't keep changing coordinators every year, can they? Seems to me they try to stick with these guys for a few years. Mike Holmgren, Mike Shanahan and Jon Gruden are out there, so it's natural to wonder what might tempt the 49ers if the 2009 season does not go to plan. But this organization needs stability, too.
Joe (Jersey)
Any word on the Niners locking up Patrick Willis long term and giving him the key to the city. He's incredible!
Mike Sando
(12:51 PM)
The 49ers will almost certainly find a way to keep him long term. There is no rush. He isn't going anywhere for a while.
Matt Williamson
(12:51 PM)
It will not be as quick strike, but I think they will sustain offense consistently. They still have a lot of weapons there including guys like Bennett and F Jones. Incorporate more run personnel-but throw out of it just the same. Have to admit, shocked that they haven't signed Matt Jones. One more WR would go a long way. Beliver in Romo here though.
DUSTIN (Phoenix)
Do you think the Cards D-fense is ready to be consistent? Do you think DRC and McFadden will be the premier corner tandem in the NFC West?
nick (Boston)
would you agree the nfc east is the best division in football, and what would you say the chances of the cowboys winning the division, or atleast being a wild card team are this season with all of the changes
Mike Sando
(12:51 PM)
The Rams might have been 0-16 without the NFC East last season.
Craig (Venice, CA)
Now that the next season is beginning, can we now admit that Santonio Holmes' foot wasn't down, and that the Cardinals should have won the Super Bowl?????
Mike Sando
(12:52 PM)
Adrian Wilson went on XTRA 910 in Phoenix recently and said he thought Holmes' foot was not down. He might be a little biased, though. I think it's time to congratulate the Steelers for winning the game, and to move on.
Matt Williamson
(12:52 PM)
Love the secondary and DRC is about to be a perrienial Pro Bowler. McF was an excellent signing and will be a very solid #2. The D is okay and there is some star power there, but I still think their edge pass rush is a major issue. Drafting Brown in the 2nd round wasn't enough. That could be a big problem. Would also like to see more of a difference maker on the nose.
Corey (D.C.)
I cringe whenever I hear about the "Wildcat". I watched at least 5 full games per week, all 17 weeks last year, inclduing every playoff game, and saw about 4 wildcat plays the entire year. Pundits claim all 32 teams want to run 15-20 "Wildcat" plays each game. I saw the Cards do a flea flicker in the playoffs last year, so are they going to go sign a player to run their "flea flicker package"
Peyton (New Orleans)
CUT THAT MEAT!! CUT THAT MEAT!!
Matt Williamson
(12:53 PM)
That is good stuff by the way
Bryan (Philadelphia)
Is this is the year McNabb takes the Eagles to football history?
Matt Williamson
(12:53 PM)
I have them losing in the Super Bowl. Another very good year...but not a championship year.
josh (cary)
do you think the WR formerly known as Chad Johnson can back up his bold predictions or will he continue his relative lack of productivity?
Mike Sando
(12:54 PM)
This sounds like a good opportunity to share a couple similar things that grate on me. You hear people talk about a team going to "five wides" quite a bit. I have charted personnel for more than 5,000 offensive plays in recent seasons and have never seen five true wide receivers on the field at the same time. It just does not happen much in the NFL. I also don't like hearing about rookies "holding out" during camp. You cannot hold out if you do not have a contract. Thanks for humoring me.
Matt Williamson
(12:55 PM)
I expect a bounce back. For him to be of the utmost effective, he has to be productive deep. With Palmer behind center, that will be a huge boost. I also think 85 was hurt for most of last year. But, the OL's ability to protect long enough to sling it deep does worry me. Also, can the Bengals' run game force defenses to put a safety in the box instead of playing a ton of Cover 2? I have my doubts.
Ben (Chicago)
Fantasy question: is Carson Palmer worth drafting this year?
oz (ft lauderdale, FL)
Mike - Do you think the Cardinals past is keeping them from getting their proper due? I get that a lot of things had to break right for their post season run last year but in terms of front line talent they seem to match anyone in the league. Seriously go down the roster and look player for player. They also obviously have the coach in place to guide that collection of talent. I also think their is a chip on their shoulder with the "worst playoff team ever" talk and a renewed confidence of what they can do at home and how important the regular season is. With Warner getting 95% of his games in doors, a relatively weak division, and the NFC East beating up on each other is it unrealistic to project the Cardinals to finish as a Top 2 seed, barring injury of course? The Giants are more tested but who else in the conference projects as high as the Cardinals when taking last season into account?
Matt Williamson
(12:56 PM)
Very much so. I think I have him ranked around 10 or 11 overall on my QB board. Borderline starter, but the kind of guy who you want to back up with a real good #2.
brent (slo, cali)
is josh morgan fast enough to compliment crabtree for years to come
Matt Williamson
(12:56 PM)
No question in my mind. No one else seems to talk about it, but SF is going to have one of the better pairs of WRs for a long time. Good call. Morgan is an excellent prospect.
Ryan (Brooklyn)
I view Pat white as a starter in the near future, not just a wildcat QB, anychance he can turn into a starter
Mike Sando
(12:57 PM)
It's fair to question whether the Cardinals will show the consistency needed to sustain success long enough to secure a No. 2 seed. The playoff run validated Arizona, for sure, but every year is different. Past performance does not necessarily indicate future success, as they say. The sooner the Cardinals grasp that, the better equipped they'll be to build on their playoff run.
Matt Williamson
(12:57 PM)
I don't think so. Said that before he was drafted-sticking to my guns. Just don't see him as a good enough passer. There is certainly a spot for him in this league, but not as a true #1 QB.
Cody Braverman (Stamford, CT)
Which Titans RB-Chris Johnson getting more looks in 2009, how do you expect LenDale's role to change?
Mike Sando
(12:58 PM)
Thanks for joining me for the NFC West portion of this chat. Hope to see you on the blog -- and on Facebook.
Matt Williamson
(12:58 PM)
Well, first off, with Haynesworth now in Washington, I doubt the Titans will be able to run the ball as often as they did last year. Won't be playing with leads and putting teams away. Still, White has talent and certainly will have a role. Goal line guy for sure. Probably another 10 carries per game on top of that. One thing about White though-he isn't productive when Tenn is losing and I expect them to be losing more often in 2009 than last year.
Andrew (Atlanta, GA)
What record wins the AFC South this year? I'm predicting the Titans at 12-4. Also, does at least on other team from this division take a wild card spot in the playoffs?
Matt Williamson
(12:59 PM)
12-4 should do it...by Indy. I also like Houston to get in. Not the Titans however.
Ben (Chicago)
Which upcoming (offensive) rookie do you think will do best in the NFL?
Matt Williamson
(12:59 PM)
Crabtree, but not right away. Could see Harvin having a big year and if I were to guess on a OROY I would probably take Moreno. D Brown could be a dark horse.
Kevin (Syracuse, NY)
Do you think the Patriots will win 12 games now that Brady is back?
Matt Williamson
(1:00 PM)
Sounda about right. Probably go 5-1 in their division.
aaron dumars (sharpsville, PA)
what can we expect from ryan grant this year
Matt Williamson
(1:01 PM)
Expect a bounce back, but not as big as he was in 2007. That OL is changing. We will see if it is for the better. But, he will rarley face 8 man fronts.
Matt Williamson
(1:01 PM)
Okay everyone, I am out. Jeremy will take it from here. Take care. Good stuff.
Matt (Philadelphia)
Any word yet on if the Saints are gonna play defense this year?
Jeremy Green
(1:10 PM)
I think the Saints are an NFC darkhorse because they will be improved defensively. I think the addition of Sharper gives them the defensive leadership they need to back up a much improvd front seven.
Mike (NY)
How are seahawks going to utilize aaron curry this season?
Jeremy Green
(1:12 PM)
I think they will use him in a variery of ways keeing him on the weakside in base downs. On early downs vs. the spread he is a guy you can walk out into the slot vs. a TE. On definite passin downs I think we will see them move him all over the field and rush him.
Mike (New Jersey)
Fantast football question here. Do you think the addition of Jay Cutler to the Bears offense helps or hurts Matt Forte from a production standpoint this season? I mean, I still can't see who Cutler is gonna throw the ball to.
Jeremy Green
(1:14 PM)
I think it definitely helps Forte's production. He was productive last season running vs. consistent 8 man fronts. This year vs. more seven man fronts as you have to respect the deep ball passing abilities of Cutler it will give him even more running room. I think he will be even more productive as well catching the ball out of the backfield.
Jake Mouty (Cincinnati)
Do you think the Bengals have a good chance to make the playoffs this year?
Jeremy Green
(1:16 PM)
I don't think so. I think getting Rivers back and a maturing secondary make them a better defensive football team, but offensively there are still concerns wth the offensive line, and aging Ocho Cinco and the loss of Housh all add up to this team still being 3rd best in their own division.
Joe (Haymarket, VA)
Do you believe that Tony Romo will finally learn how to deal with pressure in the later portions of the season? And if so, do you see the Cowboys making a playoff run?
Jeremy Green
(1:20 PM)
I think Romo will continue to mature as a QB and the more situations you put yourself in down the stretc with games on the line the better you should start to fare in them. That said, Dallas still has WR issues because they are not better on the field without T.O. Whiten will see a lot more double coverage now. Dallas is the 3r best team in the East and that is close because Washingtion is going to get a huge year from Campbell.
KEVIN (PHOENIX)
With the new offense untested. do you think the Bucanneers have any chance of winning the NFC South this year? If not, any chance of getting the wild card?
Jeremy Green
(1:21 PM)
I think Tampa is going to go through a lot of growing pains this year. it is tough to win in the NFL without consistent QB play and they are going to be lacking there. They are also not good enough anymore on defens to carry what will be an inconistent offense.
tyler (seattle)
Hey Jeremy, do u agree that Ed Reed is the best safety in the NFL?
Jeremy Green
(1:22 PM)
Without question... he has separarted himself from Sanders and Polamalu
Paul Rienerth (Norfolk, VA)
Do you see the redskins doing something with campbell this year? they tried trading him twice and scorned him...should he look for other options as well because they seem to want to try something else?
Jeremy Green
(1:26 PM)
I think he is going to play out his contract and become a FA at the end of the season. I think he has a ton of motivation to have a big season because it is rare for starting QB's in their prime to hit the open market. The Skins have not handled this well and are going to be in a QB quandry in 2010.
Carlos Hoffman (Panama City, PA)
Jeremy, who's the better CB, DRC or Aqib Talib?
Carl Etienne (Atlanta, Ga)
How is the chemistry between Matt Ryan and Tony Gonzalez and are The Falcons the team to beat in their division?
Jeremy Green
(1:28 PM)
I would say DRC... th guy was a shut down corner at the end of last season.
Sal (NY,NY)
Jeremy, do you think the Giants will take a close look and maybe try to pull something off for WR brandon Marshall. Thank you
Pat Yasinskas
(1:30 PM)
I'll hop in now. Big thanks to Jeremy. We'll focus on the NFC South for the next 30 minutes.Carl, everything I've heard out of Atlanta is that Ryan and Gonzalez have struck up a strong friendship and that should reflect in their chemistry on the field. They already looked like they had good chemistry when I was there for minicamp.
Jeremy Green
(1:30 PM)
I think it is something the Giants will look at. This is a team that is still a vet WR away from potentially being back in the big dance. Marshall is not going to be in Denver next season and I would put the G-men especuially as an NFC team as a front runner in acquiring him.
Lee (Tampa Bay, FL)
Do you think the Buc's defensive line will be their weakest link this year and do you think Bates arrival in TB will help Gaines Adams finally live up to his draft status?
Mad Mike (Houston, TX)
JG, are you on the Texans bandwagon with me this season for it to be their first trip to the playoffs????? Thanks.........MM
Jeremy Green
(1:31 PM)
NO MM... I am not drinking that juice just yet.
Pat Yasinskas
(1:31 PM)
Yep, on paper, d-line is their biggest concearn. But I think Bates will make a difference. They've been working with Adams all offseason to try to develop some moves. We'll see.
Corey (Washington DC)
I understand Michael Vick is (or was) very athletic, but his QB skills are about even with Joey Harrington. For the life of me I cant figure out why any team would endure the backlask to come after signing him, only to get a few plays a game from him, all while taking out the better QB for a few plays. Seems absurd.
Jeremy Green
(1:32 PM)
OK guys.... Pat Yasinskas our NFC South Blogger is coming at you!!
Pat Yasinskas
(1:32 PM)
My guess is he'll spend a year in the UFL. Just don't see a lot of teams ready to take that chance.
Chuck Stephens (Tampa)
Pat,Do you think there is any chance the Bucs can improve their running game enough to finally take some pressure off the quarterback? And who do you believe will be the starting QB this season?
Pat Yasinskas
(1:33 PM)
Offensive line is good and Ward and Graham are good backs. Since we've already got Double Trouble and Smash and Dash, I'm proposing "Ground Chuck" as the nickname for Tampa's running game.
Tyler (Georgia)
Do you think the Saints defense will be able to make enough stops for the Saints to make a run this year Pat?
Pat Yasinskas
(1:34 PM)
They better. Saints spent the whole offseason trying to improve defense. I think they've got the parts to be decent and Gregg Williams should help a lot.
Jamie (Illinois)
Pat, is Josh Freeman going to be developed the right way in Tampa Bay, or are they in a position to where he is going to be rushed?
Pat Yasinskas
(1:35 PM)
They're pretty serious about bringing him along slowly. Problem is, if team struggles, there might be a lot of pressure to play him before he's ready.
Bobby (Asheville)
Can the Falcons get 10 wins? If so, does that get them the division?
Pat Yasinskas
(1:36 PM)
Entirely possible, but schedule is very tough. I'll say 11 wins takes the division.
Jon (North Carolina)
What kind of impact can Everette Brown have on the defense for Carolina and can he develop into more of an every down guy? How do you see Richard Marshall looking as a starting CB?
Pat Yasinskas
(1:38 PM)
They didn't draft Brown to sit him. He'll probably be a pass-rush specialist to start with, but the goal is to develop him into an every-down guy. Marshall's ready to start. He's been a good nickel back for a couple years. Lucas was aging. Marshall will fit in nicely.
Craig G. (Fairfield, CA)
Hey Pat, who do you think is the best QB in the NFC South?
Pat Yasinskas
(1:38 PM)
Have to say Brees, no question. But Ryan's very good, too.
Marcus (Georgia)
Pat do u think the falcons defense will hold up this year without lawyer milloy,keith brooking, and michael boley?
Pat Yasinskas
(1:39 PM)
Might be growing pains early. But I say the D will be better than last year by midseason. Foxworth is only guy they'll really miss.
John (Atlanta, GA)
Have you heard anythng about who is the leading candidate to start oppisite of Chris Houston going into training camp?
Pat Yasinskas
(1:41 PM)
Truly an open battle with Jackson, Grimes, Hutchins, Owens all in the mix. If I had to guess right now, I'd go with Jackson.
Bobby (Marquette,MI)
You said that the best quarterback in the south is drew brees right but he cant even bring his team to the playoffs, which by the way matt ryans done!!!!!!
Pat Yasinskas
(1:41 PM)
Umm, Brees did it in 2006. Last two year's weren't his fault. They had no defense.
Hey Pat! (NYC)
Love your blog...keep up the great work.Do you think D'Angelo Williams 2008 was a fluke? Have to think he'll regress no?
Pat Yasinskas
(1:42 PM)
Not a fluke at all. The guy finally got his chance and made the most of it. Darn good o-line in front of him, too.
Kenneth (Pensacola)
Any word on where Derrick Brooks may sign?
Pat Yasinskas
(1:43 PM)
Very quiet on that end. Looking like retirement might be leading candidate. Sad to see it end that way.
Cody T (Thibodaux, La)
Tracy Porter or Malcom Jenkins?
Pat Yasinskas
(1:43 PM)
I'll say Porter right now. He was good before he got hurt last year. Really like his swagger and attitude.
Clay (Charlotte)
Have you heard any word on Mr. Richardson's health? Seems to have been pretty quiet after the operation.
Pat Yasinskas
(1:44 PM)
Talked to someone with Panthers a couple days ago. Word is Mr. Richardson continues to progress nicely.
PaulW (Tampa, FL)
Any chance the Bucs can hire Brooks back for a day so he can retire a Buc?
Pat Yasinskas
(1:45 PM)
Yep, if it comes down to him retiring, I'm sure that's how it will happen.
Mike (Colorado)
You have to say that 3 teams have a realistic shot at winning this division right? (saints , panthers , falcons ) do you think the bucs have any chance with 3 good teams in front of them and this being a rebuilding year? I just dont see it.
Pat Yasinskas
(1:46 PM)
I don't see it either. However, I said the same thing about the Falcons last year at this time. So did just about everyone else.
Jeff (Ocala)
Who will be Tampa's starting LBs?
Pat Yasinskas
(1:46 PM)
Ruud, Phillips and Crowell.
Jeremy Shockey (New Olreans, LA)
I want the ball...I really, really want the ball. I'm finally healthy and looking to return to big numbers. Will I get my chance?
Pat Yasinskas
(1:46 PM)
You better come through. This is your last chance.
Mike (Barre, MA)
True or False. Jimmy Wilkerson will have more sacks than Gaines Adams this year.
Pat Yasinskas
(1:47 PM)
I'll go with true. Not necessarily a knock on Adams, who I think will improve. But I think Wilkerson's going to be very good as a starter.
Cody T (Thibodaux, La)
Devery Henderson or Lance Moore?
Pat Yasinskas
(1:48 PM)
Moore, without a doubt.
Ian (Vancouver, BC)
William Moore, starting strong safety for the Falcons this year?
Pat Yasinskas
(1:48 PM)
That's my guess, unless he has a bad camp. Then, they'll go with DeCoud.
Kyle (Atlanta GA)
Can Curtis Lofton be a Jon Beason/Jerod Mayo level player?
Pat Yasinskas
(1:49 PM)
Yes, he got off to a great start last year and he's only going to get better.
Greg Kass (New Orleans, LA)
Is Darren Sharper going to help the Saints defense as people think he is? He is kind of old now
Pat Yasinskas
(1:50 PM)
Good question and good point. I wonder how much Sharper really has left. He may just be temporary and by temporary, I mean he could be replaced sometime during the season if he's faltering.
Chris (Orlando)
Thoughts on Michael Clayton holding on to the number 2 reciever spot all season?
Pat Yasinskas
(1:50 PM)
Pretty good -- that's mainly because there aren't any other options. But new regime must believe in him to give him that contract.
Greg Kass (New Orleans, LA)
how about Roman Harper as a starter?
Pat Yasinskas
(1:52 PM)
Harper is a starter. I think he'll be fine with better players around him. He's a decent SS, who got hung out in deep coverage because of the problems around him last year.
Mike (Barre, MA)
Who is the most accurate qb for the bucs?
Pat Yasinskas
(1:52 PM)
Right now, I'd say McCown.
dustin (charlotte)
who will be the number 2 and 3 receivers in carolina this year? will smitty get any help on the other side? (not that he needs it)
Pat Yasinskas
(1:53 PM)
Moose and Jarrett. Don't rule out the possiblity Jarrett becomes the starter as season goes on.
Carlos Hoffman (Panama City, PA)
Pat, the other day I read an article that Clayton had a chance to workout with Jerry Rice in Minnesota. So my question to you is, over/under 50 receptions for Clayton.
Pat Yasinskas
(1:54 PM)
Over. Slightly.
Hunter (Atlanta)
With Jeremy Newberry retiring, any chance the falcons go out and find another big man to bring in
Pat Yasinskas
(1:54 PM)
They almost have to get someone with experience now. Problem is, there's not a lot out there.
chauncey (raleigh,nc)
Why does everybody seem to think that carolina will not win the nfc south again. They all think that atlanta is a much better team, which i highly diagree....pat
Pat Yasinskas
(1:55 PM)
Hey, I say Carolina's got to be the favorite right now. They were 12-4 last year and have 21 starters back.
Alex (Orlando)
bucs O-line better with Zuttah?
Pat Yasinskas
(1:56 PM)
At least as good. Don't see much dropoff from Sears to Zuttah.
demondre (norfolk,va)
Chances John Abraham finally makes the Pro Bowl again, since he was snubbed last year?
Pat Yasinskas
(1:57 PM)
He hits double-digit sacks again, he'll make it. Lot of people think it's ridiculous he didn't make it last year. I'm one of them.
Jason Chen (Durham, NC)
Where do you see Drew Brees' place in history?
Pat Yasinskas
(1:58 PM)
Give him a couple years with a decent defense and we'll get a true read.
Chuck Stephens (Tampa)
Pat,If the Bucs are able to bring Freeman along slowly like they say they will, what is the long term prognosis for him in the NFL? Can he be the "franchise" QB they hope is?
Pat Yasinskas
(1:59 PM)
I liked what I saw of him in minicamp and OTAs. He can throw the heck out of the ball and certainly looks the part. Then again, so did Dilfer and Testaverde.
Mike (Charlotte)
You didn't think you could go a whole coversation without talking about Julius Peppers, did you? What's the tenor like in Charlotte with him signing his tender?
Pat Yasinskas
(2:00 PM)
Good way to wrap it up. I think there's motivation for Peppers to come in and have a big year and get himself a huge long-term contract. Thanks to all for stopping by and I'll hand it off to Bill Williamson of the AFC West.
Connor (Boston, MA)
Will Knowshon Moreno be the Denver's starting back when the season starts?
Bill Williamson
(2:04 PM)
I think so. Denver drafted this kid with the No. 12 overall pick to make him a three-down back. He wil be the focal point of the offense. Running backs routinely can make an impact immediately and that's what Dnever expects from Moreno.
Lee (Clearwater)
Will Antonio Cromartie have over/under 8 interceptions this year?
Bill Williamson
(2:06 PM)
I think Cromartie, if he can keep his head on straight and if he can stay healthy, he will have a bounce-back season. But I'd have to go on the under eight. That's a load of interceptions. If he has seven interceptions, I think everyone will be happy.
Aaron (Laramie)
Bill, love the blog and hope you had a good vacation. What can we realistically expect from the Broncos in terms of wins this season? Four, six, a division title?
Bill Williamson
(2:08 PM)
Thanks Aaron, I'd say it's realistic to expect 4-8 wins by Denver. I think there will be growing pains while the Broncos deal with a very tough schedule.
Jerry Ames (Wheeling, WV. )
How big of a role will LT have in the Chargers offense this season?
Bill Williamson
(2:10 PM)
I think he will be a 20-25 carry a game guy until he proves he can't handle it anymore. San Diego will give him a chance to be a star this season.
Victor (Baltimore)
In all honesty, with this year's schedule and the teams in AFC West starting to balance out more. How many wins do you think it will take to win the division this year?
Bill Williamson
(2:12 PM)
Well, last year, it took eight wins and I'm not sure any teams improved dramatically to contend. So I'll go with eight wins again. I know it's weak, but times are tough in the AFC West these days.
Brian (San Diego)
With JaMarcus Russell's Strong finish to the end of last season and the reports of how spectacular Darren McFadden has looked so far, do you think the Raiders could upset the Chargers on Monday Night Football to open the season? Remember they did lead for quite some time in one of their games last season.
Bill Williamson
(2:15 PM)
Sure, Oakland has a chance in that game. Opening at home on a Monday night is a great advantage. Well, at lest, it should be. This will be the third time in four years the Raiders are starting the season at home on a Monday. In 2006, San Diego won 27-0. last year, Denver won 41-14.
Oral Roberts (San Diego)
Glad to see you back from vacation, B-Dubs. Are you hearing anything about the Raiders looking to improve their O-line? I'm concerned that Jamarcus (or Jeff Garcia) will end up as a dead corpse if he doesn't get more protection.
Bill Williamson
(2:16 PM)
Thanks, sir. I think the Raiders are set at offensive line as far as adding key players go. Now, they have to see these additions develop.
Kyle (Phoenix, AZ)
How much of an impact will Matt Cassel and Todd Haley have in their first year as Chiefs?
Bill Williamson
(2:17 PM)
It may take some time, but I think this will be a good combination in Kansas City. Expect the Chiefs to get better as the season progresses.
Andrew (Oakland)
Bill, any chance you say something positive about the Raiders this season?
Bill Williamson
(2:18 PM)
Sure, if they deserve it. Have I never said anything positive about your team?
michael (bonnersprings,ks)
can Kansas city get a solid number 2 wideout in free agency like drew bennett
Bill Williamson
(2:18 PM)
I think they like Bobby Engram, who was brought in this offseason.
Grayson (New Hampshire)
Bill -People seem to forget the Broncos were a blown Chiefs game away from the playoffs last year. Do you see that big of regression with the new coach and quarterback?
Bill Williamson
(2:20 PM)
They were a blown a lot of games away from a playoff spot. That shouldn't be looked at as a positive. I think Orton is a big drop off from Cutler and the d-line hasn't been improved much.
Adrian (Cali)
over/under 8 - 8 for the chargers
Bill Williamson
(2:22 PM)
Over.
Casey (San Diego)
What kind of role will Jackob Hestor have for the Bolts? He looked good running with the ball last year and if he didnt have that fumble Norve said he would gotten more touches.
Bill Williamson
(2:25 PM)
I think he will be the starting fullback. He is a tough player. I like him.
Curt (Tempe, AZ)
Bill, who is more likely to have a breakout season for the Raiders? Jonnie Lee Higgins or Chaz Schilens?
Bill Williamson
(2:26 PM)
I think Schilens is the better receiver. He has a chance to be very good.
Alex (Chicago)
So is Bowe more of a deep threat as opposed to being a Wes Welker type? If Bowe is more deep ball, who would be the Welker of the Chiefs if Bowe is Randy Moss?
Bill Williamson
(2:29 PM)
I think Bowe is a solid player. He is a complete player. But he does need to work on keeping his hands on the ball.
Alex (New York)
Will Vincent Jackson really emerge, and is Gates ready for a return to form?
Bill Williamson
(2:30 PM)
I hear Jackson is primed for a big year and if Gates is healthy. he'll be great. He was good last year and he was in major pain.
John L (Dallas)
Has a team ever improved so much to less effect than the Chiefs this offseason? They upgraded (or at least remained static) at very position but TE. and they still only look like a 4-5 win tea.
Bill Williamson
(2:31 PM)
It's the defense, John. They haven't added much high-impact help, especially in the form of pass rushers.
Scrub (Ohio)
Will H-Bey prove Al Davis was correct for passing up a system based WR like Crabtree?
Bill Williamson
(2:31 PM)
It may take a while. I think Heyward-Bey has talent and he can make an impact because of his speed. But it make a while.
Jonathan (Aurora, CO)
On January 1, 2010 will the fans and front office of the Broncos wish they had Mike and Jay back?
Bill Williamson
(2:32 PM)
At least Jay.
Mike (Buffalo)
Bill, who do you think will have a better season Vincent Jackson or Dwayne Bowe?
Bill Williamson
(2:33 PM)
I'd say Jackson. He already has a nice working relationship with his quarterback.
ozzie (WPB,fl)
Where do you see mike shanahan in 2010?
Bill Williamson
(2:33 PM)
Just a guess: Washington.
Bill Williamson
(2:34 PM)
Maybe after this season. He needs to stay healthy and get his career going.
Drew (Vegas)
why is there even a debate at RB for Oakland? It's gotta be DMC all the way, right?
Bill Williamson
(2:34 PM)
Yes, I think he should be the starter. He's the tone setter.
Sondy (Wisconsin)
Was Jamarcus Russell worth no. 1?
Bill Williamson
(2:37 PM)
I'll tell you after this season.
Austin ( (Dearborn,MI))
Will The Chiefs Go To The Playoffs This Year? If So Will They Have Home Field Advantage?
Bill Williamson
(2:38 PM)
No, I do not expect the Cheifs to advance to the playoffs this year.
Mattie Robs (Kansas City)
Hey Billiam - thanks for adding some great AFC West info to the chat. Quick question - how much to you think Larry Johnson has left in the tank? Can he pull in another 1,000 yard season this year?
Bill Williamson
(2:39 PM)
If the Chiefs commit to him,.I think Johnson can have a nice season. Remember, he had some decent games last season.
Victor (Baltimore)
I don't understand all this hate on the Broncos....What type of season will it take to quite all of the doubters? Playoff birth only?
Bill Williamson
(2:40 PM)
If the Broncos make the playoffs, I think would be a great season for them.
Jonathan (Aurora, CO)
In how many years do you see the bottom 3 teams catching up and challenging the Chargers on a yearly basis?
Bill Williamson
(2:41 PM)
With progress in 2009 and a good offseason, I see the gap closing in 2010.
billy (colston)
if you had to take the broncos or the patriots in the playoffs who would you pick? and why?
Bill Williamson
(2:42 PM)
Patriots .... Brady, Belichick, Moss, Welker, defense.
Travis Steinmetz (Nashville Tennessee)
how much gas does LT really have left? is it possible he wont be as good and maybe sproles would take his place? is his injury going to bite him the whole season?
Bill Williamson
(2:42 PM)
I think Tomlinson has a couple of years left in him.
Andrew (Virginia)
Do u think broncos beat bengals at bengals opening day
Bill Williamson
(2:43 PM)
That might be a tough one.
Alex (Oakland)
Can the Raiders contend in the AFC West this year? I think if they can win the first game vs SD I think things can be good for the Raiders and maybe win 8-9 games, am I too optimistic?
Bill Williamson
(2:45 PM)
That first game is a key. If the Raiders win it, I could see them winning 7-9 games.
Jordan (Denver, CO)
Will there be any D-line help available after the roster cuts for the Broncos?
Bill Williamson
(2:46 PM)
Sure, I can see Denver scouring the waiver wire for talent in early September.
Andrew (Virginia)
In order for broncos to make playoffs they need to wint he first three cuz the schedule gets tough. At Cincy cleve at home then Raiders. If they go 3-0 do u see them making the playoffs
Bill Williamson
(2:47 PM)
You're right. That stretch after Week 3 is brutal. Just brutal.
Scrub (Ohio)
Would you say Gallery was a bust for Oakland?
Bill Williamson
(2:49 PM)
No, because he has become a very good guard. But he wasn't worth being the No. 2 pick (he was taken one pick higher than Larry Fitzgerald)because he failed as a tackle. But he is a solid NFl player as a guard.
C (LA)
Yo Bill What Up? who gets more receptions this year, jabar gaffney or eddie royal?
Bill Williamson
(2:49 PM)
Royal, not even close.
John (Arlington, VA)
Is this going to be the worst divison in football?
Bill Williamson
(2:51 PM)
It just might be. Isn't that sad?
Jamez (Omaha)
With the addition of Cassel how many games do you see the chiefs winning this year?
Bill Williamson
(2:52 PM)
I think the Chiefs will win 4-6 games this year. it's not much, but it is progress considering the Chiefs won six games total in the past two years combined.
Andrew (Virginia)
I respect your opinion and i like your columns. I know anything can happen in the NFL so as a bronco fan i am just going to say wait and see and hopefully if the ball bounces the right way I can say told you so at the end of the year. lol...
Bill Williamson
(2:55 PM)
Fair enough ... For fans of the Chiefs, Raiders and Broncos: I'm not trying to be a downer about your teams. I like the direction they are going in some areas, but it just may take a while. I'd love to see any of those three teams be a surprise team. It would be fun and good for the division. I'm just not expecting much right now.
Travis (S. Carolina)
How good do you think the Falcons will be this year? Are they a super bowl contender?
Bill Williamson
(2:56 PM)
I really like the Falcons. I could see them making a big run.
ryan (decatur, il)
do you think jeff garcia should start over russel? i mean garcia has got to be one of the most underrated qb's. he always has good qb rating except when he was in detroit and cleveland. he has had a 90 or above rating the last 3 years. so why not use him while he is still good?
Bill Williamson
(2:57 PM)
I think the only way Garica starts over Russell is if Russell gets hurt or if he is a complete disaster after several weeks of the season.
Keagan (Madison WI)
Who is the second best qb in the AFC west?
Bill Williamson
(2:58 PM)
Cassel.
Paul Kuharsky
(2:59 PM)
Hey folks, we ready to turn to AFC South?
Bill Williamson
(2:59 PM)
OK, folks, Paul Kuharsky is ready to roll. It was a good hour. Talk to you next week.BW.
Mike (Nashville (with hot girlfriend))
Vince Young has one more year with the Titans, surely he won't play much. What happens after this year? UHL? Team up with Vick?
Paul Kuharsky
(3:00 PM)
He could conceivably not be a Titan this year. Either way, someone else will surely give him a good look. Lower expectations, cheaper contract, etc. will amount to a second chance.
Zak (Virginia)
do you see the Jaguars sneaking into the playoffs
Paul Kuharsky
(3:01 PM)
No. They need at least another year of personnel additions, I think. But anything can happen.
Tom (Oklahoma)
Will Chris Johnson take over completely on the ground for the Titans or will White still steal the goal line carries?
Paul Kuharsky
(3:02 PM)
He won't steal them, he'll be given them. I think Johnson will get more touches, but White will continue to get his in very advantageous situations.
Ryan (Richmond, KY)
Will Holt have a good season with the Jags since their such a run-based team?
Paul Kuharsky
(3:03 PM)
Well, to be a good run-based team, you've got to throw some to keep defenses honest or take advantage of their lighter coverage.Holt is clearly their best and I expect him to be productive.
Ben (Indianapolis)
What role do you see Donald Brown playing in Indy's offense this year?
Paul Kuharsky
(3:03 PM)
I think he could get half the running back touches.
Mark (Maryland)
Do you see Steve Slaton moving into the elite rb status this year?
Paul Kuharsky
(3:03 PM)
I think I saw him move into it last year.
Manu (San Jose)
Best Reciever in AFC?
Paul Kuharsky
(3:05 PM)
Andre Johnson.
Tom (Jacksonville)
What do you think about Mike Walker this year?
Paul Kuharsky
(3:05 PM)
I think things could finally come together for him. But he needs to find ways to stay on the field. No. 2 job is all his...
Garrett (IA)
Is Schaub a top 5 QB in this league?
Paul Kuharsky
(3:06 PM)
No. But he could be top 10-12 this season, and that is good enough.
Jake (Hilton Head, SC)
Does Jevon Kearse have the ability to have a consistent season without injury at his age?
Paul Kuharsky
(3:06 PM)
Sure. His role should be at least a bit smaller if Ball and Ford are healthy and playing well.
Mark (Maryland)
Texans nab wild card?
Paul Kuharsky
(3:08 PM)
If the Titans and Colts are healthy, I believe the Texans can win the Wild Card but would have to do it from third place in the division. Hard route.
S.Siva (Murfreesboro, TN)
I think playoff teams should be rewarded according to their regular season records, but sometimes the current playoff seeding hurts a top seeded team (may draw an opponent with a low seed but with a hot streak). What do you think of changing the system so that each playoff week the highest remaining seed gets to choose their opponent rather that automatically being assigned? Allows coaches to take into account personal matchups, injuries, and streaks. I think the Titans would have preferred seeing San Diego rather than Baltimore, and who knows what might have happened.
Paul Kuharsky
(3:09 PM)
Don't care for it. Nothing wrong with the NFL playoffs right now. There should be a premium on winning your division, and once in a while a very bad division or a very good division can skew things. Such is life.
Tyler (Indiana)
You're trapped in a small room with Dwight Freeney. The room is pitch black and Freeney can't see anything, but you have night vision goggles. How long do you think you could go untouched?
Paul Kuharsky
(3:09 PM)
Who's to say he's interested in getting to me? Did I do something wrong? Am I between him and a quarterback? What happened to the lights?
Chris (Nashville)
Do coaches treat the HOF Game like an organized scrimmage w/starters or will it be undrafted free agents w/limited knowledge of the playbook for 3 quarters?
Paul Kuharsky
(3:10 PM)
They'll treat it like their first preseason game. The preseason game that will be extra horrible is the fifth one on short rest.
Peter (Nashville)
I hate VY questions as much as you but I feel today is as good a day as any to be a hypocrite so here goes: I know you have said there is a chance VY goes this year and that he will certainly not be here next year. I hope he is gone and we turn to someone else that is a natural quarterback and not a natural athlete, but do you honestly think that Bud would be willing to part ways with him without giving him one more legitimate start. Tell me what you truly think and not what you would like to see. Thanks.
Paul Kuharsky
(3:13 PM)
I think if Fisher and Dinger and Reinfeldt all conclude after camp that VY isn't cutting it, they could sell it to Bud. They can appeal to his sense of not wanting to pay any more for poor production.So yes, it's possible they could be done with him without one more "legitimate start" if his coaches believe it would be the same as how he played against Indy, say.Certainly they'd like for him to be better and earn a chance.
Ant Blubello (Philly)
Do you see the Bronco's as a contender with their off season efforts? How would you grade their Defense?
Paul Kuharsky
(3:13 PM)
I think Denver is going to be bad.
Nick (Lansing, Michigan)
You answer stupid questions, but you never answer my thought out NFL questions!
Paul Kuharsky
(3:14 PM)
Good job there -- that one doesn't even have a question mark in it.
Edward (Los Angeles)
Am I an overly optimistic Colts fan in thinking that a healthy Freeney, Bobzilla and Marlin Jackson the addition of a few large, run-stopping DTs a new defensive coordinator could equal a pretty decent improvement in the Colts defense?
Paul Kuharsky
(3:15 PM)
No, they could be much improved on defense. And if the offense does what it is built to do, even a slight defensive jump can make things much easier.
Ryan (Richmond, KY)
Do you think Lendale White will be a Titan at the begininng of the season or did they draft Javon Ringer to take the goal line carries? Oh and has White cut any weight this year like he said he was going to?
Paul Kuharsky
(3:16 PM)
White is not at any risk of getting cut. Zero. Yes, he's slimmed down. Even if he hadn't he would not be at risk.
Tyler (Indiana)
Freeney is told that you're a QB which is why he is trying to get to you. The lights are off to give you an advantage.
Paul Kuharsky
(3:16 PM)
I'm pretty sure i don't like this game. How is his hearing? What if I stood still or crouched silently in a corner?
Chris (Louisville)
How come you won't answer questions about my Dolphins?
Paul Kuharsky
(3:16 PM)
Because I am here to talk AFC South.
mitch (TX)
Will Tony Ugoh be a sustainable starter for the colts this year?
Paul Kuharsky
(3:18 PM)
He's going to have to be, they don't have a great alternative. I wrote a big piece on Ugoh last week if you missed it, which put forth a defense and a prosecution of his game at this point. Very big year for him.
Dwight Freeney (dark room)
This sucks. I'm leaving. Let's go get a drink, PK.
Paul Kuharsky
(3:18 PM)
Sweet. First round is on you!
Keagan (Madison WI)
Would Sorgi start for a different team?
Paul Kuharsky
(3:19 PM)
Is the team in the UFL?
Jeff (Mpls)
Will Kevin Walter have a better year than A. Gonzalez?
Paul Kuharsky
(3:19 PM)
No.
Spencer (tennessee)
What do u think will happen to lendale white after the season? What would happen if he has a big season(800 yds 12 td) which i think is about what you could call a big season with cj there?
Paul Kuharsky
(3:20 PM)
If there is no CBA, he'll only be restricted.If he's a UFA, I think his view of his value and the Titans' view will be quite different. Then it depends on what the 31 other teams think. But I expect they'll be ready to move on without him.
Dennis (Franklin, TN)
OK, several questions about Freeney came up but if given the choice of Freeney or Vandenbosch, as a DE on your current NFL team, which would you take?
Paul Kuharsky
(3:22 PM)
Freeney. A bit scared about how he holds up, but a couple years younger and so fast.
chris (massachusetts)
will the colts be better than the patriots this year or vice versa?
Paul Kuharsky
(3:22 PM)
I expect the Patriots to rebound huge.
Charles (Goodlettsville)
Since the Titans have almost $13M left in the bank and only two more draft picks to sign, what's the over/under on the number of soon-to-be free agents that they lock up right now; 1, 2, or 3?
Paul Kuharsky
(3:22 PM)
Zero. People seem to think there is this great pool of talent out there. They don't have to spend it because they have it. Maybe if they get hurt somewhere.
Keagan (Madison WI)
How huge can you rebound from an 11 win season?
Paul Kuharsky
(3:23 PM)
Did it get them in the playoffs?
JB (TX)
Besides VY or the '07 draft receivers, any veteran Titans that would possibly not make the team out of camp? I can't see them really carrying 4 TE's (Bo, Alge, Cook, Stephens) plus 2 FBs (Hall, Kramer).
Young (Houston)
Freeney may be good, but Mario Williams is better.
Darryl (Toronto)
The Colts have just $7.47mil in cap space and all 8 draft picks to sign...How does this work out? Which are favored to get contracts and who do the Colts cut to make space for any draft picks they like but can't sign without cuts somewhere else?
Paul Kuharsky
(3:27 PM)
They had to have enough to sign their rookies at the draft, and that amount will still be enough. You're talking $310,000 base salaries for everybody.
Gary (Houston)
Will Antonio Smith help Mario Williams or do they still need an upgrade at the opposite end? Connor Barwin possibly fit that bill?
Paul Kuharsky
(3:27 PM)
Smith and Barwin are the upgrades at the opposite end.
Scott (McKinney, TX)
No thoughts on Steve Slaton???
Paul Kuharsky
(3:28 PM)
Love him.
EJS (Jacksonville, FL)
If Jags win 8 or less will Del Rio be out on the market in 2010?
Paul Kuharsky
(3:29 PM)
I think if they show forward progress and have a better vibe that he will be OK going forward.
Guy (Round Rock, TX)
Paul - you have obviously been to a lot of camps. Would my 7 year old son (who loves him some Andre Johnson) dig going to a Texan's practice?
Paul Kuharsky
(3:29 PM)
Worth going once. Hot there though. Slather in sunscreen, have water, etc.
Sam (Nashville)
What are the chances that Keith Bulluck is a Titan next year?
Paul Kuharsky
(3:30 PM)
39.3 %
Craig (Maryland)
I do believe that Derrick Mason is a good player... but he wasnt a godly player last year can't any 3 Receivers get about the same production as the players last year?
Paul Kuharsky
(3:30 PM)
That defection will kill the Ravens.And with that, folks, I give you James Walker.Thanks!
James Walker
(3:31 PM)
We cover just about every division. So let's get to the AFC North.
Brandon (Owensboro, KY)
The big question mark for the Bengals this season is the O-line. If the line can come together and keep Carson healthy, do you see Cinci making a move in the north?
James Walker
(3:33 PM)
If the o-line plays well the Bengals could be in great shape. That might be their biggest question mark right now with a lot of players in new places. Regardless, they should win more than last year.
Cory (Avon, CT)
The Browns have a very good O-line, they cornerstone to a good offense. How many years away are the Browns from contending?
James Walker
(3:35 PM)
I take things year to year in the NFL, Cory, because so much changes. So it's hard for me to look beyond the 2009 season. The Browns are not in a spot to contend this year. They have too many questions to address and a new system being put in on offense and defense, even though it's still a 3-4 scheme.
David (Tampa)
Does Ocho Cinco seem focused enough to bounce back to Pro Bowl form?
James Walker
(3:37 PM)
Physically, he looks great David. Mentally with Chad, you never know. When he has his mind set on football is one of the best at his position and probably the best in the division. But winning is the best way to keep him in tune the entire year.
Wayne (Florida)
Can Mike Wallace step in and win the #3 receiver spot from Limas Sweed?
James Walker
(3:39 PM)
I don't think so, Wayne. Limas Sweed has a year in the system on Wallace and I think Sweed's size is something Pittsburgh needs in its offense. Sweed proved last year that he could get open at the pro level. If he catches the football this year the job is his.
Ryan (Richmond, KY)
What about the Ravens? I heard they were interested in Braylon Edwards...whats the chances we could see McGahee in Cleveland. Jamals about done and its time for a change in Cleveland.
James Walker
(3:41 PM)
Teams in the division rarely trade because it helps the competition. So don't count on it. The last time Baltimore traded with Cleveland, the Ravens got Haloti Ngata on draft day and the Browns took Kamerion Wimbley. See how that worked out?
Tim (Annapolis)
Would the absence of Derrick Mason severely inhibit the progress of Joe Flacco this year or will he just develop at a slower pace if he doesn't have his safety net?
James Walker
(3:43 PM)
It depends on who the Ravens bring in as a replacement. If that player is not very good or starting caliber, then, yes, Flacco will be hurt. If it's a vet who could help immediately or if Mason returns, Flacco will be much better off. Let's wait to see how this plays out.
Scott (Dallas)
Will the Steelers' offensive line improve enough to increase the effectiveness of the running game this year?
James Walker
(3:45 PM)
I think improving your run blocking is the easier of the two, and I expect Pittsburgh's running game to get better. I'm just not sure how much. But having a healthy trio in Willie Parker, Rashard Mendenhall and Mewelde Moore should work. Pass blocking has a lot to do with natural athleticism and Pittsburgh's line is not as athletic as some of the top units in the NFL.
Sean ((Warren,OH))
Do you see Jerome Harrison playing a bigger role in the Browns' running game this year? Also what is the situation with Josh Cribbs?
James Walker
(3:48 PM)
Jerome Harrison got a lot of opportunities in the spring, so really it's going to be up to him. The Browns are going to run the football a lot this year. Cribbs says he will report to training camp but he is still not happy about his deal. There hasn't been much progress to date, but there still a lot of time between now and the regular season.
Mark (Maryland)
Best QB in the division?
James Walker
(3:51 PM)
AFC North players in a recent survey said Ben Roethlisberger hands down. No better place to get the answer than from their peers.
Chris (Youngstown, OH)
Do you see anybody seriously challenging the Steelers for the division title?
James Walker
(3:52 PM)
I see the Ravens and maybe Bengals as potential threats to the Steelers this year. Let's watch the preseason and training camp and see how both teams develop.
Ryan (NY)
Buy or sell Robiskie as the Browns #2 WR?
James Walker
(3:55 PM)
That's another ESPN show, Ryan. I'm not sure if Brian Robiskie will win the job right away in Week 1. But I think he has the most potential to earn the job eventually.
caleb (greenville nc)
If you could only have one Troy Polamalu or Ed Reed?
James Walker
(3:56 PM)
Troy Reed
Ryan ( DC)
when do you think all the bengals draft picks will be signed
James Walker
(3:57 PM)
All? It's tough to say. But there is a good chance that Andre Smith miss some camp. I'd be surprised otherwise.
John (Johnstown, Pa.)
Not Ed Polamalu?
James Walker
(3:58 PM)
Troy Reed is a couple years younger.
Cody (Venice, Italy)
Ravens D or Steelers D this year, Who will be better?
James Walker
(3:59 PM)
Steelers defense for now. No weaknesses. Too many changes in Baltimore makes it somewhat risky to pick.
KC Joyner
(4:00 PM)
Hello all! We've had lots of good questions for this chat block, now let's finish up strong and talk some more football!
Broad Street Brian (Philadelphia)
Hey KC. Which teams had the best defensive backfields, Did anyone surprise in a good way.... a bad way.
James Walker
(4:01 PM)
Ok, everyone. Time flew by but my time is up. I have to pass the chat over to K.C. Joyner.
KC Joyner
(4:02 PM)
It's hard to pinpoint just one backfield. GB had a great one, as did Buffalo (considering the injuries).
Jake (VA Beach)
Great read on the WR opponents in the Mag. Do you have similar stats on the most favorable RB matchups?
KC Joyner
(4:04 PM)
Thanks for the kudo. I will be doing RB matchup analysis sometime in August.
Travis Steinmetz (TN)
Titans or Colts
KC Joyner
(4:05 PM)
I'm assuming you mean who will win the division. Give me the Titans out of those two, although it would not surprise me to see the Texans sneak into the #1 spot.
Scotty (Texas)
Do you think Felix Jones will be a better fit for Dallas, then Marion Barber?
KC Joyner
(4:07 PM)
I ran some numbers on Jones vs. Barber from a perspective of productivity when they get good blocking (i.e. all POA wins) and when they don't for Maple Street Press' Dallas Cowboys magazine. In a nutshell, Jones was in the 8 YPA range when he had good blocking, so he might have the most upside of any player this year.
Shail (Columbia, MD)
Is the Patriots O-Line still going to be able to perform at an elite level? It seems like they've given up way too many sacks to be considered elite.
KC Joyner
(4:08 PM)
They were elite run blockers this past year, as their collective 88.7% POA win rate was among the best in the league. I expect NE to run the ball more this year than they did in Brady's last full season run to protect him until he is back to 100%.
KC Chuck (Utah)
Do the Chiefs even have a chance to be somewhat better this year? Though...could it get any worse?
KC Joyner
(4:10 PM)
They have a collection of really talented young players, so getting better is almost a certainty. One issue could be at QB. Cassel was quite mediocre at vertical passing last year and now he doesn't have Moss to throw to. If he can't turn that around, it will hinder this O and make Chiefs fans question why Kansas City didn't stick with Tyler Thigpen.
J2 (Buffalo)
KC - whats up with you guys hating on the Bills line?First the way you deal with 3-4 teams is by controlling the NT which we have vastly upgraded the interior of our line by adding Hangartner, Wood and Levitre. Good smart tough nasty players (don't you build winning teams through the draft?)Second - the only issue as I see it is the tackles - which you can keep a RB in, put a TE out there and run quick slants, draws etc... to circumvent consistent pass rush. Why do all these analysts keep putting their reputations on the line without even seeing them play in practice - let alone a game?
KC Joyner
(4:11 PM)
Well, I can only speak for myself but the reason I have been down on the Buffalo O line is that they had a very poor 80.2% POA win rate on runs and their best blocker (Peters) is now in Philadelphia.
Ed (PA)
Many people seem high on the Eagles O Line, is this a group that can be strong right away? Or a group that struggles early gradually improving through the seaon becoming one of the leagues strongest/
KC Joyner
(4:13 PM)
I'm all for them being good right off the bat. Peters had a 90.1% POA win rate and both of the Andrews brothers should shore up the right side of that line (especially Shawn). They'll be a masher run unit early on, so expect Philly to run the ball just a bit more this year than they normally do.
trevor (albany)
I've been reading several articles about how Dustin Keller could be this year's big breakout player. Is that just hype because he was a 1st rounder or is there reason to be excited?
KC Joyner
(4:14 PM)
I wrote in ESPN's Fantasy Football Magazine (on sale at newsstands now) that Keller had over 80% of his pass attempts from a flex and/or two-point position. Only elite pass catching tight ends can do that so look for him to take on even more of a Tony Gonzalez-like role this year.
Cody (Stamford, CT)
Who wins the Super Bowl this season????? Scientist, hmm..?
KC Joyner
(4:15 PM)
I've got Pittsburgh and Philly right now.
Mike (SF, CA)
Love the info on the Dallas blocking. So, how do they fix it? Is one specific guy particularly replacable, or do they just need "better coasching"? I put that in quotes because Hudson Houke is a legend.
KC Joyner
(4:16 PM)
Leonard Davis and Andre Gurode would be good places to start. Both of these guys were Pro Bowl players yet they didn't even top the 80% mark in POA win percentage. They are capable of playing better and shouldn't need a coach to kick them in the tail to do so.
Keagan (Madison WI)
Love the refreshing scientific approach you have. Why Pittsburgh over New England?
KC Joyner
(4:17 PM)
Thank you! Glad you are enjoying it. Some of it is that I don't trust any QB coming off an injury. Some of it is also that Pittsburgh had a ton of areas where they underperformed last year (see the NY Times blog post I did on this about 3 weeks ago for more specifics).
Evan (State College, Pa)
There's been alot of debate among readers about whether Ben Roethlisberger should be considered a top 5 quarterback without necessarily having the stats to back it up. You are the sports scientist, what's your take?
KC Joyner
(4:19 PM)
I didn't include Ben up near the top when I was asked this question a couple of months ago, but once I finished the Steelers entire season of tape breakdowns, I had him in the top five. That he was able to do as well as he did last year with a shoulder injury and with the O line and RB woes says a ton about his abilities.
Big Daddy (D-troyt)
They call me Big Daddy cuz I'm big and I'm a daddy. What keeps the Lions from losing 16 straight games again?
KC Joyner
(4:21 PM)
Better talent. Some teams have bad records because of injuries but Detroit was terrible last year because they simply didn't have the horses. Luck also played a bit into it so improved personnel plus a lucky break equals an end to the streak at some point this year.
Tim C (Colorado Springs, CO)
Which QB has better stats this year - Schuab or Warner?
KC Joyner
(4:22 PM)
I'm on the Schaub bandwagon. According to the numbers I ran for ESPN's Fantasy Mag, he had the highest vertical YPA of any QB in the league. Add to that Warner will likely see the ball a bit less this year (a NYT Fifth Down post I did suggests that Arizona will be much better on the ground with Beanie Wells) and Schaub ends up on top of this.
gabe (springfield, ri)
Who will have the better rookie season and career of Hakeem Nicks and Ramses Barden?
KC Joyner
(4:23 PM)
Nicks. I did an analysis for him for the NY Times Fifth Down blog that showed he was superb at any of the vertical routes that require double moves. I think he will be productive from day one.
oren (los angeles)
where do u think the ny giants will finish this season
KC Joyner
(4:24 PM)
I think they make the playoffs but will lose in either the divisional round or NFC Championship.
Daniel (New York)
How amny players from the Colts 09 draft make an impact this year? and can Mike Hart ever become anything in the NFL?
KC Joyner
(4:25 PM)
The Colts O line actually did a pretty good job last year (all things considered) and that's a reason I think Brown could have a good year.
tom (hackensack)
Steve Smith cant continue to produce with such mediocrity around him can he? In fantasy....would you select either roddy white or greg jennings over him?
KC Joyner
(4:27 PM)
I'm assuming you mean the Panthers Steve Smith. I'm a bit down on him this year because he has a brutal schedule. Jennings schedule is the best of this bunch so I'd take him.
mike (mexico)
better fantasy season forte or turner????
KC Joyner
(4:27 PM)
Forte. I like Turner a lot but Forte is the next Brian Westbrook.
Tony (St. Louis)
Donald Brown and Joseph Addai Tandem - your early take?
KC Joyner
(4:29 PM)
If you are considering handcuffing these two in a fantasy league, I'd say don't overpay for the Addai part of that. A post on the Times I did today (should be up any time now) says that Addai struggled when Indy gave him good blocking last year.
joe (york)
Have you heard TJ Housh wont play madden because he feels he is underrated in the game and claims it was due to the bengals system rather than his skills that he mainly caught short passes....what are your thoughts on this?
KC Joyner
(4:30 PM)
Housh has a history of being a terrific short pass catcher. He's every bit as good as Hall of Famer Fred Biletnikoff was in his day. If the Madden ratings reflect that, Housh should sit down like the rest of us an enjoy playing the game.
mike (mexico)
thanks alot kc if i win the league cause of forte i will invite u alot of coronas hope u like mexican beer
KC Joyner
(4:31 PM)
I can say cerveza!
Jake (Sulphur, LA)
Better injury prone QB for a bad team....Carson Palmer or Matt Hasselbeck
KC Joyner
(4:31 PM)
Hass. He's got better and more receiving options.
Rza (Washington, D.C.)
Do you think Jason Campbell can play his way into a new contract, as well as the playoffs, now that he's in his second year with Jim Zorn's version of the West Coast offense?
KC Joyner
(4:33 PM)
I've said this many times but it bears repeating - my scouting eye said that the Skins issue last year was Jim Zorn. He spread himself way too thin and the team started doubting him because of it. He also put the vertical pass calling pressure on Campbell. To put this another way, I believe in Campbell more than I do Zorn and am a firm believer in that he should be able to play his way into a contract.
toby (Brooklyn)
Is max starks worth the 4 year-26.3 million that the steelers are payin him or will willie parker have again a horrible running year?
KC Joyner
(4:35 PM)
Starks won 85.9% of his POA blocks, so he's fine there. He did have some pass blocking woes but I still believe a lot of that came from Pittsburgh having so many players in flux on their O line.
glenn warciski (houma, louisiana)
KC,I think the Giants secondary does not have quality depth. I thought they should have drafted a cornerback/safety with their first round selection. I do not think highly of Michael Johnson or CC Brown. CB Terrell Thomas, in my opinion, is a future star. Perhaps, because of an injury, he can play safety. If Kenny Phillips or Corey Webster suffer a season ending injury, I think the Giants are in trouble. What are your thoughts?
KC Joyner
(4:37 PM)
Glenn, good to see you here in the chat room! I'll focus this on one player - Corey Webster. He had a terrific 2008 campaign but his history before that was of a mediocre CB. I'm of the mindset that he is a contract year type of player and will regress. If that happens, it could have domino impact on this secondary.
Matt (Boston)
Are the new minority owners of the Dolphins - with potentially a few more to come - a good thing for Miami, the NFL, or Pro Sports in general? What are your thoughts on this different strategy to reignite a passionate franchise?
KC Joyner
(4:38 PM)
Miami fans (of which I was one until I started doing this) got so used to consistent winning under Shula that it is hard to get them excited about anything other than division titles. If the Fins keep winning (and I think they will long-term, though they will drop off a bit this year), that will have more to do with reconnecting with the fanbase than any minority owner.
Jake (Sulphur, LA)
I JUST WANT TO TELL THE WORLD BECAUSE IM SO EXCITED AND WANT TO TELL EVERYONE LAST NIGHT I GOT ENGAGED TO THE MOST WONDERFUL GIRL IN THE WORLD AND EVERYONES INVITED TO THE WEDDING LOL :D
KC Joyner
(4:39 PM)
This has nothing to do with football but the guy is so jacked up, I figured why not give him a forum to announce his news!
Jake (Sulphur, LA)
Who has the better season this year....Ted Ginn Jr. (Miami) Michael Crabtree (San Fran) or Johnnie Lee Higgins (Oak)?
KC Joyner
(4:41 PM)
Ginn had very good numbers last year (8.8 YPA if memory serves me correct) but he has a brutal schedule. Crabtree's schedule is much more favorable so he gets the edge there but I'd still take Ginn. I can't take an Oakland WR because I just don't trust that O.
Chuckie (NJ)
Cleveland Browns - any hope to win 6 games?
KC Joyner
(4:42 PM)
Absolutely. They played well below their talent level and Mangini is a very good remedy for that. They won't win the division but I see 6-8 wins and a team that Cleveland fans will be much happier with.
engram (Chicago)
Question - why does Delhomme continue to get beat up for his playoff game meltdown, whereas Pennington gets no where near the amount of scrutiny for an equally bad showing at home (4 INTs)??
KC Joyner
(4:43 PM)
I think it came down to that people didn't think Miami had a shot at the Super Bowl whereas they thought Carolina did. It's not the first time Delhomme has had a slew of bad decisions slow him down, so I wonder why it was such a surprise.
Alex (Milwaukee WIS)
Whats ya thoughts on the defensive minded lions
KC Joyner
(4:45 PM)
Better coaching will make them better players. For example, Ernie Sims had a terrible habit of overrunning plays and/or beating blocks but not being able to get his speed under control. That kind of thing can be fixed with good coaching and, if that happens, he'll go from being a hit/miss LB to a very consistent playmaker.
Chad (Pittsburgh, PA)
KC, What is your favorite rivalry game to watch?
KC Joyner
(4:46 PM)
I'm still a sucker for Cowboys-Redskins games.
Alex (Milwaukee WIS)
what do u think of the packers
KC Joyner
(4:47 PM)
I don't for the life of me understand why they are going to a 34 front. Their pass D was superb for most of the year last season (forgetting the NO game) and all they needed to improve their run D was a couple of upgrades in the front seven.
ted (Baltimore)
So stay away from all Carolina players due to schedule??
KC Joyner
(4:48 PM)
I don't know if I'd go that far but I would temper fantasy expectations for some of their players. Or, to put it another way, I would not say to skip drafting Steve Smith but if you have the choice between him and, say, Reggie Wayne or Randy Moss, you might be better suited to go for Wayne or Moss.
Garrett (IA)
sooo...the trick to getting a question answered is being Alex from Milwaukee and asking "So what do you think of....the BILLS"
KC Joyner
(4:51 PM)
That's one trick to getting an answer (now watch me get 100 what do you think of questions). I am concerned about Buffalo's O line and think that Owens will call for more vertical passes than he should (he's a short/medium pass guy at this point of his career). Having said that, Trent Edwards has the most favorable pass schedule of any QB, so there is hope.
Steve (St. Louis)
Fact or Fiction...Derek Andreson will not be a Cleveland Brown end of this season
KC Joyner
(4:51 PM)
I don't know if he'll be off the team, but I am of the mindset that Quinn locks the starting role pretty quickly.
Chad (Pittsburgh, PA)
What are the chances of the Hated Ravens(Card carrying member of Steeler Nation here) landing marvin harrison?
KC Joyner
(4:53 PM)
I don't have any inside skinny on that, but I can tell you that Harrison would give them a few of the things that Mason did. He wouldn't be quite the elite short pass catcher Mason was but he would give them enough to ameliorate the loss.
Tashard Choice (Dallas)
Hey man, I had a pretty good year last year when i got the carries. How do i fit in the 'Boys running game with MBIII and the emergence of Felix?
KC Joyner
(4:54 PM)
That you did. If memory serves me correct, your YPA totals were better on all-POA win runs than Barber's. Barber won't want to split carries any more than he has to but Dallas should try to find a way to give you at least five carries a game to keep him fresh.
mark k (STL)
Who's your #1 fantasy pick?
KC Joyner
(4:54 PM)
Depends on the type of league. Performance - AP. PPR league - Forte.
Sean (Philly)
You would think that Tashard would have been informed he is moving to FB.
KC Joyner
(4:55 PM)
Why Dallas would move Choice to fullback when Deon Anderson did a solid job there last year is beyond me. I don't think Choice has the blocking chops of Anderson.
Charles (Oklahoma)
Which vetran free agent running back gets signed first... Warrick Dunn or Rudi Johnson?
KC Joyner
(4:56 PM)
Dunn. Wider skill set means more teams will be interested in him.
Mike (Cincinnati)
I like the Jets to take a wild card spot this year, Rex Ryan has brought some fresh faces and a new attitude to an already above average team. Care to comment?
KC Joyner
(4:57 PM)
Hard to pick a team for the playoffs when they are likely to go with a rookie QB and are in a very tough division from top to bottom.
Sam (Denver)
I'm one of those that does not think Cutler can lead the Bears to the playoffs this year. The division is much too tight and he has limited (unproven) weapons. Agree?
KC Joyner
(4:58 PM)
You knew I couldn't get through a chat without someone bringing up Cutler. Sam, I don't know if you saw but I did some posts for the NY Times on Cutler regarding the reaction Bears fans had to a chat comment I made on him a couple of weeks ago. The gist of it is Chicago can win with Cutler but there will be more than a few times that his bad decision making will remind them of Rex Grossman.
A. Haynesworth (D.C)
How do you think I'll do in in Washington? P.S Am I a lazy bum who would only work hard during a contract year?
KC Joyner
(4:59 PM)
That is a total misconception about Albert. I've done three seasons worth of breakdowns on him over the years and he's been a monster POA-win wise each year. Washington will get plenty of value for their buck.
Fantasy Football Rocks (Arizona)
Will the addition of T.O help, or hurt Lee Evans' value from a fantasy standpoint? What are your predictions numbers-wise for those two?
KC Joyner
(5:01 PM)
I did a NY Times blog post on this a few months back. The gist is that these two will likely split 120 vertical throws between them. If Evans gets a 75/45 split of those, Buffalo will see tremendous improvement in their vertical totals. If Owens insists on getting a 75/45 split, Buffalo's vertical offense could get even worse than it was last year (or at the least it won't be as good as it could be).
Chris (hartford, ct)
If you had to recommend just one FFL prep magazine to buy, it would be................?
KC Joyner
(5:02 PM)
You are kidding, right? ESPN's Fantasy Football Magazine, hands down.
BSB (Philadelphia)
Thanks for the science lesson.
KC Joyner
(5:02 PM)
Glad to do it, Brian! Well, it's been fun but Mrs. Scientist is about to ring the dinner bell, so I've got to fly. Hope to see you all next week!