The Morning Buzz: Wednesday, July 22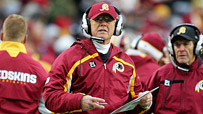 Gibbs roamed the sideline in Washington for 16 years.
Welcome to SportsNation! We now start your day with a morning dose of Buzzmaster. He'll be with you every weekday morning at 10 a.m. ET to see what's on your mind. On Wednesday, former NFL coach and current NASCAR team owner Joe Gibbs stops by at 10:20 a.m. to chat about his new book, "Game Plan for Life."
Gibbs coached the Washington Redskins for 16 seasons during two stints with the team (1981-92, 2004-2007). He won three Super Bowls and four NFC titles. He was enshrined in the Pro Football Hall of Fame in 1996. Upon his first retirement from coaching in 1992, Gibbs focused his time on his ownership of Joe Gibbs Racing. His teams have won three NASCAR Cups (2000, 2002, 2005). His three drivers are all in the top 20 of the points standings.
His book, "Game Plan for Life" hit stores Tuesday. Click here to jump to Gibbs' chat.
More From SportsNation: Chat Index | SportsNation Index | PollCenter | Previous chats
Buzzmaster
(10:03 AM)
Goooooooooood morning!
David (Banning)
Let's get this party started!
Bob (Lowell)
Buzz, pay attention.
Robert (Huntsville, Al)
So, I have a torn tendon, torn rotator cuff, and torn labrum in my left shoulder. No wonder my shoulder kind of hurts...who would have thought?
Steve (NJ)
Buzz! I dare you and Sportsnation to fight me!
Brian and Nate's Friend (Madison, WI)
Morning Buzz hope the office coffee was filling today.
Christian (High Point, NC)
Joe Gibbs immediately makes this a Division I chat, even if he's not here for the entire hour.
Tom (West Bloomfield, MI)
Hey Hey Hey! It's Fat Buzzard coming through!
dave (home)
you are late,buzz
BJ (Carmel, NY)
What happened, Vince Lombardi wasnt available?
Will (Courtland, VA)
Buzz, you'd better be on time or Coach Gibbs will have you doing up downs in the parking lot!
Sean (Philly)
And Sports Nations Morning Buzz starting promptly at 10:03
Marc (Charlotte)
After 1 Up, Buzz would be down.
Tom (West Bloomfield, MI)
Up Downs! Those are TERRIBLE. Worst training exercise I ever did, even worse than suicides.
Steve (NJ)
Due to my old office PC, I STILL have to F5 MB2.0! Woohoo!
Marc (Charlotte)
Ok, so I was gone for a week.. Who is this "Brian and Nate's Friend" person? Does he represent a fake post from a Keg?
BJ (Carmel, NY)
Sounds like you didnt warm up before your slow pitch softball game...
Robert (Huntsville, Al)
hmmm, I believe I will watch Iron Eagle now...
Buzzmaster
(10:07 AM)
LadyBuzz told the other day that she's never seen Iron Eagle...I was totally and utterly shocked.
Sean (Philly)
Good thing it is Joe Gibbs and not Tom Coughlin, because with him, if you aren't 5 minutes early you are late.
JB (TX)
FYI 'burnt coffee pot' has to rank up there with 'burnt popcorn' as far as worst office smells. Uugh.
Clay (Charlotte)
Good Morning Buzz, true story. We do some contract work for Mr. Gibbs' racing shop. I've only been there once but I am not allowed back because, as a longtime Redskins fan, I told my boss I would be as professional as possible...but if I say Joe I would scream like a little girl.
Alan (Indianapolis)
I'm a groomsman in my friend's wedding this saturday and at the reception each pair of groomsman/bridesmaid has to do a funny dance or something when introduced. Any ideas?
Buzzmaster
(10:09 AM)
Start the lawnmower!
chaz (sa tx)
<--- agrees with jb its turrible
Clinton (Indianapolis)
I've never seen Iron Eagle, either, but then again I'm the same guy who hasn't seen any of the Rocky or Karate Kid movies in their entirety.
Rich Rod (Ann Arbor, MI)
People who are married to people that haven't seen Iron Eagle need to get new wives
Clay (Charlotte)
The party doesn't start until somebody does the Chicken Dance.
JB (TX)
Alan, go with the Ickey Shuffle, sure to be a crowd pleaser.
Brian (Madison, WI)
Funny dance? You and your bridesmaid need to do the fishing dance, it's classic. Throw out the bait and reel her in!
Steve (NJ)
6 months into my new gig, and no one is sucking their knuckles. I believe this may be heaven
chaz (sa tx)
chicken dance is over rated no actual chickens ever show up, i put it up there with the rain dance
Brian (Madison, WI)
I bet LadyBuzz has seen all of Matt Damon's movies though.
Sean (Philly)
Alan, can you do the moonwalk? It is a bit more topical. Maybe work in a crotch grab.
Brian (Madison, WI)
Haha, I show up 5 minutes late and miss nothing, classic!
Buzzmaster
(10:13 AM)
You could show up 55 minutes late and still not really miss anything. That's the beauty of what we do here every morning.
Anthony (NY)
Alan do the soulja boy or do the sprinkler.
Johnstone (Wicker Park)
The Worm, bring it...
worm (underground)
FYI we do not dance that way. we have better style,.
Christian (High Point, NC)
Forget dances. The "or something" is fraught with possibilities.
Drew (Buffalo)
make up your own dance. Doing lame dances that people already think are lame is not going to be funny. get creative!
Buzzmaster
(10:15 AM)
Yeah, just make up your own lame dance and give it a name.
Marc (Charlotte)
Buzz, are we ONB'ing it before or after Coach Gibbs?
Buzzmaster
(10:15 AM)
Your choice.
Louis (Montreal)
Forget any dance that you can't do standing. You'll mess up your tux and you'll be the one looking silly on the pictures
Sean (Moore)
Anyone ever notice how it says that the Buzzmaster chat is designed to help ease sportsnation into its day? Yes most of us start work at 8? Well, a few of us anyway...on second thought...10 is probably right
Buzzmaster
(10:16 AM)
Oh, I think I hear Coach Gibbs coming! And he's got a copy of his new book with him.
Will (Courtland, VA)
I'm on the couch at 10am...one of the perks of being a teacher, but still having to pay for day care...no kids and a quiet house.
Christian (High Point, NC)
Pictures are sometimes before the reception. How about something classy, like a twirl-into-tango?
Johnstone (Wicker Park)
Very good point, give the bride and groom a Gatorade shower.
Christian (High Point, NC)
That's -- That's Joe Gibbs music!!!
Buzzmaster
(10:18 AM)
Classic bad move on my part. I heard a group of people coming this way and didn't realize it was the executive board room clearing out after its morning meeting.
Sean (FL)
I thought the moon walk and crotch grab was a great idea..better ask the bridesmaid first though
Crowd (ESPN chat room)
COACH GIBBS!!! COACH GIBBS!!! COACH GIBBS!!! COACH GIBBS!!! COACH GIBBS!!!
chaz (sa tx)
BOO buzz rookie mistake
Louis (Montreal)
Is there any food left from the meeting?
Buzzmaster
(10:19 AM)
I always try to peek my head in to find out, but the doors always close quickly after they leave the room.
jason (PA)
buzzmaster=newb
The Suits (Bristol)
FAIL!
Execs (Bristol)
Buzz, we made a mess in there. Be sure to clean it up and next time we want our coffee delivered faster
mitchel (houston)
False start on buzz. That's gonna be charged to the entire field just like track.
Clay (Charlotte)
Good call Louis, the breakfast for executive board meeting are usually top notch.
Marc (Charlotte)
It'll take Coach Gibbs time to walk to the basement to find Buzz for this chat.
Sean (FL)
better question...if the executive board room is that close to Buzzs office...does that mean Buzz is an executive too?
Buzzmaster
(10:20 AM)
Hold on...I almost wet my pants from laughing so hard.
Clay (Charlotte)
Sean, no...just no.
Sean (Philly)
Sean, I think he is by the Executive washroom, which is why he doesn't get to look into the boardroom.
BJ (Carmel, NY)
Geez, the guys stays in one executive suite...
Marc (Charlotte)
Coach Gibbs is late. I think Buzz should tell him to do some push ups.
Jordan (Peoria)
It is the secret board room in the basement, right next to the boiler room which is Buzz's "office"
Will (Gaithersburg - MD)
Blame it on the traffic
Scott (Tucson)
hhmmmm
Chris (Minneapolis)
Buzz is coming apart at the seams, pitching for leads in the ESPN executive's dreams...
Dave (vt)
I have returned from playing pool in the ESPN arcade, for some reason that game is not blocked at work.
Christian (High Point, NC)
And we come to a dead stop while Buzz cleans up the boardroom
Scott (Brewtown)
Wow, I leave to type an e-mail response to my boss, come back 2 minutes later and theres only one more post? Typical.
Buzzmaster
(10:32 AM)
Coach is here!
Tre (Washington)
Coach, how much research did you have to do to come up with the ideas for your book on how to live successfully?
Joe Gibbs
(10:34 AM)
We did a lot of research and we had a committee working on it. We had the idea of going out into America with a research firm and find out what America needed to live a successful life.
anthony (toronto)
coach gibbs. what made you join nascar
Joe Gibbs
(10:35 AM)
I had at a very young age, was fascinated with cars. When I started driving, I was living in Southern Cal and everyone had a hot rod. Everyone was interested in cars, hot rods and drag racing. From there on, I was a motor sports fan. My oldest son graduated from college and said he didn't want to coach, but wanted to get into racing.
Brian and Nate's Friend (Madison, WI)
Joe, how do you feel about veteran players like Favre basically telling coaches year after year they do not want to participate in mini camps and preseason games?
Joe Gibbs
(10:36 AM)
I think any player at the professional level should have an obligation to do what the team asks him. A big part of the training at the NFL level takes place in the offseason, not when you come into camp. A player that doesn't participate makes the risk of coming into camp out of shape and getting hurt.
Dennis (Boston)
Coach, where did you come up with the idea for your new book?
Joe Gibbs
(10:38 AM)
As I thought about life, I came to the conclusion that life is a game. You and I are the players. God's our head coach and he wouldn't put us here without a great game plan. It's His word. During my years, when I veared away from his game plan, the Bible, I met real adversity. That's my story in the book. Also the book details the 11 most important topics that America says they need to have victory in to live a successful life.
carl (dc)
coach gibbs, what are your thoughts on the Mayfield story?
Joe Gibbs
(10:39 AM)
I think NASCAR has a testing policy that they spent a lot of time implementing. I think it's very important in our sport, just like the substance abuse policy in the NFL, and I think the participants that fail that test should be disciplined. In Mayfield's case, he shouldn't be racing cars.
Kendall (Madison ME) [via mobile]
Hey coach, I met you in Jan 1999 during a prayer breakfast at ft Bragg, NC. Ever since I've been a fan of Tony Stewart. My question is how much do you miss having him around your shop as an individual person (not as a driver)? And what advice did you give him as a team owner now that he's out on his own?
Joe Gibbs
(10:40 AM)
We do miss him. We had 11 years together and we had 32 wins in the NASCAR series. I felt like we had a really good relationship and we still do. I didn't coach him up much or give him any advice. But I also really enjoy working with Joey Logano, who took his place. That's the exciting part of what we're doing now with our race team.
Susan from NJ [via mobile]
Hi Coach Gibbs! Do you ever have any problems when the media runs away with comments made by Kyle? I think he's fantastic!
Joe Gibbs
(10:41 AM)
I don't it's as much the media's fault, but when people get upset with Kyle, I wish people out there could see what I see from Kyle. I see him adopt a youth home and pay for their whole day at a NASCAR theme park. I see his passion for the sport and how he cares for his teammates. I am with you, I think a lot of Kyle.
victor (monroe,Louisiana)
Do you think danica patrick will stay in indy car or will she come to nascar?Because if she comes to nascar i won,t watch except indy car racing.
Joe Gibbs
(10:43 AM)
Typically, the open wheel racers that have tried to come from open wheel to NASCAR have struggled. I personally think if she tries to come and race the bigger cars that we have, she'd have to spend some time in the Nationwide series then we could all evaluate how she does. For most open wheel drivers, the trouble comes when they try to go straight to the Cup Series.
stew (bama)
did the nfl or nascar inspire your book more?
Joe Gibbs
(10:44 AM)
I would say both. It's hard to separate. Both NASCAR and the NFL are so much alike. They're both team sports and you win with people. You don't win with trick plays in football and you don't win with trick cars in racing. You win with people.
Dave (Tampa)
Coach, you said you like cars...do you ever take a few laps in any of your cars?
Joe Gibbs
(10:44 AM)
I have. And I'm the Big Chicken. It takes a lot of guts to drive these things. I think if everyone that's a fan took a lap around Charlotte, we'd have a lot more respect for what these guys do.
nhamo [via mobile]
coach as a christian man, what role dose that play in competitve sport & how dose it help to keep the competitve edge
Joe Gibbs
(10:46 AM)
I think first of all, being a Christian and having a personal relationship with the Lord effects every decision that we make. I think it has an impact on us. Also it gives us real peace sometimes when things are going bad in sports. It effects your overall outlook in life.
Brandon (Largo, MD)
What is your take on the current redskins roster honestly?
Joe Gibbs
(10:46 AM)
I think the Redskins have made some good moves in the offseason. I think Coach Zorn is getting ready for his second year and I think he's going to be much more comfortable. I know I was, my first year was a struggle. There are Redskins fans, certainly that's me, we're hoping for a big year.
Scott (Chicago)
Coach Gibbs, how come the '85 Bears didn't win more than one Super Bowl?
Joe Gibbs
(10:48 AM)
I apologize for knocking them out of the playoffs that one year. That's probably one of hte best games we played in a long time, knocking them out. That's just one of those things in the NFL, it's hard to put together a number of Super Bowl appearances. All it takes is one injury and one bad play. Everyone in the NFL is so close in the competition now. It's extremely hard to win a Super Bowl.
Grant (TN)
does your team do any drug testing beyong nascars policy>?
Joe Gibbs
(10:49 AM)
At Joe Gibbs Racing, we have a testing policy for our other employees that work there. We have 430 employees and we have a testing policy for them. The drivers are in the NASCAR program, so as a team, they're already tested a lot, so we don't do additional testing with the drivers.
Lance, AL [via mobile]
What advice would you give to a group of young leaders?
Joe Gibbs
(10:50 AM)
REad Gameplan for Life, the new book I've got coming out!...But if you're looking to be successful, I would say have the right priorities in life. For me, keeping God first, family, loved ones and the influence I have on others second and third would be my job. If you can keep those priorities, I think you can be successful in life.
Joe Gibbs
(10:52 AM)
We're on the book tour, so hopefully everyone will have a chance to get our book. And watch the NASCAR race at Indy this weekend. Tune in. Pull for the 11, 20 and the 18 cars!
Buzzmaster
(10:52 AM)
Thanks Coach!
David (Banning)
Joe Gibbs > Class act
Clinton (Indianapolis)
Lunch: Sandwich, chips, and a soda.
Christian (High Point, NC)
That was some Division I Chatting by Coach Gibbs.
Rickey Henderson (Hall of Fame)
Lunch: Greatness
Drew (Buffalo)
Lunch: Tim Hortons turkey club sandwich
Ryan (NY)
Goin for 8-0 tonight, prob just gonna go tuna on a bagel again.
Sean (Philly)
$5 Roastburger combo from Arby's.
Reggie (Boston)
As much as I respect Gibbs and think he's a great coach, I couldn't sit through him talking about Nascar, it was really boring.
Chris (Philly)
Clinton, what was it like babysitting Joe Gibbs as a kid?
Walter (Boone, NC)
Joe Gibbs = Greatness
Tim Hortons Server (Buffalo)
Seriously?! This Drew guy again?!?!!
David (Banning)
Lunch: Wendy's chilli
Johnstone (Wicker Park)
Lunch: Run
Buzzmaster
(10:56 AM)
All I have to say is that Joe Gibbs is the man.
trent (pa)
Lunch: Pot Luck day at the office :(
Urban Meyer (Gainesville)
Joe Gibbs has an honorary seat in 37F
Robbi (Clinton Ky)
Lunch: Grilled burger, unsweet tea
Christian (High Point, NC)
I have no idea what to have for lunch. I open the floor to my sportsnationaries.
Brian (Madison, WI)
Lunch: Free Buffalo Wild Wings! Woo!
Sean (Philly)
As an Eagles fan, I don't think I am technically allowed to like Joe Gibbs.
Buzzmaster
(10:58 AM)
How about if you were a fan of being cool? Then you'd have to like him, cuz he's cool.
Ed Hochuli (Chat Ref)
Emoticon use is strictly prohibited. That will be a 10 yard penalty and loss of down.
hal ((ohio))
bacon wrapped bacon
cory (va)
christian----------- burger, extra greese
Sean (Philly)
Oh, well in that case...
Dave (Tampa)
As a Philadelphian, I think you have to hate everybody.
chaz (sa tx)
you dont like santa !! it doesnt matter.
Buzz (ESPN)
Lunch: Everything
Shane (Huntsville, Al)
hey sean free roastburger with a soft drink purchase today! cant wait for lunch break
Christian (High Point, NC)
As an Eagles fan, I don't think you're technically allowed to like anybody, including Eagles players
Robbi (Clinton Ky)
Bye y'all, happy hump day.
Clinton (Indianapolis)
Are we going to get some stoppage time, Buzz? Yeah, I used a soccer term. Deal with it.
Buzzmaster
(11:00 AM)
Sure, we can go some extras.
Sean (Philly)
Wait, why is someone upset at Pot Luck day? Those are normally full of Crock Pot Goodness.
Buzzmaster
(11:00 AM)
I'm waiting for a co-worker to bring in some more of his crockpot chili like he did this winter.
JB (TX)
Lunch: Chik Fil-A. Gas, still 2.19. Take that, Oilman!
Robbi (Clinton Ky)
Yikes!! Scorpions on a plane!
Louis (Montreal)
I kinda like this stoppage time thing. You never know how much you're gonna get. It's a surprise every time
Tom (West Bloomfield, MI)
Lunch: Roasted vegetable and grilled chicken pasta made by my wife. Outstanding work!
Scott (Brewtown)
2.19?!? It's still almost 2.50 here......Maybe they could make a car that runs on beer......
Christian (High Point, NC)
So I finally moved up to Hard on Guitar playing Rock Band/Guitar Hero. The fifth finger attachment surgery was expensive, but worth it.
Mark (Boston)
He probably just won't tell you after you devoured the entire pot last time, Buzz.
The Oil Man (Still cashing in)
I told Satan that one day I would have you celebrating gas prices over $2 a gallon!
Andy (Tallahassee)
I need a ruling, after work its all you can eat mexican for dinner at a local place...so should lunch be skipped entirely for prep?
Buzzmaster
(11:02 AM)
No, becuase then when you get there, you'll be so hungry, you'll wolf down your food so fast, you'll fill up quickly and not be able to fully enjoy. Instead, eat a lighter lunch.
Louis (Montreal)
Who was the Mets reliever that had 6 fingers? Was it Alfonseca?
Buzzmaster
(11:03 AM)
Yes, Antonio Alfon-suck-a.
Clinton (Indianapolis)
Agreed, Christian. That evil orange button makes things a whole lot more difficult.
Christian (High Point, NC)
For whatever reason, it's 2.23 in High Point but 2.39 in Greensboro ... literally three minutes away from each other.
Buzzmaster
(11:04 AM)
OK. We're done here. Thanks for stopping by. We'll be back this afternoon and again tomorrow morning. Until then, stay classy SportsNation!
Tom (West Bloomfield, MI)
This stoppage time makes up for the sluggishness earlier in here. You really Andruw Jonesed it for a while today, Buzz.
JB (TX)
Yeah, like Buzz has ever skipped a meal.
Oil Man (via mobile)
I own a vacation home in Greensboro
inego Montoya (Cliffs of insanity)
I am looking for a six fingered man. Have you seen him?
Clinton (Indianapolis)
Stay classy, folks!