Chat during SportsNation TV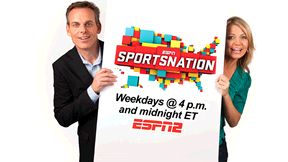 Welcome to SportsNation! We're chatting every afternoon during our new SportsNation TV show. It's your chance to have your voice heard!
The chat will be just part of SportsNation TV which airs daily Monday through Friday from 4-5 p.m. ET on ESPN2. It is the most interactive show on TV, allowing you, the citizens of SportsNation, to shape the show's content.
Vote on all the polls, read the SportsNation blog and check out the show. Make your voice heard, whether it's on Twitter at Twitter.com/SportsNation, E-Mail, calling in -- we want to hear what you have to say.
Send your comments and questions now and join the chat every day at 4 p.m. ET!
More From SportsNation: PollCenter | Blog | Chats | @SportsNation | Facebook | E-Mail
Buzzmaster
(4:01 PM)
Sup, Nation!
Clinton (Indianapolis)
Good afternoon, people!
wayne san diego ca [via mobile]
Let michael vick play! I understand about the commish setting an example, but isnt that what the 23 months were for??
Brett (Miss)
Michael who?
anthony (toronto)
wait....is sportsnation on a live set? like ppl in the studio?
Buzzmaster
(4:02 PM)
A few luckly folks here on the ol' Bristol campus find their way to the set each day.
Keith (Bloomsburg, PA)
Penn State being the number one party school in the nation means I can't wait to go back!!! WE ARE......PENN STATE!!!!
Clinton (Indianapolis)
It's his league, wayne. The players are just living in it.
Larry (Houston)
i had a felony from back in 1995 and I STILL have trouble finding jobs
Buzzmaster
(4:03 PM)
Everybody be nice to Larry.
Kyle (Ohio)
No way would my boss take me back after two years in prison. If somebody looking for a job comes in and has a felony, their application is basically disregarded. In normalville, nobody would get their job back.
Todd (Clemson, SC)
Bring Vick to the Panthers! I'd love to have him on the same field as Steve Smith and DeAngelo Williams!
Ed Hochuli (Chat Ref)
That's a personal foul for excessive celebration against Keith. No one cares about Penn State. On the plus side, when they choke out again during the upcoming CFB season you should have no trouble drowning your sorrows. 15 yards and repeat 2nd down
Most Interesting Man (World)
Buzz, what do you perfer?
Buzzmaster
(4:05 PM)
Bacon.
Zach (Bowling Green)
Trash talk is great for sports, and even better for sports coverage. We all want to hear Brandon Marshall talk about Joey Porter's "popcorn muscles"
Anthony S. (Devon, PA)
Go Jericho go!
anthony (toronto)
i happened to turn on the tv last night and i saw shaq talkin to the one dude bout kobe
Buzzmaster
(4:06 PM)
Colin says Shaq is in "rarified air" and can do whatever he wants.
Most Interesting Man (World)
I don't do wrestling, but when I do, I perfer it with SHAQ!
Cole Halverson (Columbia, SC)
Shaq to the WWE!!!!
Brian (Madison, WI)
I finally remembered to make it to the afternoon chat! Woo hoo!
Adam R (Connecticut)
Shaq and Big Show was amazing
Scott (Brewtown)
I'm late...as usual
Adam R (Connecticut)
Who would stop Shaq? who could stop Shaq? He's 7'2", 300 pounds. Andre the Giant might. Anyone else would need Shaq to be wasted
Most Interesting Man (World)
Awww Brian, I was at germanfest this weekend in Wisconsin this weekend, lets just say I was not thirsty!
Zach (Montezuma, IA )
ESPN talking about scripted wrestling...nice...
Adam R (Connecticut)
I'm going to the 25th ranked party school!
Buzzmaster
(4:09 PM)
Talk to me when you're top 10!
alex (jersey)
PSU BABY!!!!!!!!!!!!!!!!!!!!
Brian (Madison, WI)
Wisconsin is #8, top 10, but we're coming back up the rankings. I need to start buying my booze at campus liquor stores to help them out....a lot.
Scott (Brewtown)
They redo that list every year and Wisco should be #1 every year. They just change it up to keep others happy.
Nate (Madison)
Madison, consistently in the top 10. Yeah buddy.
OTIS (JACKSONVILLE)
THATS WHAT SCHOOL IS ABOUTPARTIES
Fake Buzz (ESPN)
Shaq weighs 300? Oh crap he's closing in on me
Buzzmaster
(4:11 PM)
Three Cheers time!
Jerry (long island)
PDA is totally acceptable with Kate Hudson. When the girl is that hot you can show as much PDA as you want.
Brian's Parents (disappointed)
Is that kid ever going to grow up? Sheesh. We're failures.
Andre the Giant (The Princess Bride)
My way is not a very sportsmanlike way...
Buzzmaster
(4:13 PM)
Adam Dunn, Josh Willingham and dude catching foul ball in one hand while holding baby in the other.
Delwyn (Pitt) [via mobile]
3 CHEERS FOR ME NOT THE FAN WITH A BABY!
fred (omaha)
my 3 cheers are for buzz, michelle and anna rawson
Lady Buzz (Home)
I only wish Buzz weighed 300. Where's Matt Damon...
Nate (Madison)
Buzz, you ever listen to the Dropkick Murphys? After hearing them all night at a bar in Prague, I"m now a big fan.
Buzzmaster
(4:14 PM)
Yes, actually. BrotherBuzz played them a couple of years ago and got me into them.
Chodu Playa (Atlanta)
hello
Inigo Montoya (Cliffs of Insanity)
Myname is Inigo Montoya. You killed my father. Prepare to die.
Brian (Madison, WI)
My parents knew they were failures with me a long time ago, they've accepted it.
Juan (Atlanta)
Go Josh Willingham! who would've thought the nationals on espn
Buzzmaster
(4:14 PM)
They'll get on here somehow.
Omar Minaya (Arkham Asylum)
Buzz, you're only saying that because you're lobbying for a job in player development. Changing the subject? I'm not doing that.
Scott (Brewtown)
Thanks for bringing up Josh (i might as well hit off a tee) Willingham.
Count Rugen (Castle)
STOP SAYING THAT!
Jonathan (Madtown)
Buzz, braking news.....Favre still undecided.
Buzzmaster
(4:15 PM)
You're still here?
Dominic (New Mexico)
Favre loves the attention he wont decied untill the last second
J (Naples, FL)
There is only 44 drivers on the entry list for this weekends Pennsylvania 500. 1 driver will have to go home because only 43 drivers can make the race. Shouldn't NASCAR just let all 44 drivers race on Sunday?
Harry Potter (Hogwarts)
When will quidditch be shown on ESPN?
John Madden (On the bus)
You see Brett will decide to make a decicision and then BOOM he will be the greatest decider to ever make a decision.
Captain Planet (Earth)
ESPN Nation, the power...is YOURS!
Chuck Norris (USA)
*doing crunches while catching screaming line drives bare handed with 3 fingers*
Zach (Montezuma, IA )
Buerhle's Top 10 was pretty good last night, especially about being on his own fantasy team...
Reggie (Boston)
I wonder what Favre thinks of everyone always giving him grief for not deciding. He's probably like chill out guy, I got a family and its a big decision!
anthony (toronto)
sad news from the sports world.....reggie bush breaks up with kim kardashian......i saw that on sportscenter, thats sad
Juan (ATL)
Vick isnt the best quarterback hes just one of the best football players now
Buzzmaster
(4:20 PM)
One of the BEST players now? He hasn't played in two years. I don't think anyone can say anything about his play until he actually gets on the field.
Dominic (New Mexico)
QB's have such an advantage when rushing when you have the option to throw the defense in 15 yards down field before he takes off.
Deanna Favre (via mobile)
Did you guys ever stop and think that maybe I get tired of having Brett around the house all summer? Surely you married guys can relate.
Donte (Chicago)
Do you really feel that this is going to be it for Michael Vick?? I think that he is just on his best behavior because he has to. He's broke, he wants back in the league and he doing and saying everything he's suppose to. As soon as the situation gets relaxed. Its back to the old Michael. You'll see.
Joe Namath (NY)
I want to kiss you. I couldn't care less about the team strugg-a-ling
Buzzmaster
(4:21 PM)
Sorry Joe. This is a family show. None of that. SN already voted earlier in the show and 59% were against PDA.
Clay (Charlotte)
I'm sorry, can anyone translate crazy?
Buzzmaster
(4:22 PM)
Good one.
Buzzmaster
(4:22 PM)
This dude just broke 584 bricks in 57 seconds.
Average Joe (SportsNation)
Did you hear that, Buzz? I have a shot with Anna Rawson! YIPPEE!!!
Juan (ATL)
but you can say OLD --- brett farve can still play.... i havent rode a bike in two years but im sur i can stiil do it...he has only played his whole life.... BUZZMASTER
Buzzmaster
(4:24 PM)
OK, sure you can ride a bike, but could you go out and win the Tour de France on your bike, competing against the best cyclists in the world?
Clinton (Indianapolis)
*sniff sniff* I smell a homer...
Anthony S. (Devon, PA)
Couldn't they have used those bricks to build a house or something constructive? Bleh.
Chuck Norris (Wherever I want to be)
I could break all those bricks at once,just by staring at them.
Chodu Playa (Atlanta)
buzzlight year, the dog dunking was a better video
Paul (Tampa,FL)
I once ate 600 bricks in 30 seconds.
Lucas (NY)
Lemieux was out for 2 years, Jordan two years...weren't too shabby when they came back...Not saying Vick is that level, but he is a playmaker.Vick can play...just give him the ball, wind him up and let him go
Buzzmaster
(4:26 PM)
Football is probably the most complicated team sport. And Vick was only an average QB when he played anyway. We'll see how he does once he gets on the field.
J.B. (Dunmore, PA)
Nothing like a good brick breaking video to get the Chuck Norris impostors going.
Clinton (Indianapolis)
And Jamal Lewis was in prison for only four months, and stunk up the joint when he came back. And Vick was in prison for six times as long.
Nate (Madison)
Buzz breaks bricks of cheese with his mouth.
Brian (Madison, WI)
I only deal with bricks when I step on to the basketball court.
JR (dallas)
yo yo you, i love this showand the dog video
Reggie (Boston)
Vick was better than average. He took an average Falcons team to the NFC conference championship.
Buzzmaster
(4:28 PM)
He's a career 54% passer. That's average.
Buzz Aldrin (Moon)
I'm the best buzz there is.
TO (Buffalo) [via mobile]
Don't you love my pjs?
Paul (Tampa,FL)
SportsNation... Is 4:30 PM too early to start drinking?
Buzzmaster
(4:29 PM)
Wrong crowd to ask that question...unless you already know the answer and are trying to get the answer you want.
Awayne (INDY)
Soccer talk....NOOOOOOOOOOOOOOOOOOOOOO!
anthony (okland)
who likes soccer
Buzzmaster
(4:29 PM)
About 4 billion people on the planet.
Keith (PA)
Penn State students say it is never too early to start drinking!!!!
Clinton (Indianapolis)
And that was ancient history, Reggie.
Paul (Ft Worth)
Paul in Tampa, I'd like to introduce you to Brian and Nate of Madison Wisconsin
Anthony S. (Devon, PA)
Soccer is the real football, you American pigs.
Paul (Tampa,FL)
No buzzMASTER.... I just will feel less guilty when people tell me they start drinking at 3:30.
elijah (denver)
sooccer sucks
Juan (ATL)
vick was an above average qb buzz... the only stat that counts is wins!!!
Buzzmaster
(4:33 PM)
And the Falcons won more than 8 games 3 times in the 8 years he was there.
ADAM (TX)
I hope Florida beats them by 55
Ben (Madison, WI)
Americans should love soccer because there are limited commercial interruptions. Unless we've been brainwashed to like commercials...
Awayne (INDY)
Brian and Nate? They would have to stop drinking before they could start again.
Andrew (Flushing, NY)
Florida's going undefeated! Book it!
J.B. (Dunmore, PA)
Juan should quit while he's behind.
Jimmy (New York)
Buzz, you're so stubborn. You always think you're right no matter what. Get a clue.
Buzzmaster
(4:34 PM)
You're right. Let's not let facts get in the way of our arguments.
Awayne (INDY)
52% comp.rate is great if you are a Offensive Tackle.
Paul (Tampa,FL)
My liver is going to write his congressmen soon.
Juan (ATL)
name his wr........ *dont worry ill wait*
Buzzmaster
(4:36 PM)
Please. Tom Brady won Super Bowls with guys like Troy Brown. Good player, but not exactly a superstar.
Jimmy (New York)
Facts? 54% passer or whatever is your only stat...solid. What about his running game? He had a horrible offense most of his stay in Atlanta, can't blame him for that...
Buzzmaster
(4:37 PM)
54% is solid? He's also only 19 in TDs to INTs.
AG (305)
u mean with crumpler and dunn at thier prime??
Paul (Tampa,FL)
Jimmy, you need a drink.
Paul (Tampa,FL)
buzzMASTER, Keep it real. What should I be watching right now? Jim Rome or Sportsnation?
Buzzmaster
(4:38 PM)
SN!
Mike Vike (ATL)
Not that I was a great QB, but I made up for the lesser passing with my amazing legs.
Jimmy (New York)
No, I was saying your argument was solid, sarcastically of course.
Anthony S. (Devon, PA)
Let's face facts: Shaq wasn't allowed into the White House because Barack can't handle Shaq's low-post skills in a pick-up game.
Coop (Orlando)
Buzz, I just got a call from UFL headquarters about season tickets...worthy investment or what!
Awayne (INDY)
George Blanda could play for the Lions and comp.55% his passes.
Mike (Indianapolis)
I agree with Juan... its hard to defend a qb that can run.... no stat for what he does to defenes....54% passing but 100% defenses that dont want to see him under center
Buzzmaster
(4:41 PM)
Yeah, I don't know about that. They had one season of over 10 wins. I'd say enough defenses were able to contain him.
Michael Vick (NFL)
Folks, folks, can't we just get along? I just wanted to announce I am going to New England to win a Superbowl...you heard it here first, SportsNation!
logan (michaigan)
what about if he was a running back
Buzzmaster
(4:42 PM)
We'll have to see how a team wants to use him. I would think they would try to utilize his versatility. But we'll see.
Brett Favre (via mobile)
*bored with Vick chat*
J.B. (Dunmore, PA)
Mike: You let him run for his 100 yards because eventually he'll have to pass and you'll pick him off. A QB that runs for 100 yards and throws for 150 isn't as good as one who can throw for 300 with accuracy.
Awayne (INDY)
If teams fear running QB's so much why are there only a couple in the the league now?
Mike (Indianapolis)
Buzzmaster is a BAYLESS!!! (HATER)
Reggie (Boston)
Well I'm out, Buzz. Steak for dinner and Clay Buchholz on the hill tonight! Have a nice night, SN.
Jonathan (Madtown)
You are supposed to stop drinking? That does not sound right.
logan (michagain)
but do you think he would switch if he had to
Buzzmaster
(4:43 PM)
He's trying to stay on his best behavior right now, so I'm guessing he would.
t (atlanta. ga)
As a falcons fan vick talk is boooooooooring!. Ryan > Vick
Stats Guru (NFL)
Michael Vick - 54%, Eli Manning - 56%, Rex Grossman - 54%
Buzzmaster
(4:44 PM)
You can throw out Grossman. And Manning's % has increased every year he's been in the league. Vick's declined the last three years he played big difference.
Ed Hochuli (Chat Ref)
That's unchatmanlike conduct against Mike from Indianapolis for compaing Buzz to Skip Bayless, 15 yards and repeat 2nd down.
Brandon (Albany)
If you are trying to prove Mike Vick is an accurate passer and a good QB....Rex Grossman is not a good comparable
AG (305)
michael vick - 0, eli manning - 1, rex grossman - 0; wanna guess what stat that is?
Buzzmaster
(4:45 PM)
Are you chatting from section 305?
Brian (Madison, WI)
Section 305, Seat 37F?
Lucas (NY)
He had what 4 true healthy seasons and twice went to the playoffs...and ran for 4000 yrds during that time... Up until last year Eli Manning had the same rating as he did. and you can't use wins as a defense for them "containing" Vick...the Saints had a ridiculous offense last year and won what 8 games...
Buzzmaster
(4:47 PM)
I was responding to someone who said the only stat that matters for QBs was wins. Relax.
AG (305)
no, miami.....(area code 305)
Roman H. (El Paso, TX)
Michele Beadle.... wow! A hot girl who knows her sports! Her comparison of tradition to "Tradition brings you the Lions on Thanksgiving every year" is so true.
Brandon (Albany)
Even though Mike Vick was not a good QB and I would not want him on my team. I want him back in the NFL because he is a great athlete and was exciting to watch and no one can argue against that.
kyle (bg)
I heard Colin's comments about being the "face of a crime" and how the first person to commit a crime does the worst time. Does that mean that Belichick should suffer equal consequences of a Pete Rose type situation, since he is the face of spygate??
Buzzmaster
(4:49 PM)
No, because Belichick wasn't the only one doing that, he was just the only one to get caught.
Brian (Madison, WI aka (608))
I can't believe we are not talking about the huge baseball trade, I mean the Giants got Ryan Garko!
Paul (Ft Worth)
So, if he's a great athlete and exciting to watch, why not have him on your team? what do you have to lose? He would obviously be one of the best players on any 53 man roster.
Buzzmaster
(4:50 PM)
Because the team becomes a circus and there's a lot to be said about lockerroom chemistry.
Thewiz (florida)
I dont understand what the big deal is. He has never really done much. Now if he could throw like steve young, and had his running ability, that would be something else. Like you said, 1 season over 10 wins.
Awayne (INDY)
Vick as a backup QB Wildcat or Slash Type player and maybe even a punt returner I would be OK with.
Juan (ATL)
how does the team become a circus...he has never been a problem in the lockeroom...the problem is YOU GUYS (media) not vick
Buzzmaster
(4:52 PM)
The guy killed dogs and served 2 years in prison. It's going to be a circus.
kyle (bg)
yeah vick isn't the problem....they threw him in prison for US being wrong about him.
Buzzmaster
(4:53 PM)
It's Three Tears!
Buzzmaster
(4:53 PM)
Michael Phelps is No. 2 after his first loss in 4 years.
Buzzmaster
(4:53 PM)
No. 3 is Joey Votto who broke into a swearing tirade yesterday.
Scott (Mississippi)
PETA will bring all three rings to the circus.
AG (305)
yea buzz! circus? its not like hes coming out of jail for 2 years
Tim (DE)
Hey, interesting fact here: In Eli's 4 seasons as a starter, he has thrown more INTs than Vick's career as a starter.
Buzzmaster
(4:55 PM)
Yes 13 more. He's also thrown 21 more TDs.
Awayne (INDY)
One good thing if Vick would go to Buffalo every reporter in the free world would be in their lockerroom running from Vick to TO,the rest of the NFL would love that.
Kyle (Philly)
On the Phelps note, Phelps has proven so much that it doesn't matter if he loses one event at one meet.
Scott (Brewtown)
Wow, it's really hard to concentrate on this pm chat. Dang thing called work keeps interfering.
Buzzmaster
(4:56 PM)
Booooooo work.
Buzzmaster
(4:56 PM)
Hooooray SNTV!
kyle (bg)
Another interesting fact: In the last two seasons, Eli's missed time due to prison sentencing: 0, Vicks: 2 years. hmmmmm skew stats all you want but Vick has never and will never be a throwing threat in the NFL
J.B. (Dunmore, PA)
Tim: How many more passes did Eli throw? I'd be interested in the INTs per attempts ratio.
Scott (Brewtown)
Here's a fact for you: I'm hungry
Buzzmaster
(4:57 PM)
Who isn't? It's 5 p.m. on the East coast. Close to dinner time.
Brian (Madison, WI aka (608))
Dinner: Burgers
Buzzmaster
(4:57 PM)
It's time for the End of the Day!
Buzzmaster
(4:58 PM)
Fastest 90 seconds of the day.
Lucas (NY)
Buzz, you actually told Mike from Indy that they only had one season over 10 wins, thus they were able to contain him. Anyways, can Vick throw, no, not really? But is he one of those guys that opposing teams study and key on practically all week at practice? Easily! Farve gets as much heat about all the types of throws he makes and the decisions, and is generally considered one of the best to ever play. And just like Vick, he can make that one play to change a game at any moment... thus easily why he's one of the best out there and someone should take a shot! Skins step up!!
Buzzmaster
(4:59 PM)
Please don't compare Favre to Vick. Favre is one of the best to ever play. Second, how do you know Vick can still make any plays? Were you practicing with him in prison?
Buzzmaster
(4:59 PM)
Today's Hamburger Day!
SteveFitz (Cicero, IL)
Lucas from NY made my head hurt. That was mean to us Buzz, we're supposed to be mean to you. Ouch!
J.B. (Dunmore, PA)
Always a great way to end the work day. Thanks for the time, all. See some of you at 10:00 AM tomorrow and the rest back here at 4:00 PM. Same chat time, same chat channel.
Scott (Brewtown)
zoiks! That's like a tome. I can't even read that.
Delwyn (Pitt) [via mobile]
Than you! Play of the Day!
Brian (Madison, WI aka (608))
I swear I planned that for dinner without even knowing.
Scott (Mississippi)
Vick's game changing play could change the game in the other team's favor...
Buzzmaster
(5:01 PM)
All right. Show's over. Enough of these shennanigans for one day. We'll talk again tomorrow. See ya!