Chat with Chris Moneymaker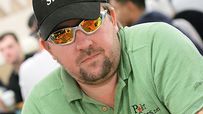 Moneymaker won the 2003 WSOP.
Welcome to SportsNation! On Monday, professional poker player Chris Moneymaker will stop by to chat about poker and the November Nine.
Moneymaker will be the first guest on ESPN.com's new show "ESPN Inside Deal presented by PokerStars.net," an orginial web-only poker show that debuts Tuesday. The show will feature some of the biggest names in the game as well as taken a look at the lifestyle in the world of poker.
Moneymaker is the 2003 World Series of Poker main event champion. Moneymaker turned a $39 satellite victory into a $10,000 WSOP seat and then into $2.5 million after defeating 873 players in his first WSOP appearance. He is often credited with sparking the poker boom in the United States, often referred to as the "Moneymaker effect."
Send your questions now and join Moneymaker Monday at 2 p.m. ET!
More Special Guests: Previous chats | SportsNation
Buzzmaster
(1:59 PM)
Chris will be here in minutes!
Buzzmaster
(2:05 PM)
Chris is coming!
Buzzmaster
(2:34 PM)
Sorry about that everyone. We had some connection issues with the chat. Here's the chat.
Dean (No longer in Omaha)
How do you feel a 4 month delay would have effected your final table?
Chris Moneymaker
(2:35 PM)
I came in on a roll. It would have effected that. Other guys came in tired, they would have come in rested. I would have probably gotten a coach. I could have played worse. If it's delayed four months, I don't think I win.
Bill (Washington)
How big of a difference is it for you to go from playing online poker to playing in person? How much different is the game when the people are sitting right in front of you?
Chris Moneymaker
(2:35 PM)
It's a completely different game. Live games are more about reading people and personalities. Online you're playing multiple tables. It's more about betting patterns and betting ranges. Adding the live element of talking. It makes it a completely different game.
Brad (Gadsden,Alabama)
Chris, What other card games do you like to play?
Chris Moneymaker
(2:35 PM)
Omaha PLO is my favorite game.I started playing Eight Game on PokerStars, which is a mix of 8 games. I like Go Fish. I like Spades.
Geoff (Boston)
Just how hard is it to win a bracelet?
Chris Moneymaker
(2:36 PM)
It's incredibly hard. First of all you have days of 12 hour play. you get exhausted, you get tired. You have to avoid many situations, whether you're a favorite or not. Any all-in can end your day. People are playing more aggressive that money gets in on all hands. You really have to be very fortunate to win a bracelet.
Chuck (Bristol)
How do you think you are going to do in the upcoming WCOOP?
Chris Moneymaker
(2:37 PM)
I think I'm going to do well. My goal is to make 3 final tables. Win one tournament and cash in 10. I've always had good WCOOP's.
greg (baltimore)
What do you think about how it seems like there are new people winning the big tournaments every year? Good or bad for the game?
Chris Moneymaker
(2:37 PM)
It's good for the game. This many different people playing poker, having money in the poker economy is good. If the same guys always won, it would die off. The fact that anyone can win on any given day, draws people to the game. I think it's great that random people are winning. It's great to see the pros thrown in from time to time, but it keeps people coming when others win.
Kevin (Detroit)
What's been bigger for you - winning the bracelet or everything that's happened since then (the book, the TV stuff, all of that, etc.)?
Chris Moneymaker
(2:39 PM)
Financially, everything after. As far as the rush - the bracelet. I'm constantly trying to improve my game to get the rush from winning the bracelet. But the endorsements that have come after is quite nice.
Trevor (OR)
Did you start playing poker more frequently after the movie 'Rounders' like many recent pro's admit as well?
Chris Moneymaker
(2:40 PM)
Or course, that's what got me started. I learned what poker was watching the movie.
John T (Charlotte, NC)
In your book you mention playing a hand with "action Dan" on day1 where you held AK. It was right before the dinner break I believe. You ending up folding to Dan and he said that was "good for you" Did you ever find out what Dan was holding?
Chris Moneymaker
(2:40 PM)
Never found out. But knowing ActionDan on Day 1, I was not ahead, I was at best tied. He's not putting his money in against an unknown in a hand like that on Day 1. My guess is Queens.
Fred (Dallas)
What went through your mind the first second after you won the bracelet?
Chris Moneymaker
(2:40 PM)
Relief, really. I was tired. I played for so long. I was just glad it was over. The last thing I wanted to see was him getting a card to extend the match. He was tired and I was physically and mentally tired as well.
Stan (Gary IN)
Chris, what do you think will give the game the next "Moneymaker effect." I think a woman winning the main event would be huge for the game.
Chris Moneymaker
(2:40 PM)
A pro like Ivy winning the game would be nice. Something different. We've had amateurs winning it the last few years. It'd be nice to add something to the legitimacy of the skill factor of a pro, if you will. It would be nice to have a woman win it, but due to the shear numbers, that would be tough.
Jeff (New Jersey)
How was your appearance on the Inside Deal?
Chris Moneymaker
(2:41 PM)
It was fun. It was easier than I thought it would be. Bernard and Laura are easy to talk with. THey made it very easy and light going. I've been doing this for 6 years now, so over time it's like a day at the office.
Dan (Philly)
Chris, how do you respond to critics who say that your WSOP win was a fluke? Do you take it personally, or do you just let your money do the talking for you?
Chris Moneymaker
(2:41 PM)
Of course I don't take it personally. You have to get lucky to win the WSOP. I was fortunate to do so, I won't apologize for it. I've proven over the years that I'm a good player. People respect my game. I play for the money and I make money.
Evan (Indiana)
Do you think you'll win another bracelet in the next few years?
Chris Moneymaker
(2:41 PM)
Well, I won one Tuesday. If you mean a WSOP bracelet, I only play for a year, so the chances are decreased. A lot of pros went 0-20 this year, for me that's 5 years of trying. I'm playing well enough to win one, but sometimes that doesn't translate into bracelets.
Dean (Clemson)
Heads up in a cash game, would it ever be correct to lay down AQ on a AKK board?
Chris Moneymaker
(2:42 PM)
Of course, without question. If you're playing a very tight conservative player, who plays limited hands, he's not going to put a ton of money in there when he is behind. you're going to be dead there a lot more times than you're ahead if a lot of money goes in.
Steven (NJ)
How can I improve my poker game?
Chris Moneymaker
(2:42 PM)
Every hand you play, review and see how you could have made more money or loss less money. Find the best player at the table and watch out he plays and try to mirror it. Continuously guess on people's holdings and narrow down their range. Don't take a break, the more you do this the better you will be.
Steven (NJ)
Who is the most difficult player to go against?
Chris Moneymaker
(2:42 PM)
The person that knows just enough to be dangerous. You have some players that fold too often. There are some that scare you. Other players are really really good. Others know enough to get by and have phenomenal reads.
Chris Moneymaker
(2:42 PM)
Thank you for joining me in the chat. I look forward to seeing you on the tables and on TV.